So many new gun owners contantly seek out a reliable and price tag friendly AR platform. Cyclical sky-rocketing demand and manufacturing delay has pushed many companies to sell sub-par AR-15 rifles at previously high level prices. It makes finding that sweet-spot of value in the market tricky. Thankfully, Smith & Wesson provides a solution to all of this with their affordable and trust-worthy M&P15 Sport line of rifles. Let's take a good look at this budget-friendly option in our Smith and Wesson M&P 15 Sport 2 Review.
General Overview: Smith and Wesson M&P 15 Sport 2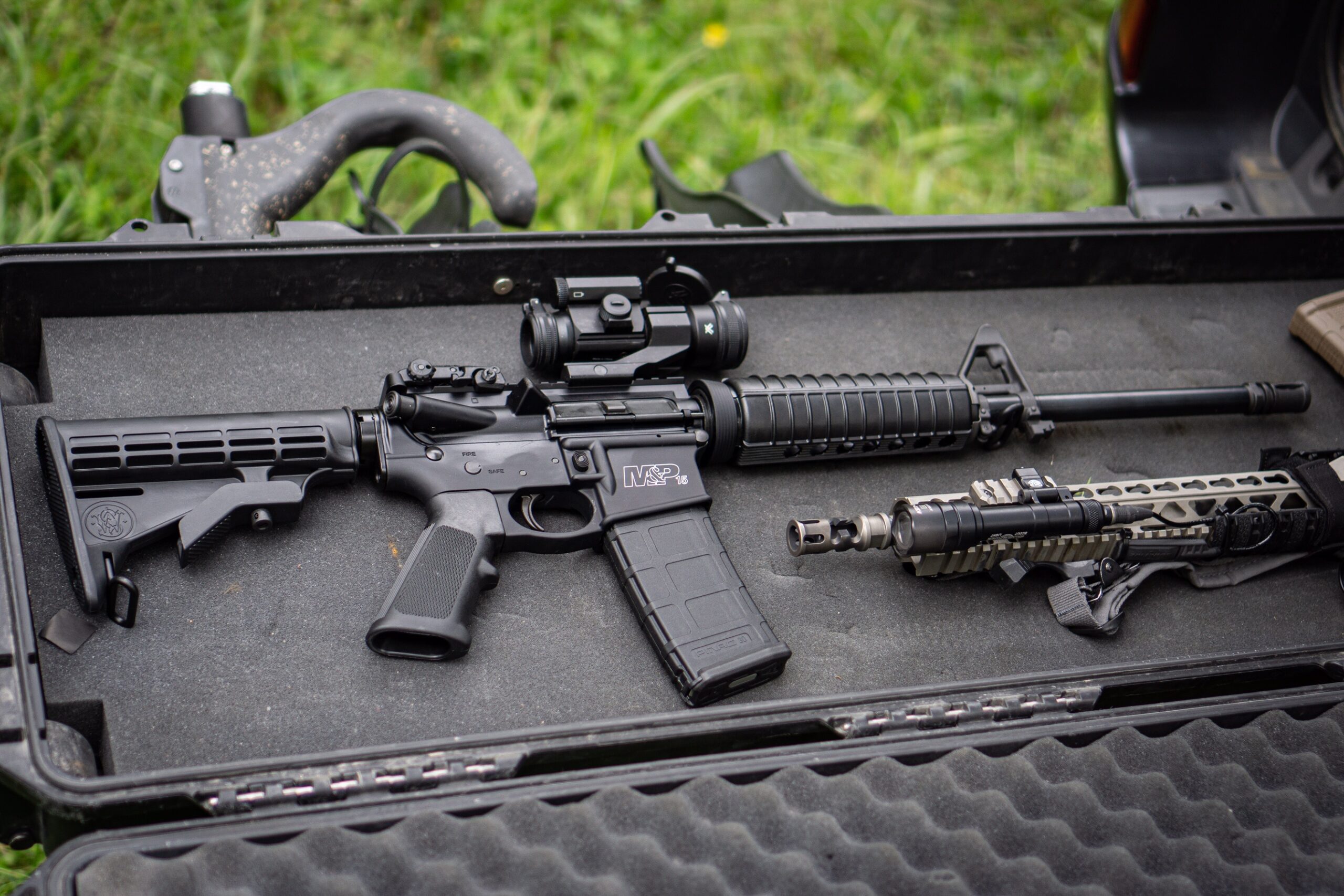 Smith & Wesson has a strong reputation and brand image that has become a household name. This trust and exposure has been developing since 1852 – when the company was established. Most people think of Smith & Wesson as a handgun company, but this M&P15 Sport has definitely claimed a nice spot in the AR15 market since it was introduced in 2006.
This 5.56 chambered AR15 has gone through a few updates over the years and a few variants are available. Marketed and branded as the affordable yet high-quality option, Smith & Wesson has succeeded in reaching the civilian and duty world alike. With a typical price of around $800, the M&P15 Sport catches the attention of a broad audience.
Most experienced AR15 owners will tell you that it is difficult to find a trust-worthy platform under $900 or so in today's market. Smith & Wesson might just have the exception here.
Basic yet effective hardware and designs are found throughout the M&P15 Sport. A direct impingement gas system is found in the M&P15 Sport along with T6 aluminum upper and lower receivers. A chromed bolt carrier, gas key, and firing pin provide efficient functionality. As expected, a telescoping butt stock is included for user adjustment.
For an entry level AR15, the quality here is undoubtedly high and the fitment of parts is to mil-spec. Customization potential is substantial with aftermarket parts and accessories widely available.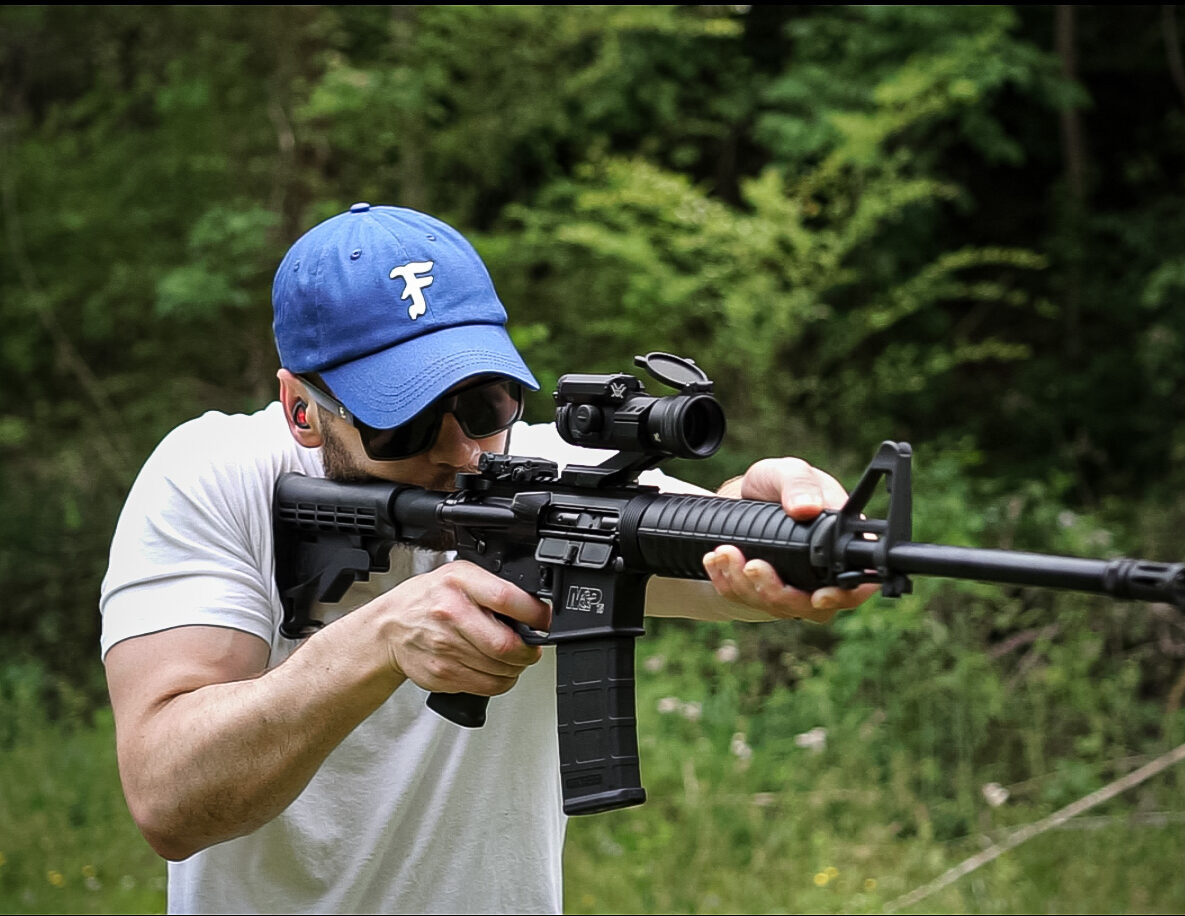 Range Time Smith and Wesson M&P 15 Sport 2 Review
I've had a little bit of experience shooting a M&P15 Sport in the past so I kind of knew what to expect coming into this review. My memory of this firearm was relatively a neutral one – didn't love it but didn't dislike it either. It ran fine – and I wasn't looking for it to do more than that.
Prior to taking this M&P15 Sport out to the range, I mounted a Vortex Strikefire optic to make the experience a little more enjoyable. This being said, the provided iron sights from Smith & Wesson co-witnessed through the Vortex optic so I was able to shoot using both.
I spent a good bit of time performing various shooting drills with the M&P15 Sport. Right up front, I can tell you that any complaints I have about this firearm are relatively minor. I'm talking about an AR15 that runs well out of the box and doesn't break the bank – I have to keep things in perspective. All of the ammunition types that I fed the M&P15 Sport cycled without issue. Even the cheap steel case ammunition kept on cycling.
Ergonomics
The ergonomics felt fairly decent, although I do prefer a longer hand guard than the provided plastic one. I quickly realized that the hand guard did little in terms of heat protection and I found myself wearing a glove on my left hand within 20 minutes. It turns out that Smith & Wesson does not provide a heat shield – explaining the felt heat. I don't love the A2 hand grip, but it does the job and it's definitely sturdy.
Smith & Wesson provided a common magazine well design that allows for fairly quick magazine changes. The flare isn't extreme – but it's enough to make reloads fairly smooth. Finding a comfortable cheek weld with the red-dot optic and irons was as simple as you would expect with a telescoping butt stock.
A common difference between expensive AR15 platforms and budget platforms is in the structure compatibility. Thankfully, Smith & Wesson found a way to make this budget friendly AR15 feel solid in the hands.
Specifications: Smith & Wesson M&P15 Sport 2
MSRP: $799
Type: Gas-Operated Semiautomatic 
Caliber: 5.56/.223 
Barrel Length: 16″
Stock: 6 position 
Weight Empty: 103.2 oz.
Sights: A2 Front/Magpul MBUS Rear
Barrel Twist: 1:9
Receivers: T6 Aluminum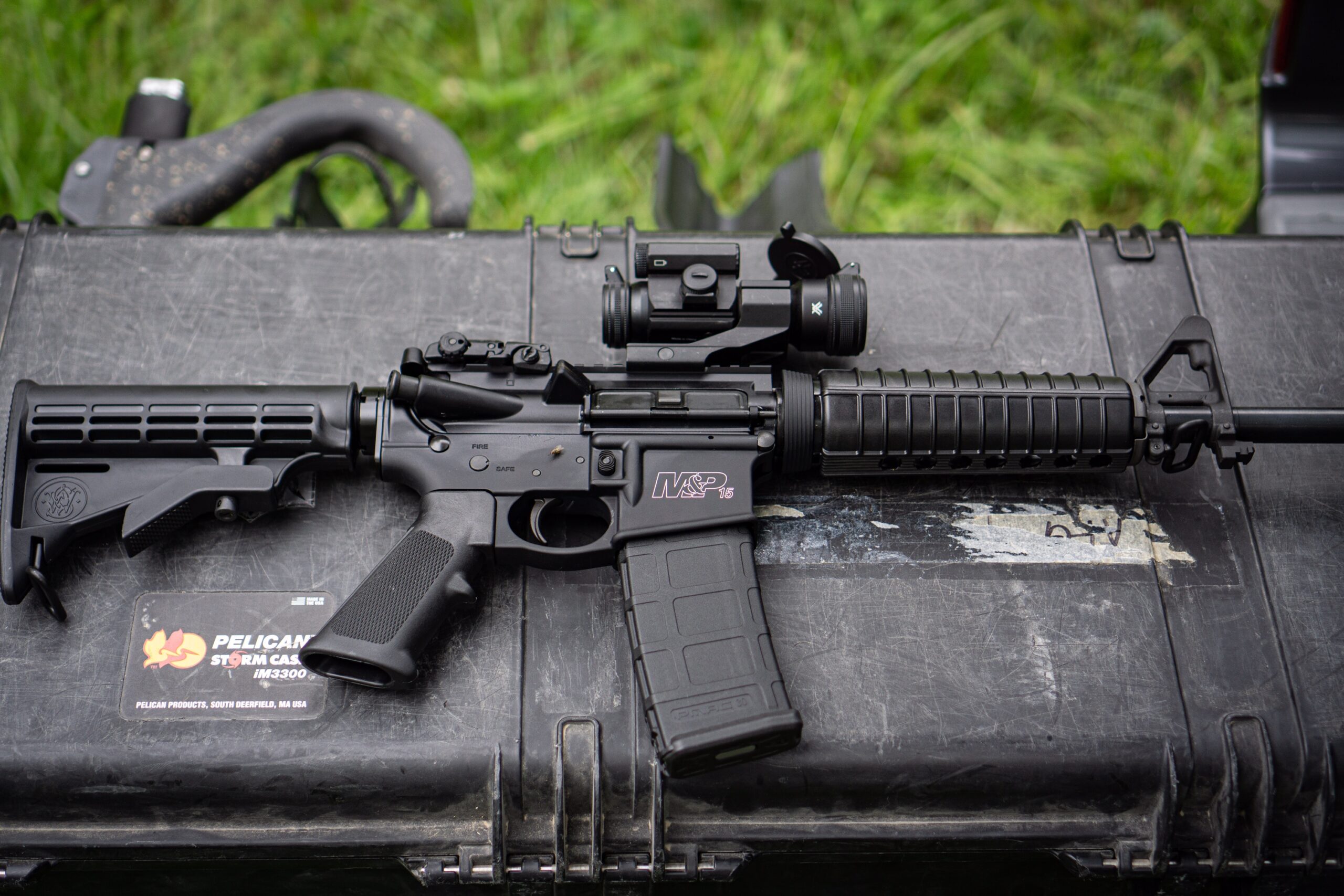 Features & Functionality: Smith & Wesson M&P15 Sport
It's not often that I shoot an AR15 with a design that so closely resembles the Colt M4 Carbine. Obviously, instead of a quad metal handguard, we have a rounded polymer handguard on the M&P15 Sport. Functionality seemed to be almost identical to the Colt M4 Carbine – outside of the select fire option of course.
Using a personally owned 16″ WMD Guns AR15, I was able to do some comparison between the two. The AR15 used for comparison is not the top of the food chain, but it is well-made and the price tag is much higher. One of the first things I noticed about shooting the M&P15 Sport in relation to my personal AR15, was the difference in recoil management. It wasn't drastic, but it was noticeably more difficult to keep on target for quick follow up shots on A zone targets at the 25 yard mark.
WMD Guns' AR15 loads out with accessories and weighs a lot more. That's probably why I'm feeling more recoil with the S&W. The WMD muzzle break did seem to be smoother though.
Smith & Wesson provided sling attachment points on the upper receiver as well as the butt stock. Accessing the magazine release, bolt catch, and charging handle was simple. The charging is a little on the smaller side for those of us who are getting more into the aftermarket options. With this being said, the provided charging handle works fine.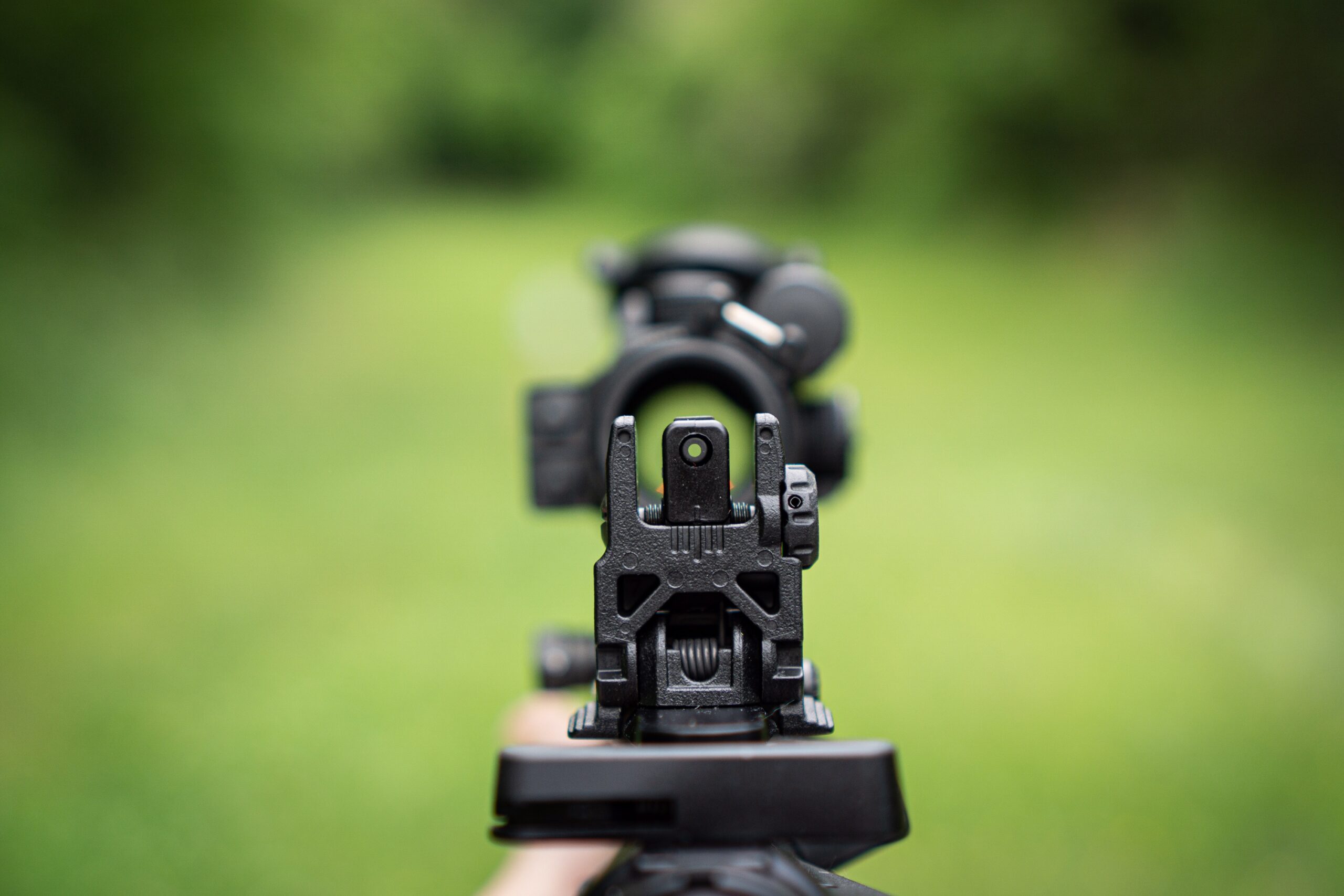 Trigger and Sights
The trigger provided a very typical stock trigger feel here. Each pull provided a fairly predictable break without an excessive amount of travel. My Lyman trigger scale showed an average pull weight of 2.8 lbs – though it felt closer to 4.
The provided sights (A2 front sight and Magpul MBUS) are rugged and simple to use. Acquiring the provided sights while at the range wasn't too much of an issue, but I did find myself to be much more proficient using the red dot optic I mounted. (A few drills using a shot timer will make you a believer in red dots if you are still rocking iron sights.)
Thankfully, I was able to co-witness the iron sights through the mounted Vortex optic. Both were fine for the distances that I was shooting at.
Muzzle Velocity Testing
As a part of my time with the Smith & Wesson M&P15 Sport, I wanted to conduct some muzzle velocity testing with a high quality round. I used Federal Premium .223 69gr. Sierra Matchking ammunition for this testing. Using a Labradar device, I was able to get the average data from 5 shots – as shown below.
Average: 2,646 feet per second
Highest: 2,668 feet per second
Lowest: 2,638 feet per second
Extreme Spread: 29
Standard Deviation: 12.2
With an advertised muzzle velocity of 2,950 from Federal, I wasn't extremely surprised by the numbers seen here. While the average velocity isn't exactly in-line with their marketing, the velocity was pretty consistent.
Final Thoughts: Smith & Wesson M&P 15 Sport 2
At an attractive price point, the M&P15 Sport 2 is bringing a good amount to the table. I really struggled to find anything all that negative about this firearm. The issues I did find were relatively minor. Smith & Wesson really is offering a good deal here in my opinion.
I believe this option is an excellent choice for a first time AR15 purchase on a budget or for someone looking for an extra to have on hand. Balancing quality and pricing isn't always that simple, and I believe that Smith & Wesson found the perfect mixture here. You are getting a U.S. made AR15 that is built to last and won't break the bank – what more could you ask for?