So, Who Is AmmoForSale.com?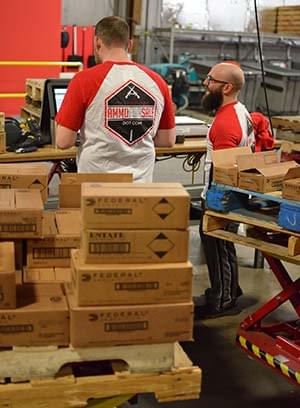 If you are like us, you like being at the range or training facility, not shopping. The idea for AmmoForSale.com grew out of our desire to provide shooters like you with a very simple, reliable source for ammunition and related products. We understand that shooters want to find great prices with no hassle - so that is what we set out to accomplish. Our prices are great, our website is easy to use, our staff is very responsive, and our service is unparalleled. We call ourselves the best place to buy ammo ever and we do our best to prove it every day. Whether you're looking for a single box of 9mm ammo or an entire case of .223, we're thrilled you're here and we'd love to help make sure your guns are never forced to go hungry.
If you have questions or suggestions, just call us at 800-581-0293 or send us an e-mail by clicking here. On the rare occasion we're all on the phone with other shooters, please just leave us a message and we will return your call promptly. Of course, we're available on social media if you'd like to get in touch or just want to check-in every now and then to see what other shooters are up to. We're serious about being the best place to buy ammo ever and if you have any ideas to help make the experience even more awesome, we're all ears!
AmmoForSale.com
7400 Beaufont Springs Drive, Ste. 300
Richmond, VA 23225
United States
Phone - 800-581-0293
Fax - 804-597-6399
Email -
customerservice@ammoforsale.com