Whenever someone mentions a certain gun company *cough* a good number of us tend to cringe. This is precisely what I did when I first picked up the Hi-Point 9mm Carbine for this review. Looks and pre-conceived bias isn't everything though – and that was made apparent in this review.
Today's world of PCC (Pistol Caliber Carbines) is quickly expanding with many companies recently jumping onto the train. The ease of operation has surely played a role in their popularity. Aesthetics are a factor here as well, one could assume, with most offering a "tactical look." The firearm we are looking at today is somewhat of a front-runner in this world. So grab a coffee and kick back for this Hi-Point 995 review.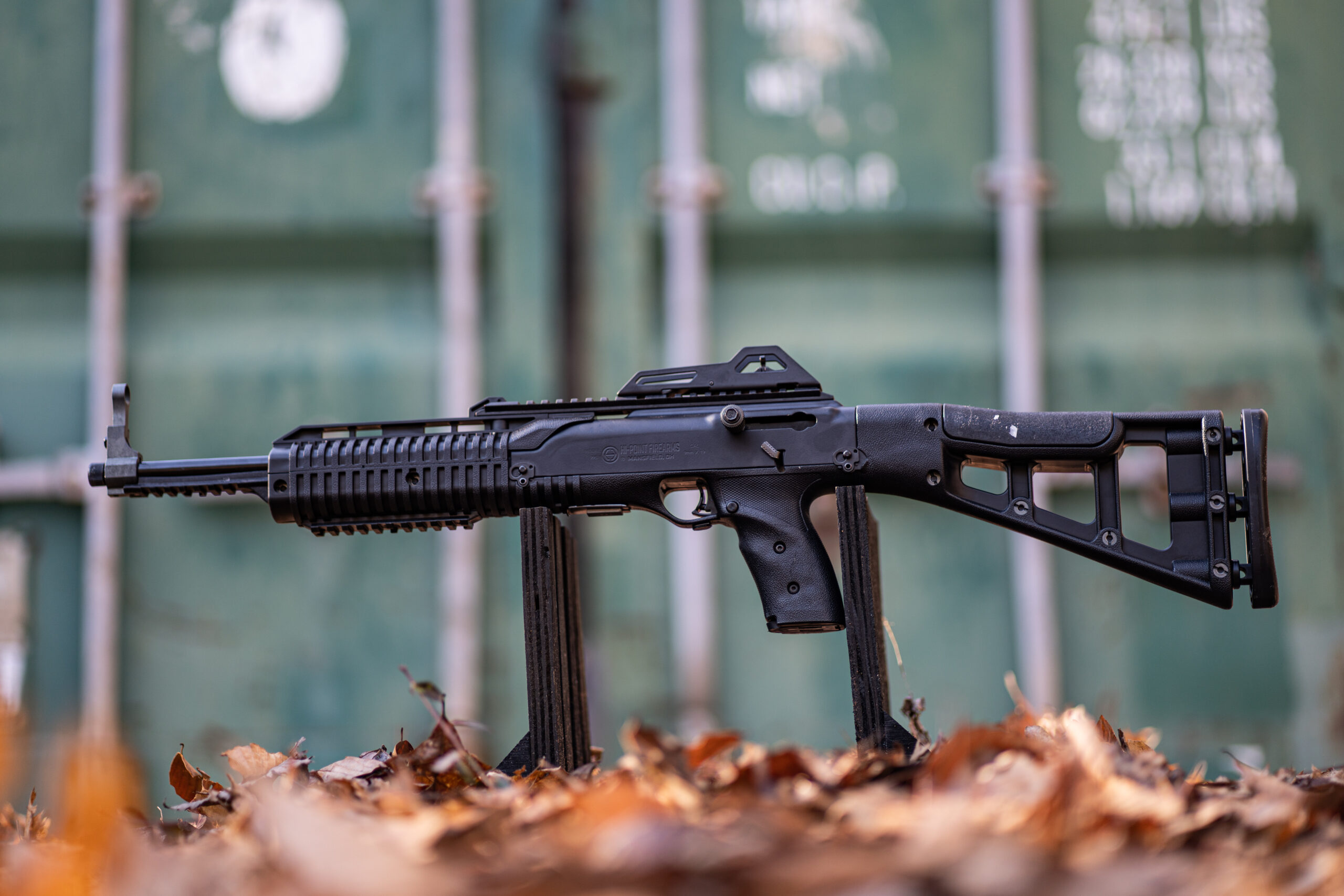 General Overview: Hi-Point 995
Hi-Point was ahead of the game here with the release of the 995 Carbine during the assault weapons ban in the 90's. The company's intentions were to design a carbine that could bypass the then assault weapons ban. By offering a pistol inserted magazine with a 10 round capacity, Hi-Point was able to successfully bypass the legislation with this offering.
While unique, Hi-Point wasn't the only company to offer alternatives. The Keltec Sub-2000 was also developed during the same timeframe – though it is several hundred dollars more in price. Speaking of price, Hi-Point is known for having some of the lowest in the market. Unsurprisingly, these low prices attract a wide range of customers. The 995 Carbine is available for just under $340 – a steal in the PCC world.
Shortly after these were released, several police agencies picked them up due to the low price tag and maneuverability within patrol vehicles. The added stability provided in the shoulder brace also gave officers more range than a typical duty pistol.
The model tested was chambered in 9mm, though .380, .40, .45ACP, and 10mm options are available. The model 995 tested had rail space and fairly large iron sights. To be honest, it's not much to look at – I've seen better looking nerf guns. I'll dive into more into the aesthetics and feel in a bit though.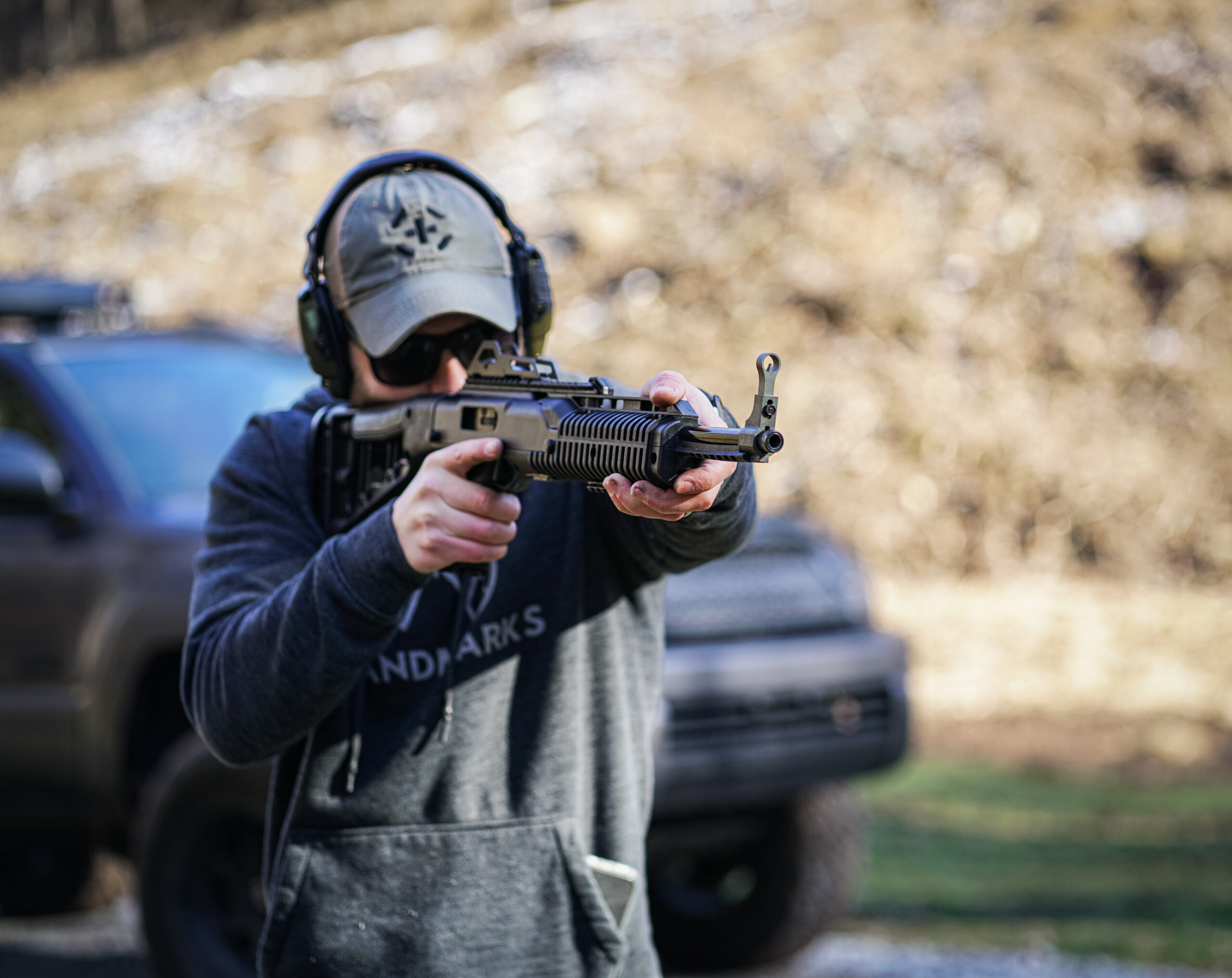 First Impressions: Range Time
I know that at this point you are expecting me to say that "I was surprisingly shocked to find the Hi-Point 995 comfortable to shoot." It wasn't. The lack of thought put into the controls and ergonomics quickly became apparent at the range. I found myself maneuvering my hands into weird positions just to operate the firearm.
It wasn't all bad though, the "rifle-like" feel and functionality made the Hi-Point 995 at least semi-enjoyable to shoot. The 995 became quite the ammunition magnet after the steel targets started ringing. The provided 10 round magazine was frustrating once I started pushing my speed. I wanted more!
The blocky appearance and feel told me the price tag before I even looked it up. And since 9mm ammo is known to have such strong recoil, (sarcasm) Hi-Point decided it would be wise to toss on a unique springboard buttstock. I'm pretty sure I could actually hear the springs each time I fired.
During my testing I had at least two failure to extract malfunctions using standard brass case 115gr. FMJ ammunition. For context, this was out of about 400 rounds fired. Outside of the malfunctions, I struggled to get the magazine to seat without really putting effort into it. I typically had to use a single finger to push directly up on the magazine after inserting it – not ideal.
I was able to run several types of ammunition through the Hi-Point 995 and it seemed to have very little impact on how the firearm performed.
 Specifications: Hi-Point 995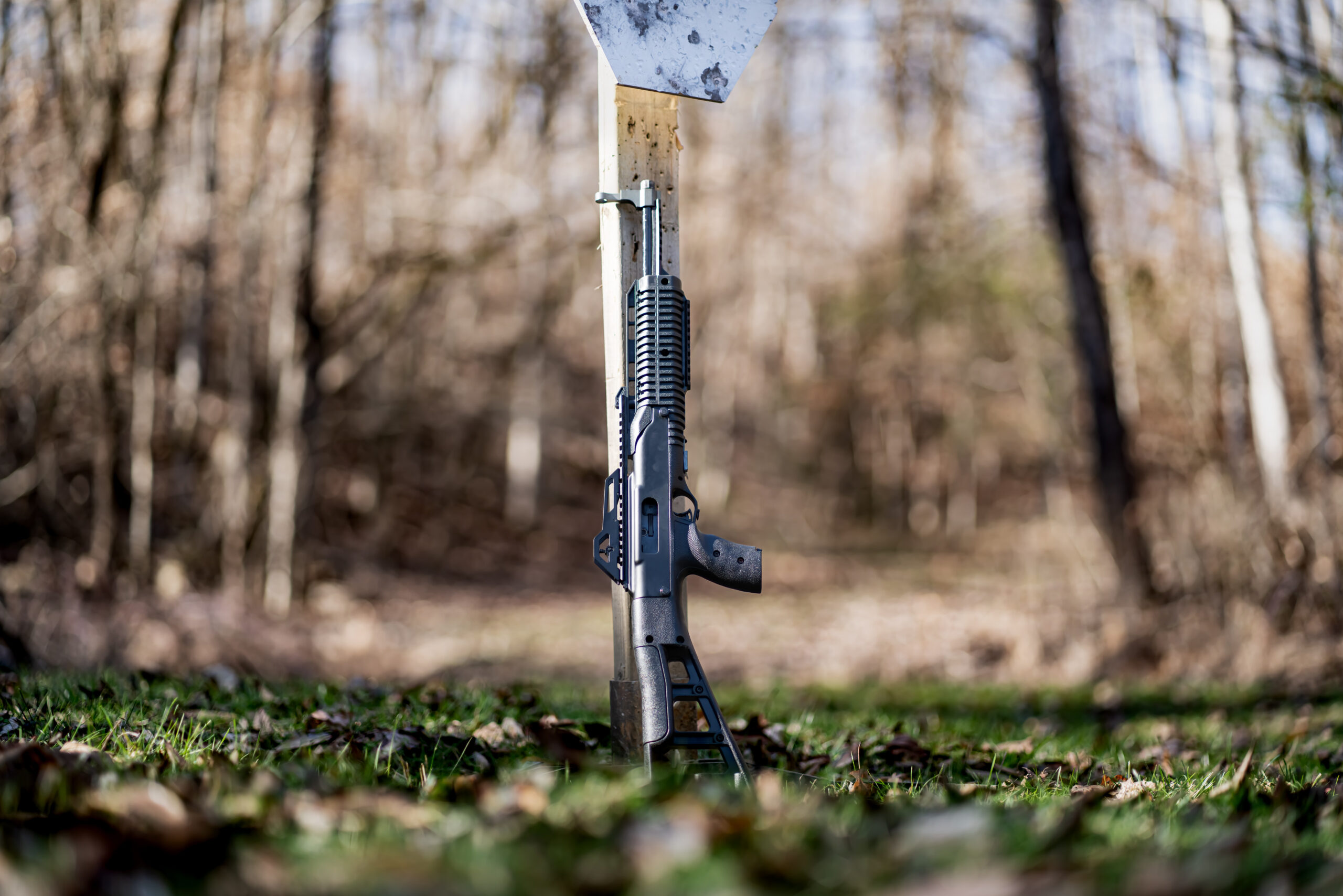 MSRP: $339 (As Tested)
Caliber: 9mm
Barrel Length: 16.5″ (As Tested)
Stock: Fixed With Spring System
Weight Empty: 6.25 Pounds
Sights: Adjustable Rear Peep & Post Front
Overall Length: 31″ (As Tested)
Sights & Trigger: Hi-Point 995
When you are talking about a firearm priced in this range, typically you are just worried about it functioning consistently. However, let's dig into the details a bit here with the included sights and trigger.
Hi-Point provided a fairly easy to use set of iron sights. Though they aren't nearly as quick for me as a standard red dot optic, I really didn't struggle much to pick up these ring sights. Even when I sped things up and only used the front sight post, I was getting fairly accurate hits at 20-30 yards.
As you would expect from a firearm that looks like your 5 year old nephew built with legos, the trigger was less that optimal in my experience. Each pull included a good bit of travel and a spongy feeling. My testing with a trigger scale showed an average pull weight of right under 7 pounds. I have fired pellet rifles with more refined triggers – I think that paints a clear picture here.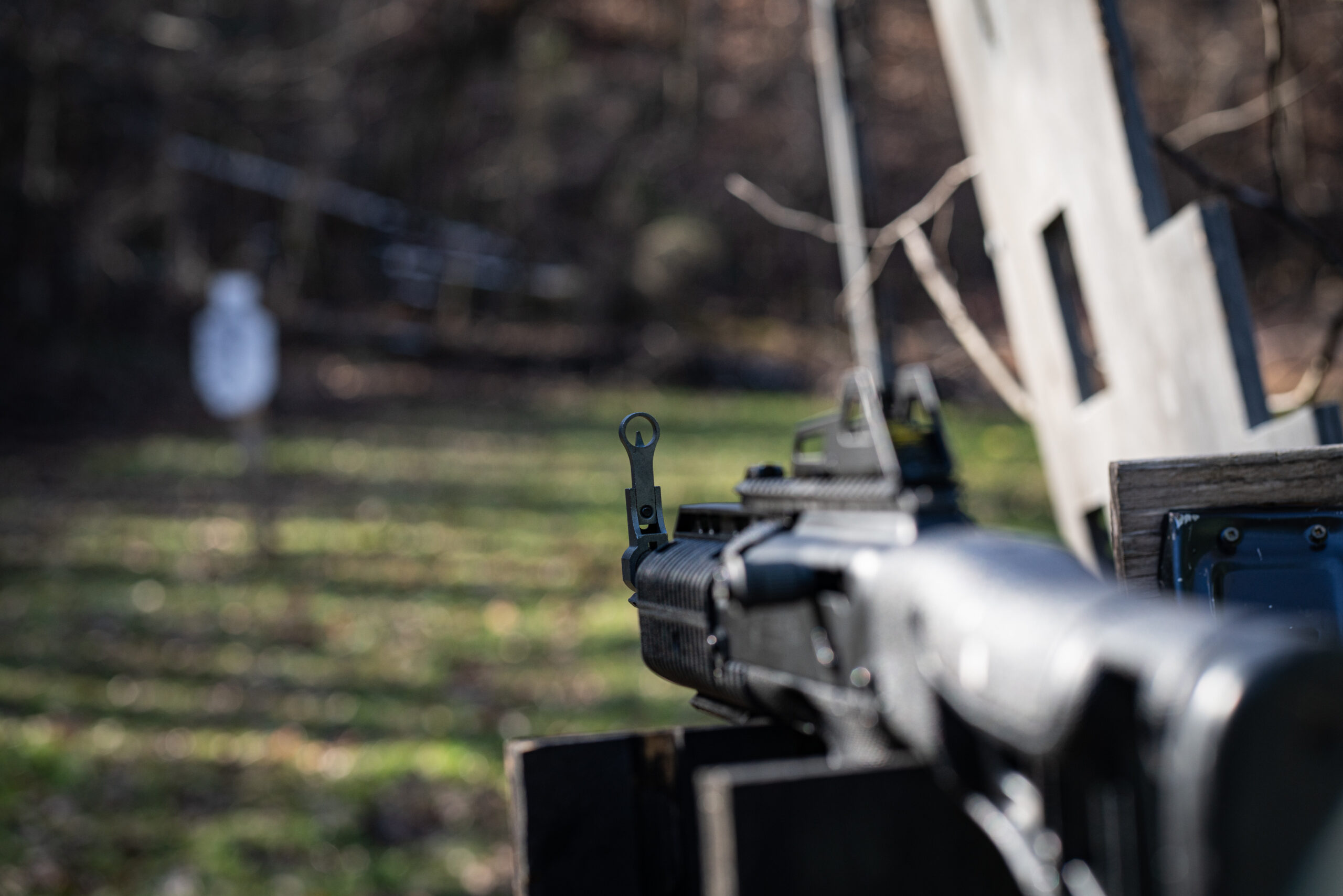 Muzzle Velocity Testing
Using a common self defense round, I conducted some Labradar velocity testing out of the Hi-Point 995. My test results are based on the average data from 5 shots. The ammunition used was Hornady 124gr XTP. Nothing seemed out of place here based on the barrel size and advertised muzzle velocity from Hornady.
Average: 1,251 fps.
Highest: 1,282 fps.
Lowest: 1,169 fps.
Extreme Spread: 113
Standard Deviation: 46.7
Final Thoughts: Hi-Point 995
For those interested in an inexpensive, U.S. made Pistol Caliber Carbine from a company that promises a lifetime warranty, the Hi-Point 995 might be the one. Or maybe you just want to own a range gun that you won't care too much about going down when that cousin insists on shooting his "custom reloads."
The Hi-Point 995 is semi-fun to shoot, weird looking, and almost iconic at this point. I see the appeal for those reasons alone. If you're planning on choosing the Hi-Point 995 for defense purposes or serious shooting, I'd recommend saving a little more money and purchase something more "complete."
At the end of the day, it's a matter of budget and priorities. If tossing a Hi-Point 995 in the safe would make you smile – at least now you have a slight idea of what you're getting into.