Shotguns have and likely always will be a staple gun in the United States. When most people imagine a shotgun they picture a long and chunky wooden frame variant or the tactical (but still relatively long) versions. A few companies have recently introduced "shotgun-like" variants that break those typical molds. One of those companies is Mossberg. With a few legal hoops, Mossberg was able to bring shells to a short pump action package. The firearm we are reviewing today functions like a shotgun, looks like one, but isn't technically a shotgun..and it shoots shells. Confused yet? Good, me too. So what is this firearm all about and is it even practical? Let's find out in this Mossberg 590 Shockwave 20 gauge review.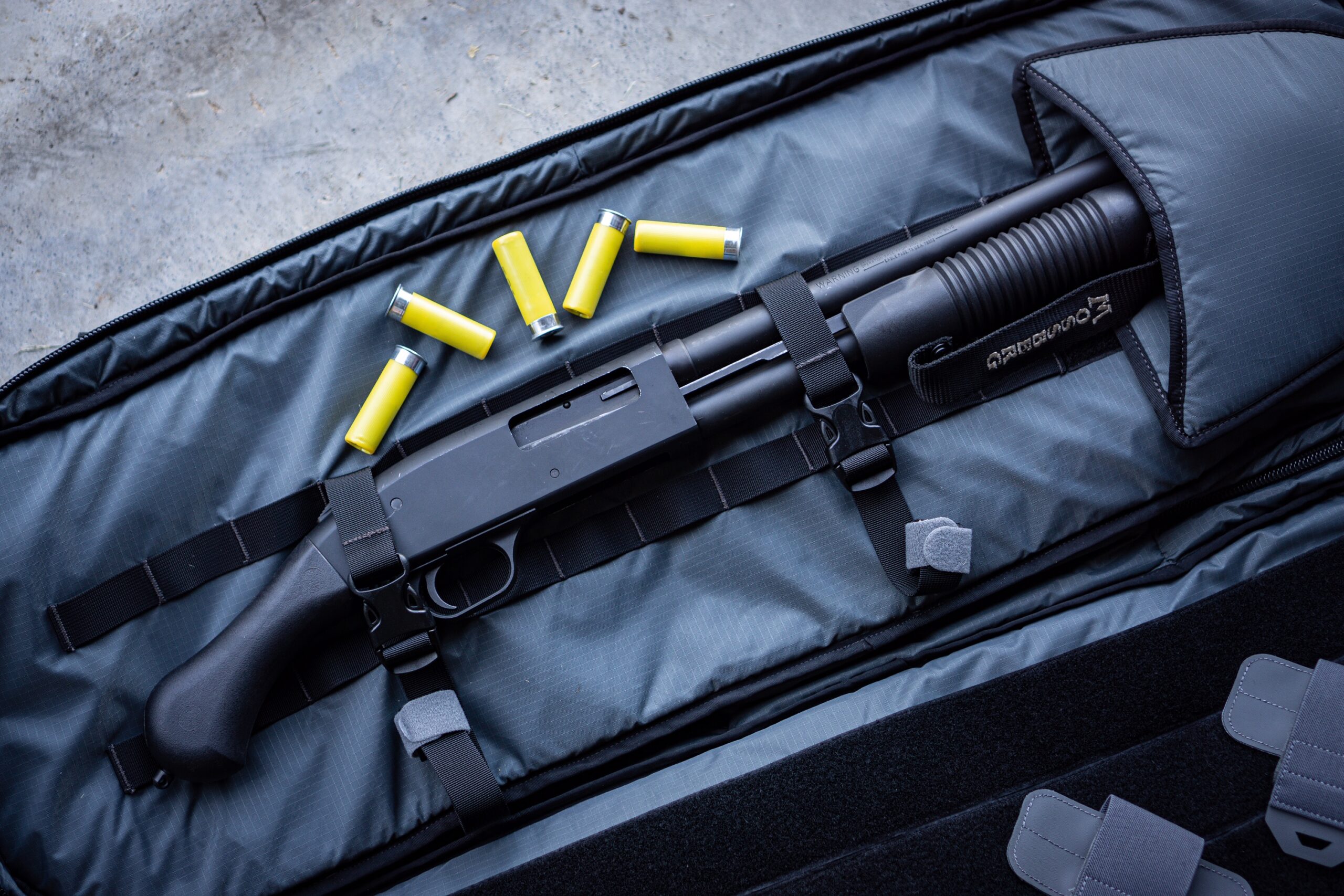 General Overview: Mossberg 590 Shockwave
Mossberg released the 590 Shockwave back in early 2017 and it is actually not what you think it is. The 590 Shockwave is classified only as a "firearm" according to a certain three letter agency; It's not a class three/NFA firearm. I will try to stay out of the legal aspects of this firearm and just preface all of this by saying that you should check your local laws prior to attempting to get your hands on one.
The Shockwave is offered in 12 gauge, .410 bore, and 20 gauge (which we are looking at today). With the compact frame size, I'm going to speculate that the 20 gauge is likely the most popular choice among those looking to carry this firearm for self defense. It's clearly a very unconventional firearm from the appearance alone. I can't help but see a combination of a late 1700s blackpowder pistol and a modern pump action shotgun in the Shockwave.
Mossberg essentially used the same components seen in the 500 series pump shotgun minus the stock to produce the Shockwave. This means the Shockwave is truly a well-built and rugged tool that will last.
From the reactions to this firearm online, it's easy to see that it lives up to the name at least by creating a shockwave in the industry. It was really a new concept back in 2017 and people still raise eyebrows at them today. Mossberg even makes a variant with a chainsaw style handle.
While undoubtedly innovative, many have voiced varying perspectives on the Shockwave and its' practicality. I'm sure many see this as merely a safe queen or a  "toy" for a weekend range trip. Others are relying on this compact firearm for self defense – particularly as a vehicle based weapon where legal. With a capacity of 5+1 3″ shells, it really isn't much different from a typical home defense shotgun firepower wise. A substantial amount of firepower in such a low profile package is definitely an appeal.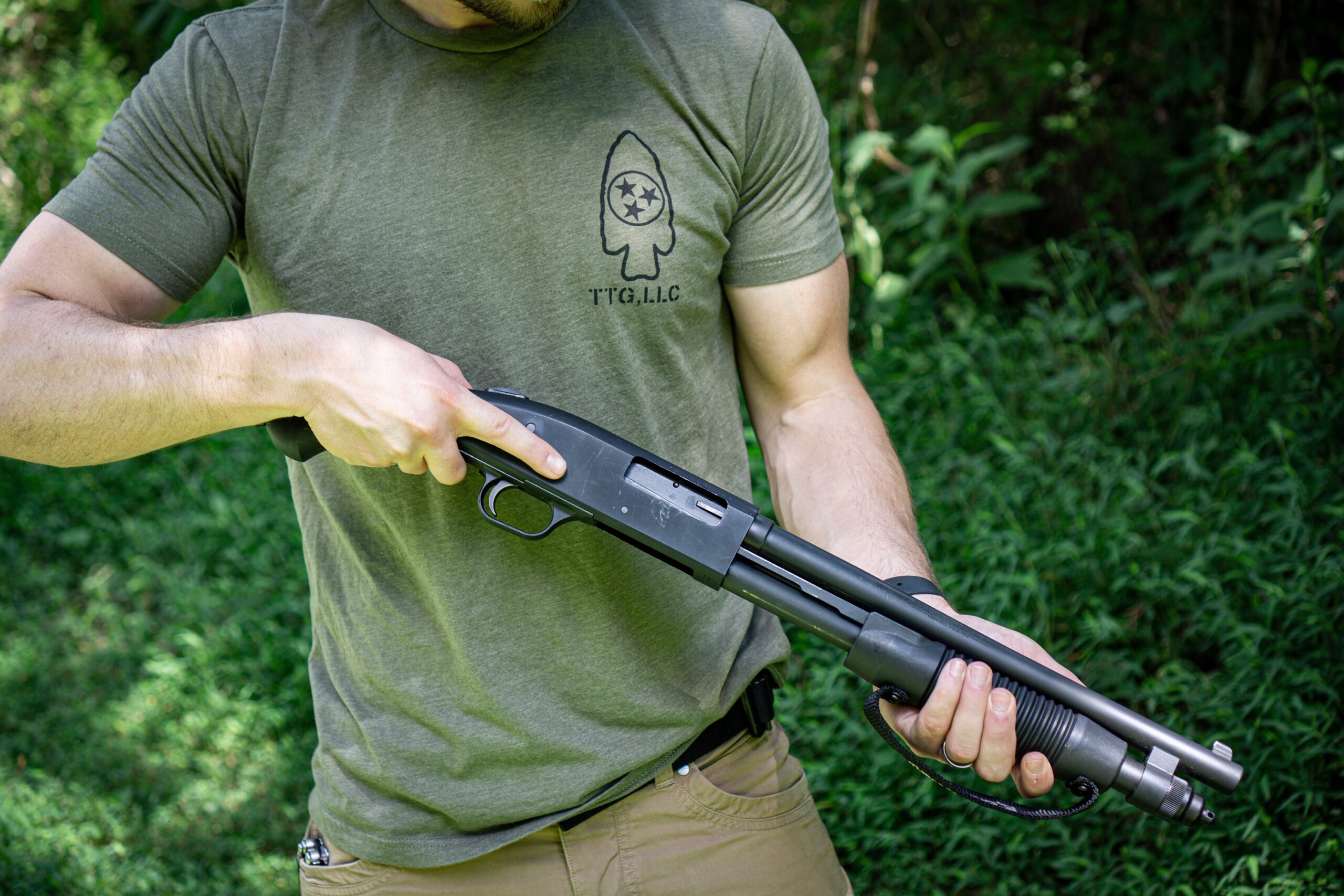 Specifications: 590 Shockwave
Gauge: 20 (As Tested)
Price: $350
Capacity: 5+1
Barrel Length: 14.375″
Chamber: 3″
Weight Empty: 5.25 pounds
Total Length: 26.37″
Sight: After market bead sight
User Experience: Functionality
I'll admit that I came into this review with relatively low expectations from a practicality standpoint with the Shockwave. I was able to get my hands on one several weeks back, and of course I got it out onto the range for some testing. My experience with the Shockwave was honestly much better than I had anticipated. I'm not going to call it the ideal self defense tool – that's narrow minded. With that being said, it was actually not that difficult to operate efficiently in my experience.
My initial experience with the Shockwave was while firing some 2 3/4″ game load shells. The felt recoil and control was reasonable in my opinion – at least much better than I anticipated prior to that first pull of the trigger. Mossberg provides a built-on pump strap for added control as well as a nicely shaped bird head pistol grip. My confidence with the Shockwave began to increase and remained even as I worked up to self defense ammunition such as 3/4 oz. Winchester Defender Rifled Slugs.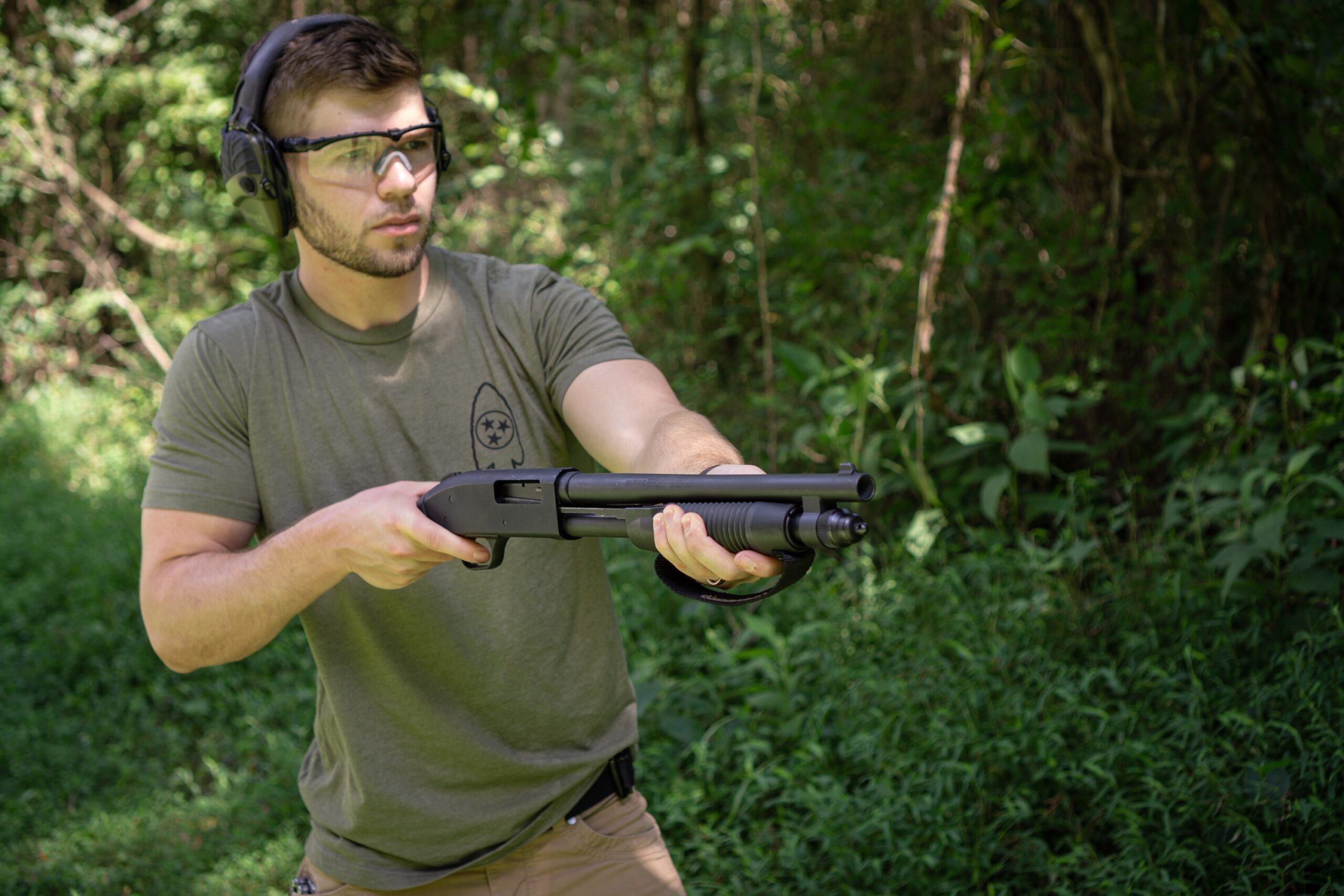 One of my only true complaints regarding the functionality of the Shockwave pertains to the safety selector. The manual safety engaged at least twice and prevented me from firing while attempting to rapidly fire several shells. I see this as a fairly significant issue since this could have grave consequences in a real self defense situation. I did a little research and it seems that I'm not the only one to experience this. According to what I found online, it was a relatively simple adjustment of a set screw to address it. Still, I was not too thrilled about the issue.
Cycling the action and every other aspect of the Shockwave seemed to be smooth sailing. Although not something typically considered much on weapon like this, the trigger felt light and had a nice smooth travel. My testing of the trigger pull showed a reading of 4.8 pounds.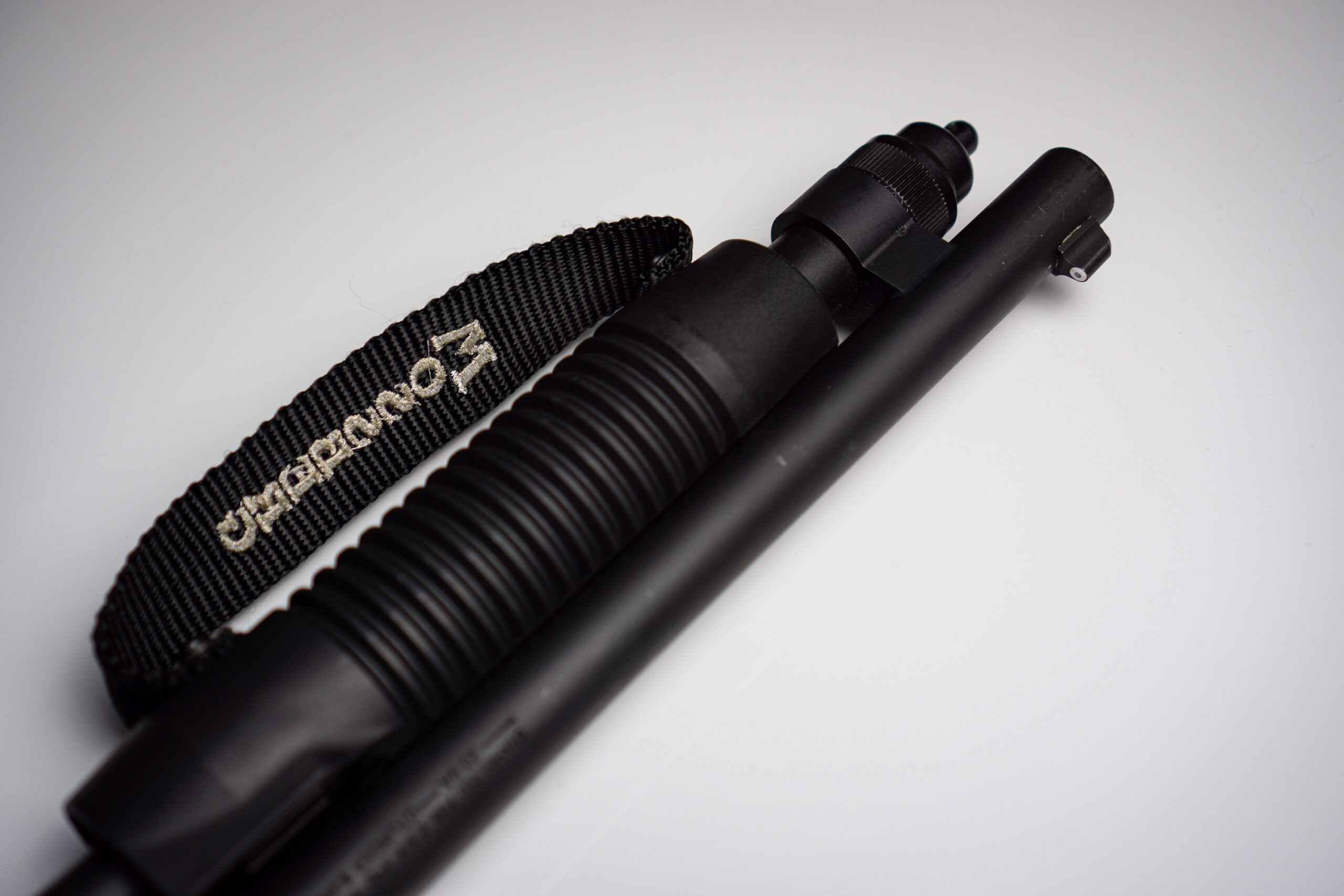 Shockwave Accuracy Review
I'll start here by saying that "accuracy" is a loosely defined term – especially in the area of shotgun loads. I'm not referring to the actual accuracy of the firearm but more so my personal ability to hit targets at a self defense range. Self defense range to me is anything within 10-15 yards.
I felt a little awkward even holding this firearm – I'm still not sure that there is a wrong or right way to fire it. I ultimately ended up firing the Shockwave primarily with it right under chest level – as shown in the photo above. My accuracy with this method seemed to be the most consistent.
The groups I saw out of this 14″ barrel seemed to be consistent with what I would expect out of an 18″ barrel.
I started to feel fairly accurate with the Shockwave after firing 30 or so shells but did notice that I seemed to hit consistently hit high on my targets. You can make use of the front sight if you like – but this is mostly a "point shoot" firearm from my experience.
This area is where the Shockwave starts to truly separate itself from a full-sized shotgun. You are clearly giving up a certain level of control and accuracy with the Shockwave in comparison to a typical home defense shotgun with a stock. Getting quick follow up shots with the Shockwave will be more of a challenge – even at close range. I think it's important that those purchasing this firearm understand and accept this trade off.
Accuracy is where I feel like the experience and overall opinion on the Shockwave will vary tremendously. Just because I was able to find a firing position that worked for me doesn't mean that everyone will have the same experience. This firearm is unconventional and will require unconventional operation.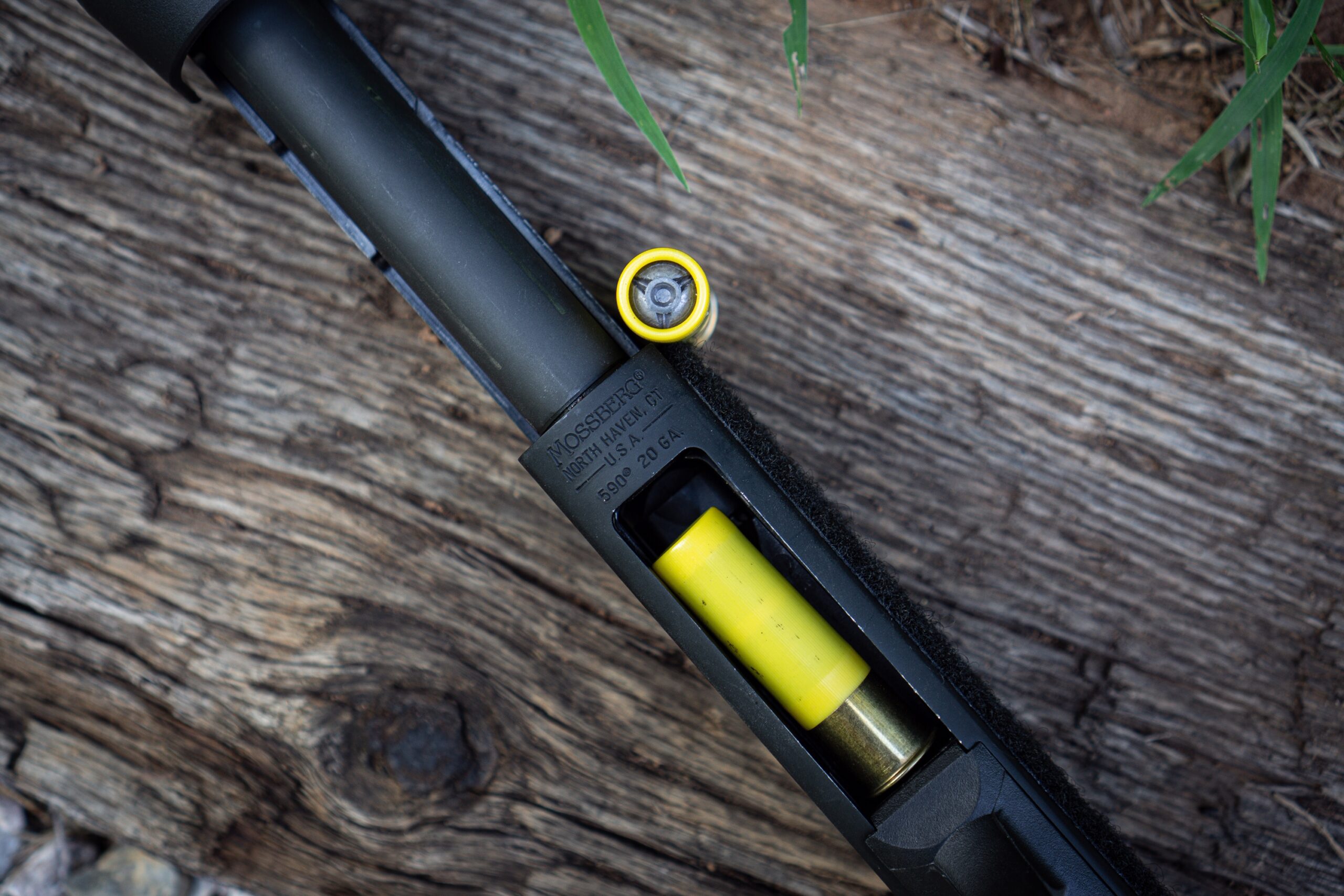 Final Thoughts
Just from transporting the Shockwave and using it at the range I could quickly see the attractiveness of the compact frame. The design is clearly intended for close range activities and for that purpose I would agree that the Shockwave might fit the bill.
The price tag may be a fairly large factor in most people's decision on whether or not to pick one up. A brand new Shockwave as tested will typically cost around $350. While this isn't a large price tag, you are awfully close to a full sized actual shotgun with that money.
I definitely wouldn't mind adding a Shockwave to my collection but I also see it more as novelty than practical self defense tool.  When it comes to vehicle carry (as many intend to carry the Shockwave) It's difficult for me to not see a handgun as being a much better self defense tool. The increased maneuverability, capacity, and shot accountability all seem to be in favor of the handgun. With all that being said, I sure wouldn't mind having both available.