In the world of firearms, there has and always will be unique options. We will be covering one of those unique options today from Ruger – the Ruger PC Carbine in this review.
Think of a pistol caliber carbine as a hybrid of sorts. In this case, the Ruger PC Carbine fires handgun ammunition out of its 16″ barrel. While this might not be practical for everyone, I can truly see the usefulness in certain applications.
Overview & First Impressions: Ruger PC Carbine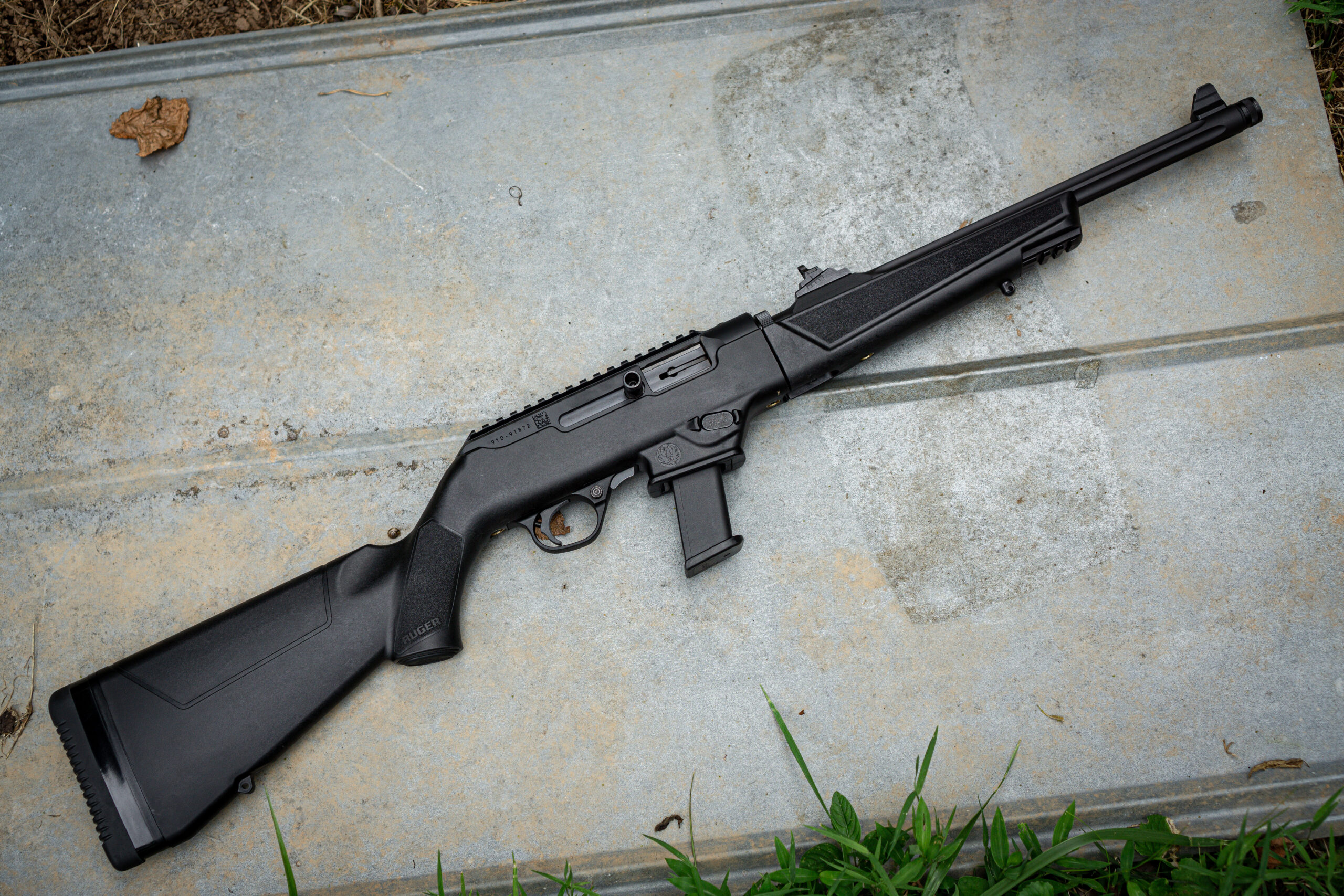 Coming into this review I was a little unsure of how I would like the Ruger PC Carbine – it's no secret that we all have bias and preference when it comes to firearms and their appearances. The Ruger PC Carbine is missing the usual aggressive and modern look commonly found in today's rifle platforms. I almost felt like I was seeing a modernized M1 Garand. After handling this gun, I quickly became entertained with  it. In the end, I found myself impressed with the overall performance.
Ruger PCC's Introduction
Ruger originally designed the PC (Police Carbine) in 1996 and ran production up until 2007 before stopping. The firearm was intended for police use but has also been available to the civilian market. Ruger re-introduced the firearm in 2017 as the PC (Pistol Carbine) and that is the version I am reviewing here. This firearm is offered in .40 S&W and 9mm Luger variations. For this review, I have the 9mm variant.
The obvious intent of the Ruger PC Carbine was to provide superior range and velocity using the same ammunition (and magazines) that many police officers already carry on their person.
I spent a good bit of time at the range with the PC Carbine running several hundred rounds of varying ammunition types through it – including hollow point self-defense loads.
All it took was a few rounds and I was hooked. Quickly and consistently hitting 80 yard targets with 9mm ball ammo was addicting. It was a breeze to speed up target transitions and put rounds where you wanted with very little issue. Firing the Ruger PC Carbine reminded me strongly of shooting a 22 long rifle. I felt little to no recoil combined with a very maneuverable platform.
Specifications:
Price: $649 (as tested)
Caliber: 9mm (as tested)
Weight Empty: 6.8 pounds
Total Length: 34.37″
Barrel Length: 16.12″
Capacity: 17
Magazine Compatibility: Glock & SR-9
Frame Size & Mobility Considerations
One of the truly unique and attractive aspects of the Ruger PC Carbine is the ability to separate the firearm into two main components for storage or mobility. This function may be especially appealing to those intending to designate this firearm as an emergency or "truck" gun.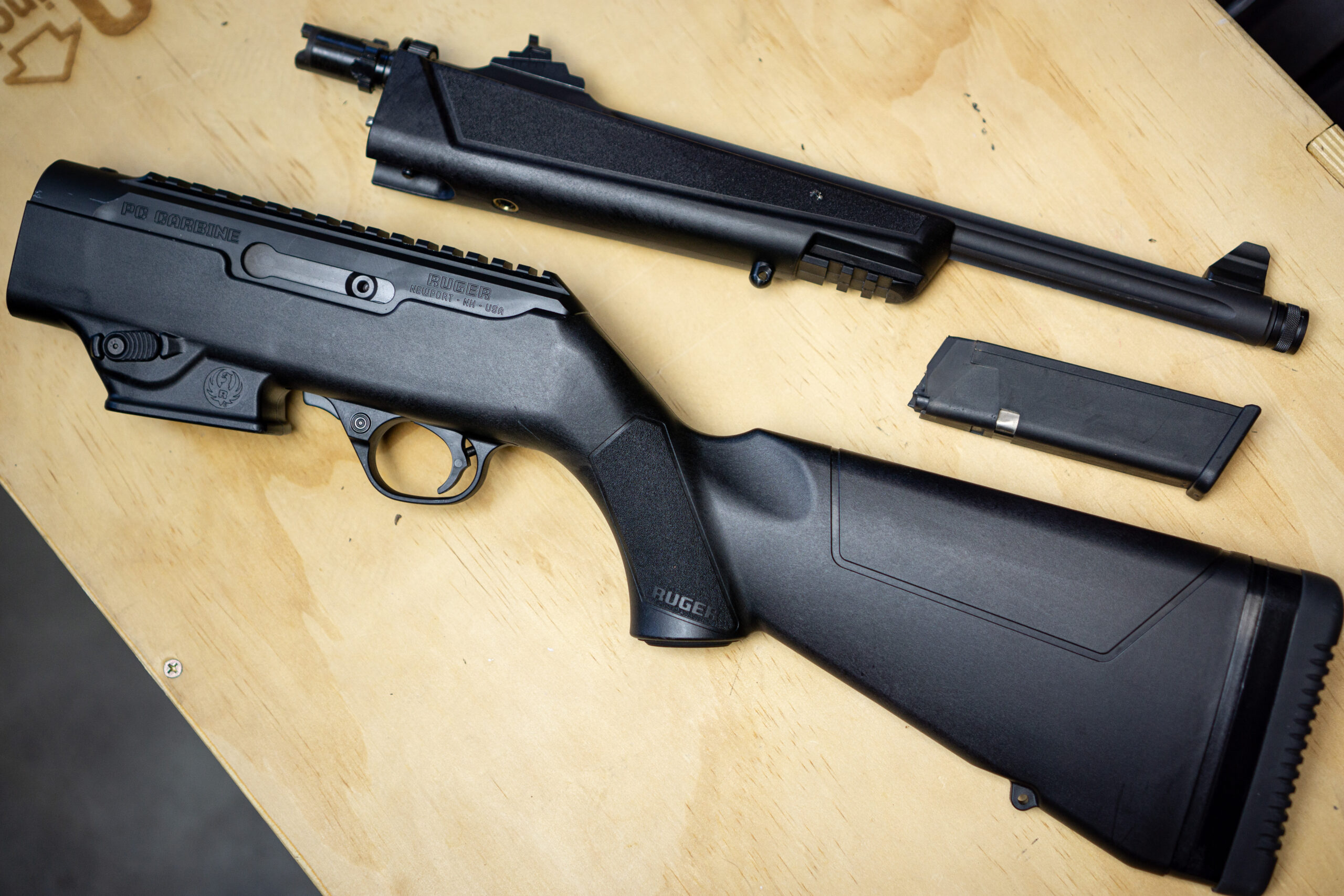 As you can see, the firearm really does become compact when broken down into both main components. Breaking down and reassembling the PC Carbine is very simple and can be done quickly. Ruger placed a recessed lever forward of the magazine well that is used to break the firearm into two. The firearms separates by rotating the barrel approximately a quarter turn after depressing the takedown lever with an empty chamber and bolt to the rear. If you've used other Ruger takedown firearms, this should look and sound familiar to you.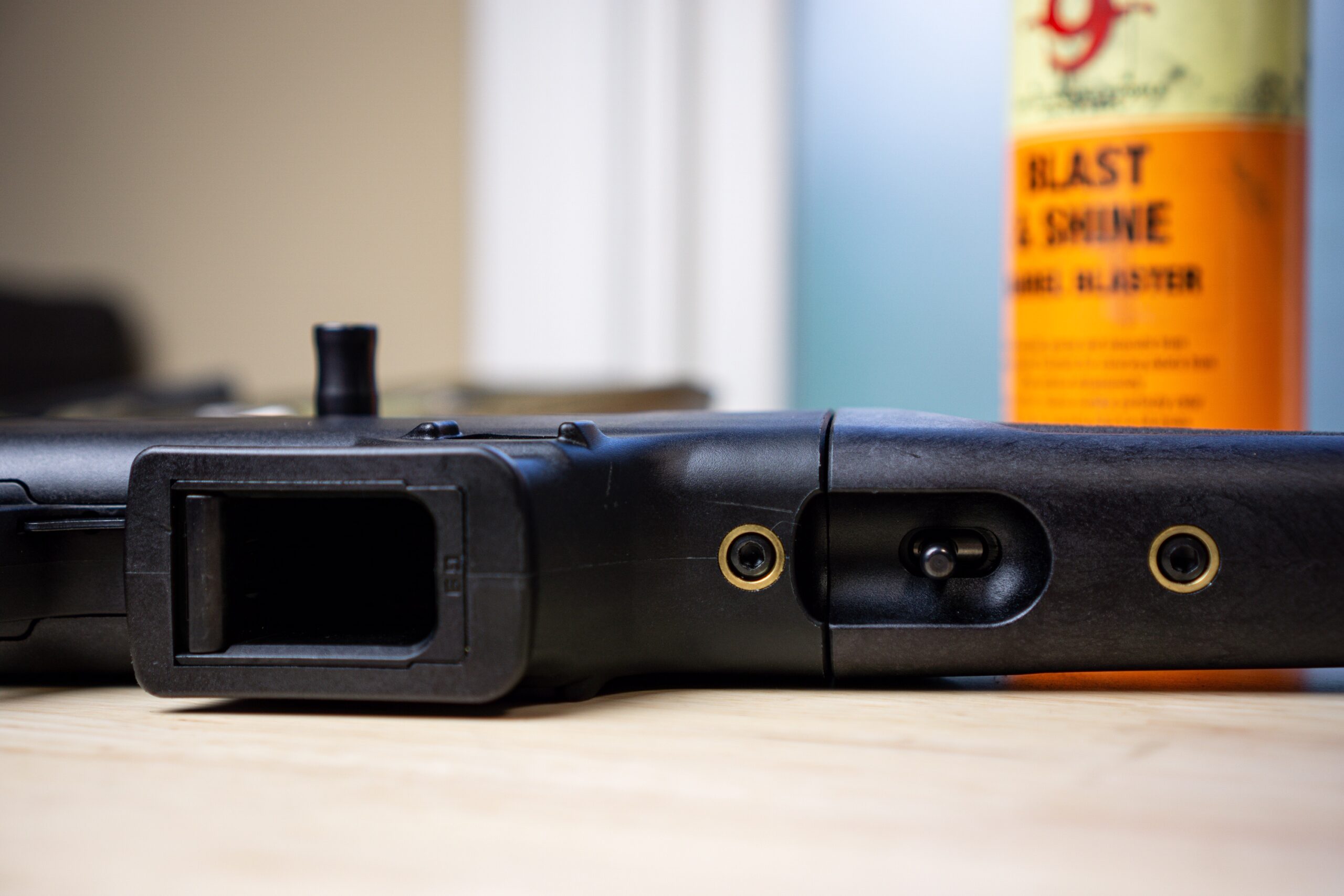 The breakdown size is a great feature if you ask me. The size broken down would allow someone to carry this firearm in a backpack.
The PC Carbine has moderate size that is comparable to your average AR platform in terms of length. Holding and firing the PC Carbine provides a definite level of confidence and control – which I appreciated.
That AR-like length allows for a fairly maneuverable platform that expands the potential applications for this firearm.
With an overall empty weight of 6.8 pounds, it definitely has a solid feel to it. I'll touch more on this later, but the weight and design provide an almost recoil free firing experience.
Capacity
A nice feature of the PC Carbine is its' ability to operate using commonly found handgun magazines from Glock and of course Ruger. I used Glock 17 magazines for my testing of the PC Carbine. The 17 round capacity really seems to fit the gun well and provides plenty of firepower.
Combine the accuracy and stability of the PC Carbine with 17 rounds and you have yourself a very strong tool. I realize that the majority of folks purchasing a Ruger PC Carbine are doing so for range plinking but I can see the self defense appeal too.
Sights & Trigger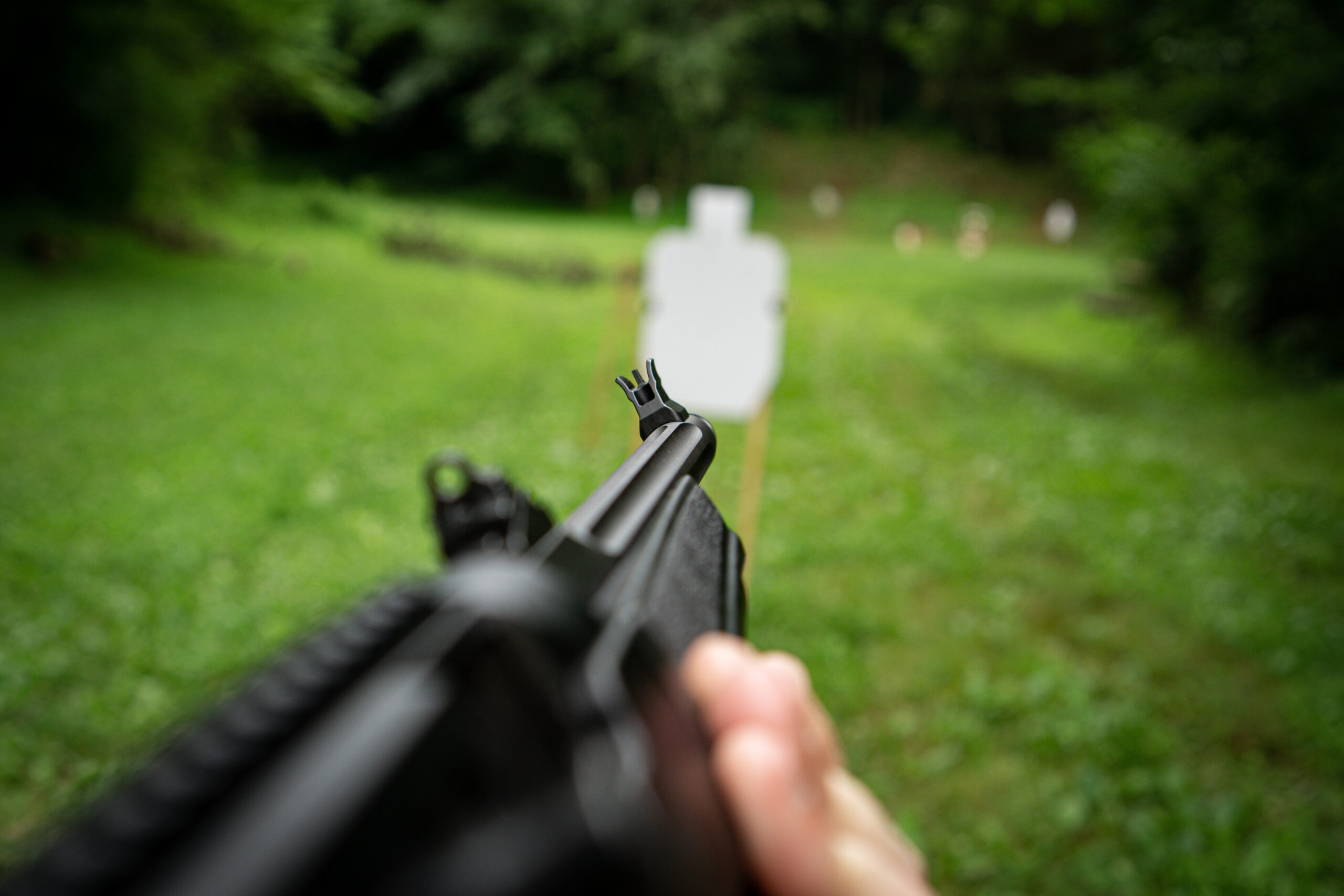 Sights
Ruger provides a stock ghost ring rear and protected blade front sight for simple target acquisition. My experience with these sights was predictable and simple. Although the provided iron sights were adequate and easy to use, Ruger does provide a Picatinny-style upper rail that could used for an optic.
Depending on application and environment, adding a red dot optic might be a wise choice. While on the topic, I'll point out the Ruger PC Carbine even includes a rail area on the bottom side forward of the hand guard. This area would allow the owner to mount a weapon light for target acquisition in low light. Ruger also offers a free floating hand guard model that would allow for more accessories.
Trigger
The trigger on the PC Carbine was completely fine in my humble opinion. My standard for triggers isn't super high – coming from someone who doesn't typically shoot with aftermarket triggers.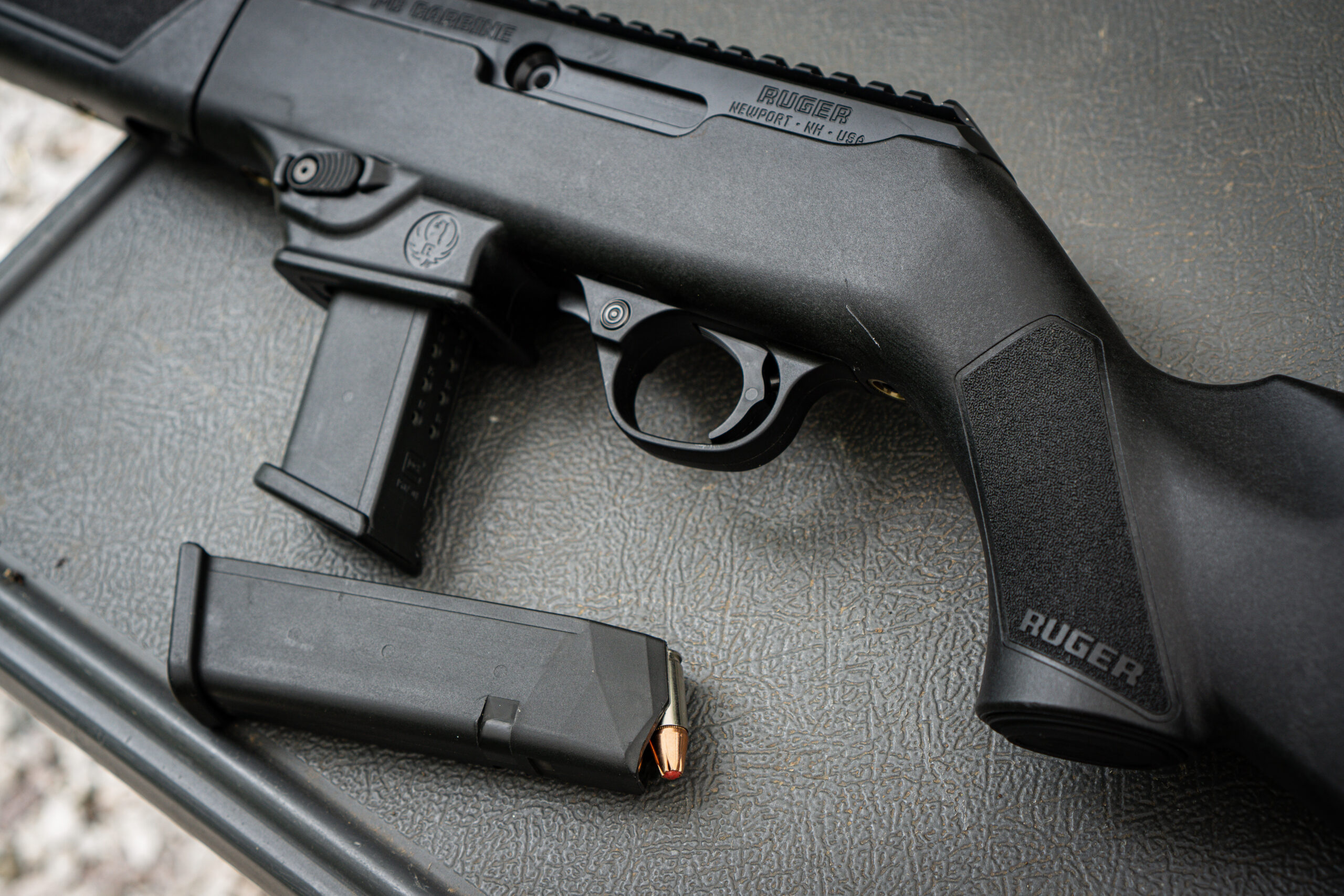 I noticed very little travel in the trigger and a nice clean reset that was appreciated. The pull-weight felt very light – especially compared to your typical 9mm firing experience.
My tested pull weight of the trigger was 2 pounds 13 ounces. Ruger did a great job in this area from my perspective. Lining up the sights and letting rounds off with this trigger was a breeze.
Functionality: User Experience
My expectations were not all that high coming into this review. I just couldn't get over the awkward look of this firearm. Thankfully, the performance far outshines the appearance.
Shooting the PC Carbine reminded me of the days plinking soda cans with 22 LR ammo. It's just hard to stop. I quickly ran through approximately four hundred rounds of 9mm, and felt like I was just getting warmed up.
My only true complaint regarding functionality was with the magazine release. I noticed that my support hand palm depressed the magazine release on a few occasions while obtaining a grip. While I don't believe this is a major issue for most, I did find it slightly concerning considering that some might use it for self defense. The magazine release is just very prominent and exposes itself to situations like I described above.
One nice feature of the PC Carbine is the buttstock. The buttpad is very comfortable and allows the owner to extend or retract using 3 different provided spacers. As would be expected, the PC Carbine has built in sling attachment points.
Operating the gun is unique since it involves use of a side "charging handle" for bolt operation. The design reminds me of a .22 LR with a whole lot more beef to the charging handle. Overall, it wasn't all that difficult to operate but did stall me a few times on reloads as my support side thumb reached up looking for an AR style bolt release.
Muzzle Velocity Impact
When it comes to 9mm, most of us are used to firing it out of handguns with roughly 4″ barrels. The PC Carbine has a 16.12″ barrel so I knew that my muzzle velocity readings using a LabRadar would be different than what I'm used to seeing for 9mm.
I used Speer Gold Dot 115 gr. ammunition (a common self defense and duty ammunition) for my muzzle velocity test. A 5 round test group showed an average muzzle velocity of 1,426 feet per second. For reference, Speer advertises a muzzle velocity of 1,200 feet per second out of a 4″ barrel.
Data from 5 shot test group:
Highest Velocity: 1,444
Lowest Velocity: 1,406
Extreme Spread: 38
Standard Deviation: 14.4
Final Thoughts
I found myself really drawn to the ease of use with the PC Carbine – it almost seems too easy to shoot accurately. For this reason along with the modularity, I see a true home defense weapon candidate here.
At the price tag of $649, I would personally have a difficult time spending that on this particular firearm unless I needed a weapon that would break down into two pieces like this one does. Adding a quality light and optic to the Ruger PC Carbine would surely put you right near $1,000. With entry level AR-15 rifles starting near the same price point as the PC Carbine, I would personally prioritize an AR style rifle first. The increased customization potential and ballistic benefits seen with an AR-15 appeal to me more than what is offered with a Ruger PC Carbine.
This is a durable and reliable firearm that would fit a variety of applications. I really am impressed with the performance and see the draw based on the hybrid nature.