A sure fire way of garnishing attention in the firearm industry is to build an obnoxiously large handgun – especially if it's a revolver. Taurus did just that with their .357 Magnum 627 Tracker. This revolver is arguably offering the best price per inch of barrel in the market today. It's only one of a few handguns that doubles as a club once you run out of ammunition. Let's dive into the details of this eye catching and budget friendly firearm in our Taurus 627 Tracker review.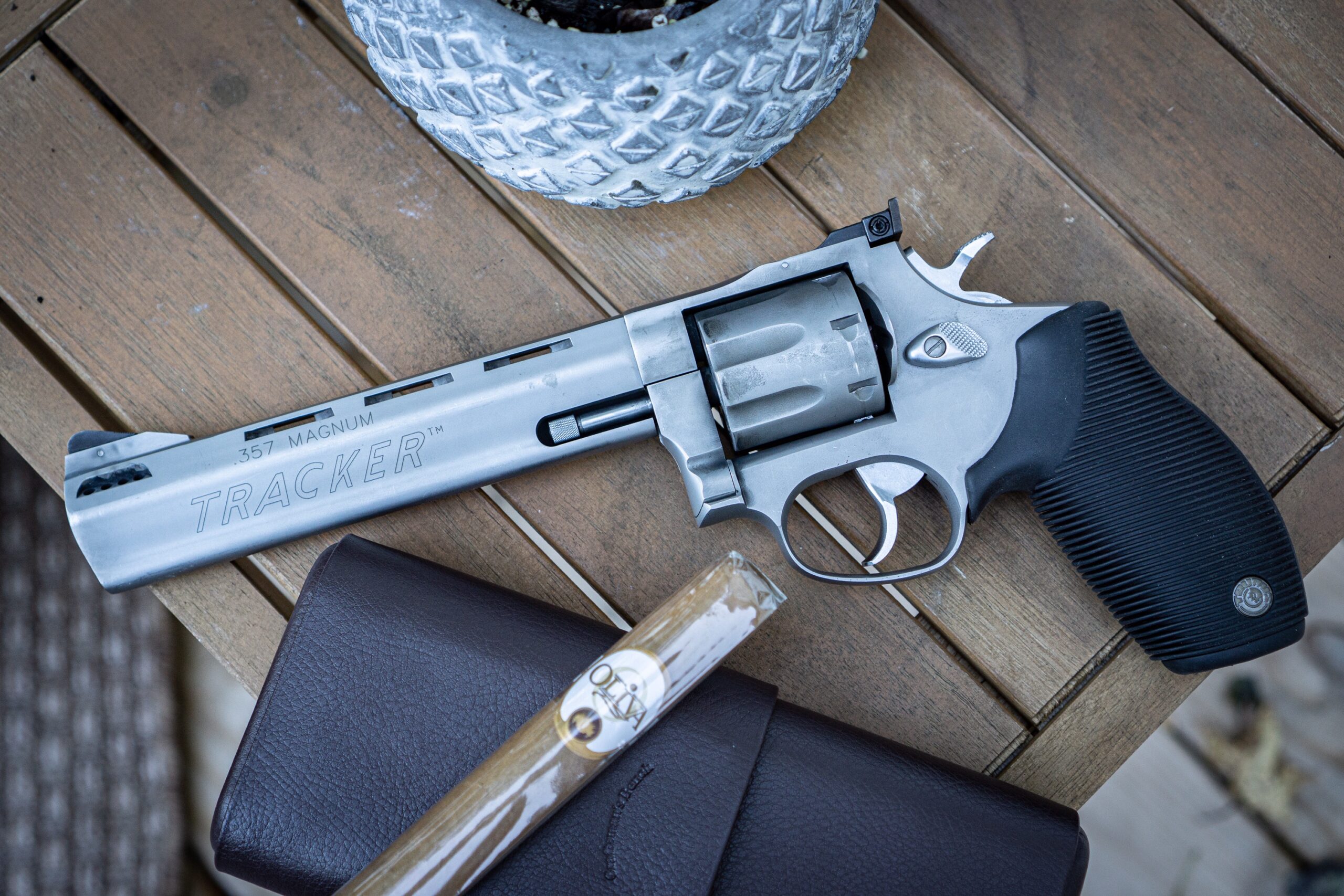 Overview: Taurus 627 Tracker Review
The M627SS (as tested) Tracker is a Brazilian made stainless steel revolver chambered for use with 357 Magnum ammo. Taurus is well known for handguns – and shooters are coming to know them best for affordable revolvers.
While Taurus isn't known for extreme build quality and fine details, they have done a relatively good job of marketing to those buying their first revolver. It's easy to drop close to $1000 on a revolver these days. That's well-beyond what the average new gun customer is willing to spend. Taurus breaks this mold by offering revolvers priced well below the competition. A brand new Taurus M627SS Tracker would drop the bank account by about $515. All things considered, this seems to be very reasonable price tag.
This particular model is definitely on the large side – caliber and physical size. Outside of target shooting (it does that very well) I see definite backcountry defense or hunting applications. There are several choices on the market for outside the waistband holsters for this 6.5″ model.

First Impressions: Range Time
In the hand, the M627 Tracker truly has a "presence" with the 6.5″ barrel and raised sights. It almost feels excessive when you first see it. I knew that additional barrel length would likely translate into increased accuracy but it did have an obnoxious look. My experience with the Taurus M627 was more than I expected. Admittedly, I'm not a huge fan of Taurus in general. So, the revolver's performance pleasantly surprised me.
While at the range and feeding it varying ammunition types, I came to appreciate some of the features and actually enjoyed shooting it for the most part. The lighter loads were the most enjoyable to shoot – thick rubber hand grips only go so far.
Right out of the gate, I quickly realized that the practical way to fire this revolver was by firing in single action. The double action on the trigger felt heavy (I'll touch on exact pull weights in a bit) and awkward which lead to poor shot groups. I stuck with single action firing for most of my time with the Tracker.
Taurus Tracker Grips
Taurus coated the grip handle with a thick layer of rubber. This helped reduce the amount of recoil I felt. This layer of rubber combined with the ported barrel on the model I tested, really seemed to help keep muzzle flip and overall recoil at a manageable level. In terms of shooting comfort, I was pleasantly surprised.
While the grip worked fairly well for me, I can see how some might want to swap it out for aftermarket options. Due to the thick nature of the rubber grooves, the dominant hand does seem to be "disconnected" from the frame – as if you're holding the firearm with a sponge. Several companies provided aftermarket grips that are able to replicate that of a typical revolver grip – wood or otherwise.
Reloads were a bit sticky. I noticed stuck casings with a few different ammunition types at the range. This may not be deal breaker for some – but if you are purchasing this firearm for self defense, it's something to consider.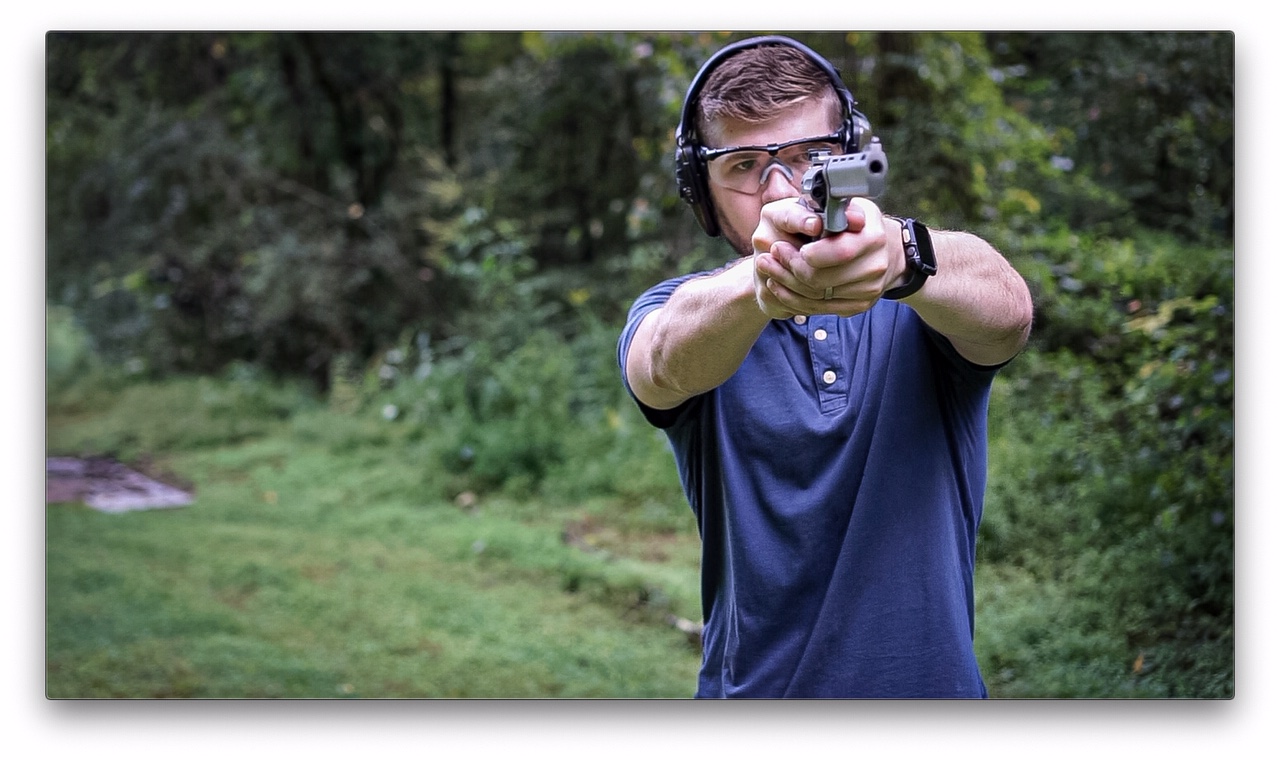 Taurus 627 Tracker Review: Specs
Price: $515
Caliber: .357 MAG
Weight Empty: 40 oz.
Barrel Length: 6.5″
Height: 5.3″
Width: 1.5″
Capacity: 7
Taurus Tracker: Sights
Taurus kept it simple and effective in the sights department on the M627SS Tracker. The classic U shaped rear sight along with the raised and high visibility orange front ramp sight seemed to work well. I had very little issue acquiring the sights on the model I tested. The combination of the long sight radius and raised sights lead to exceptional accuracy, in my experience. It takes very little to put rounds exactly where you want them with this revolver – even at distances I typically don't fire handguns. The rear sight is adjustable with prominent adjustment screws.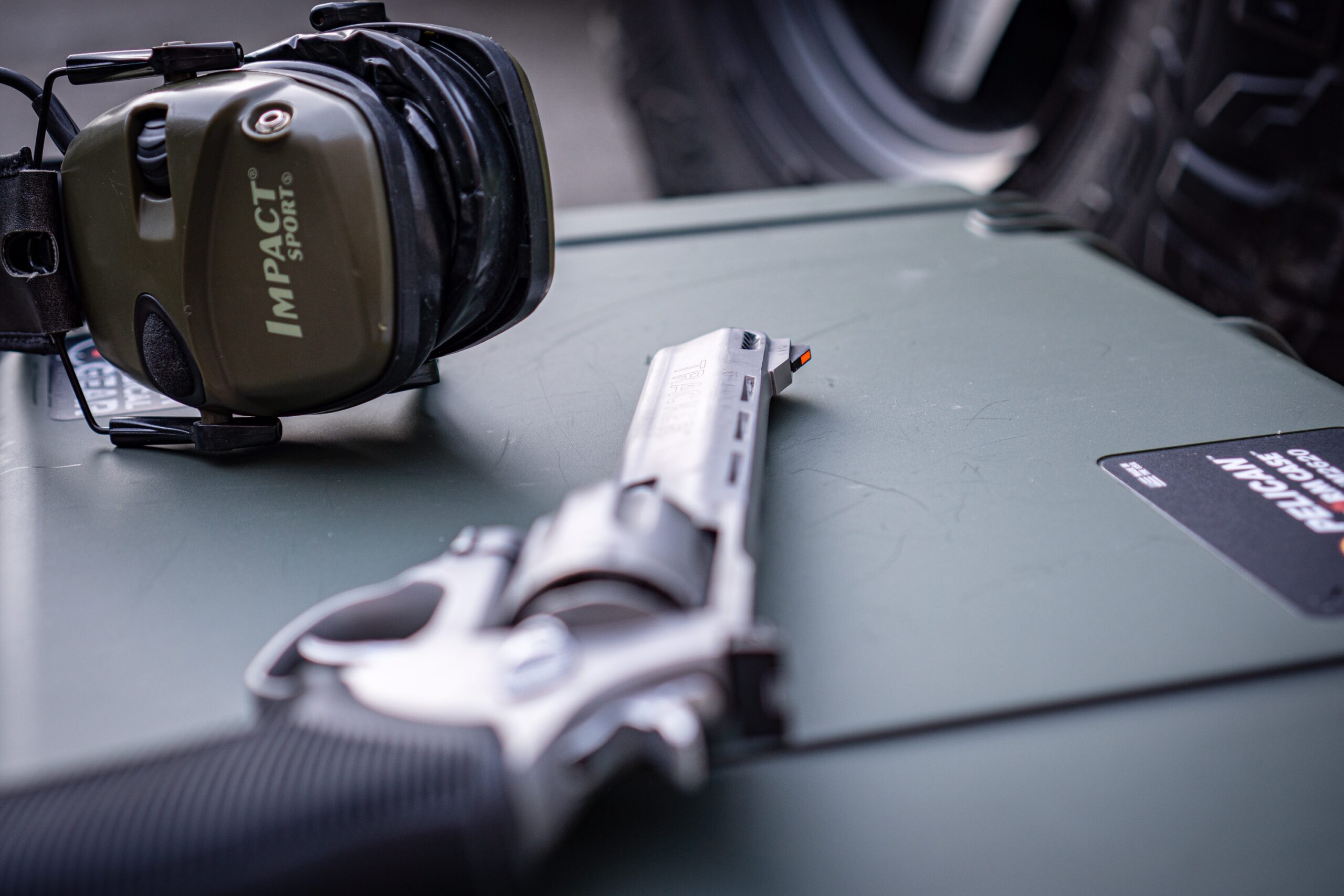 The Tracker Trigger
The trigger experience varies quite a bit obviously depending on whether you are firing in single action or double action. As I mentioned earlier, I fired the Tracker mostly in single action mode.
In single action, the Tracker trigger that I tested was 2.8 pounds of pull. The pull in single action provides very little if any slack and a crisp break. The double action pull is approximately 9 pounds – clearly on the heavy side.
One complaint that I did have with the trigger on the Tracker is the "false reset." After you let the trigger back to reset you'll hear an initial "click." It sounds and feels like the revolver's trigger reset. However, it takes another 1/8″ or so of rear travel before the actual reset. It didn't seem to cause any serious problems for me at the range, but it's a little quirk worth noting.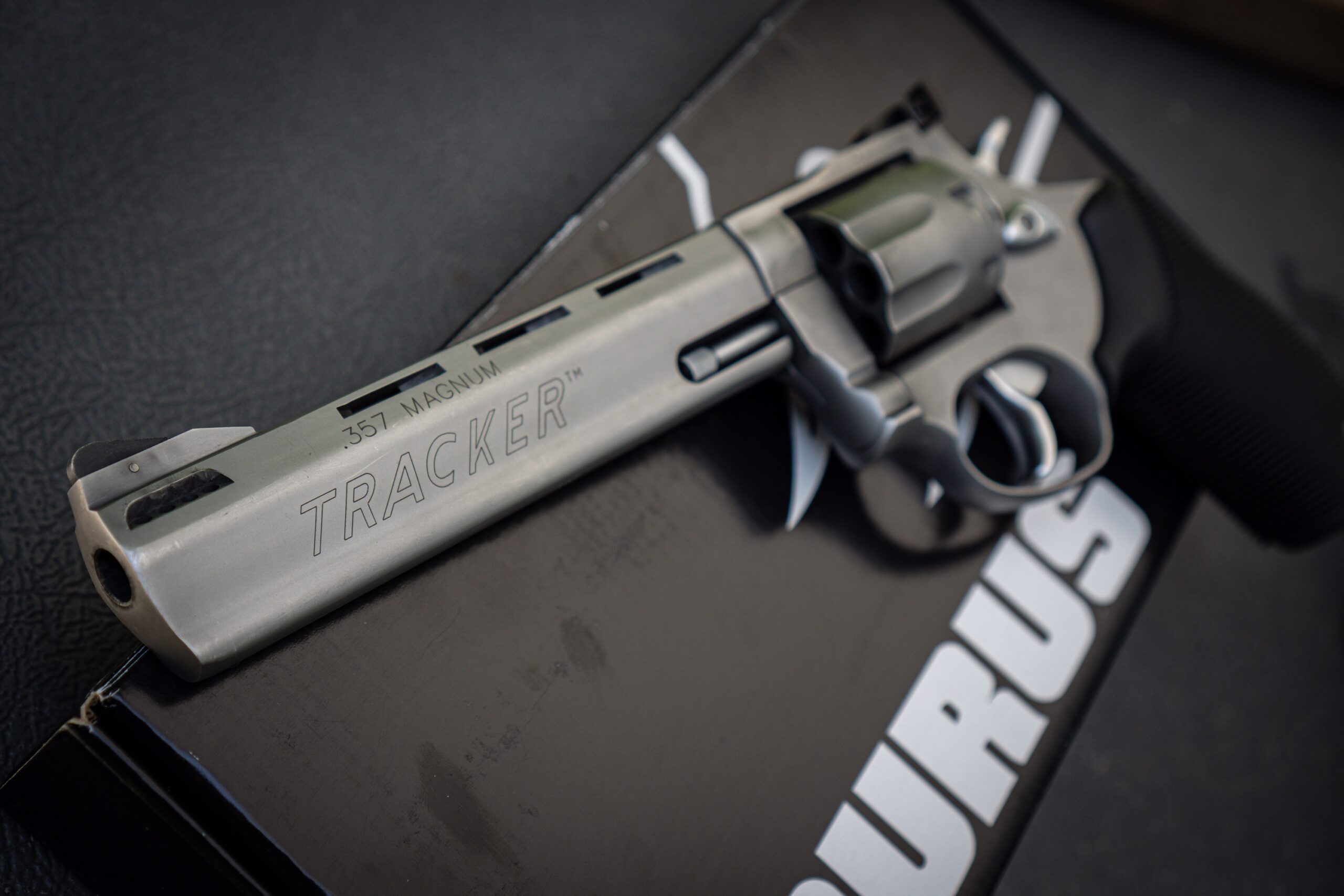 Functionality & Features: M627 Tracker
I'm not a huge revolver fanboy. However, I can appreciate the experience of a good range day with a revolver. All of the features on the M627 seemed to be fairly simple to operate and I felt confident with it. My hands are of average size and I had simple access to the functions.
My only complaint regarding functionality involved the ejector rod. As I brought up earlier, some of the casings seemed to stick in the cylinders even with a good amount of pressure on the ejector rod. This issue was clearly impacted by certain ammunition brands but it is something that I found noteworthy.
When you're firing a revolver this large the grip is typically a little odd. I was able to maintain a mostly comfortable and stable grip fortunately. Taurus was wise to provide the large rubberized grip for comfort and control.
You might've noticed in the photos in this Taurus 627 Tracker review, the barrel is ported. This helps reduce muzzle flip by allowing some of the propellent gases to escape up and out of the barrel before reaching the end.
Muzzle Velocity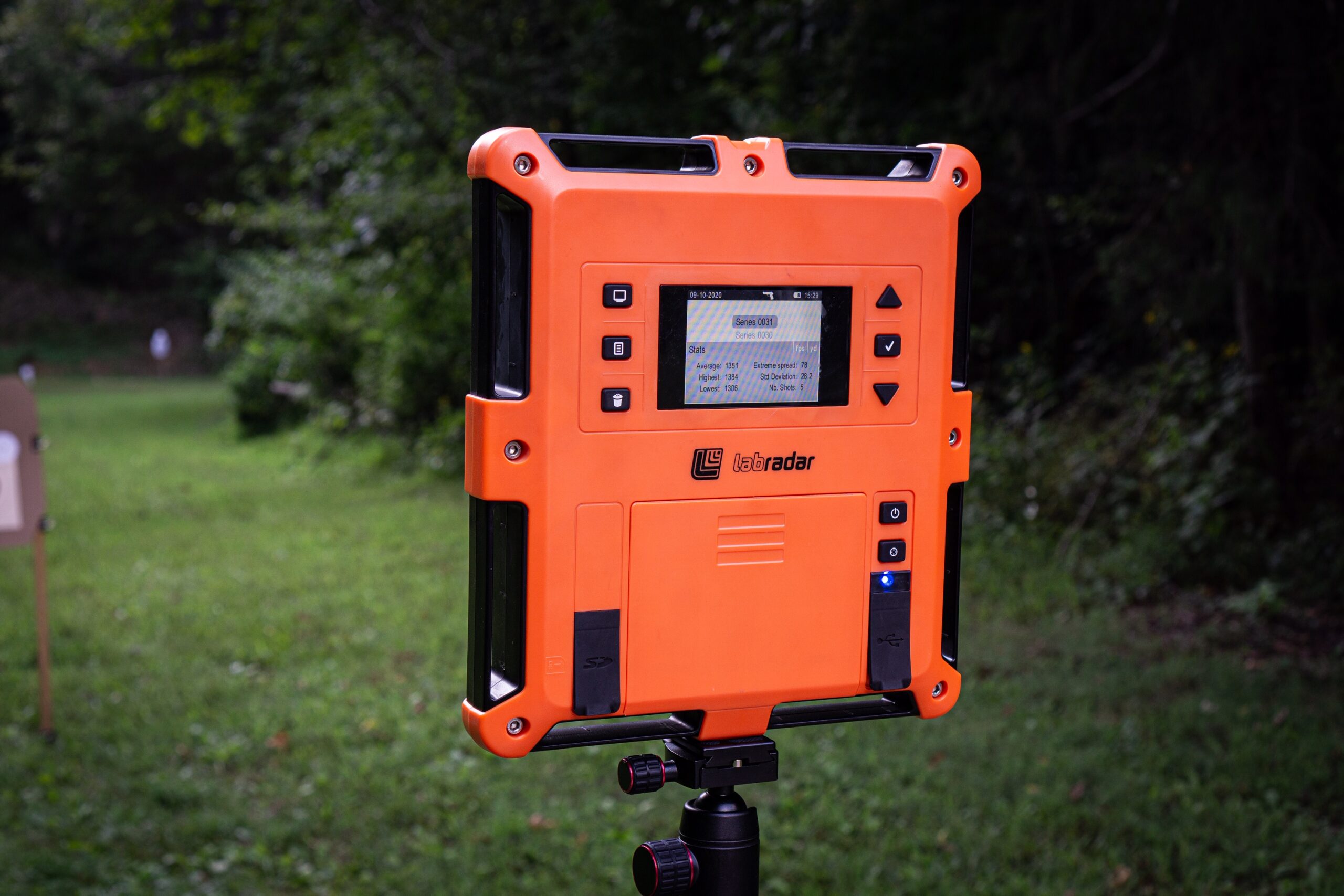 As I typically do with handguns, I ran several self defense ammunition types through the M627 Tracker. As expected, I noticed varying levels of recoil and muzzle flip. To really see how this 6″ + barrel impacted muzzle velocity, I conducted a simple test using 5 rounds of Federal Premium Hydra-Shok 158 Gr. JHP.
Using a Labradar Chronograph device,  I was able to see muzzle velocity readings which showed an average of 1,351 feet per second out of the M627 Tracker. Federal advertises a muzzle velocity of 1,240 feet per second out of a 4″ barrel – showcasing the difference out of the 6.5″ Tracker barrel.
Highest Velocity: 1,384
Lowest Velocity: 1,306
Extreme Spread: 78
Standard Deviation: 28.2
Final Thoughts – Taurus 627 Tracker Review
As someone with limited experience with revolvers, the Taurus M627 Tracker portrays itself as a good beginners revolver. Considering its large frame, I was impressed with how easy it was to handle.
Not only was Tracker simple to operate, all of the components felt durable and built to last. Of course, I can't speak too much on the overall durability at this point. My experience was limited to a few hundred rounds.
Would I choose the Tracker if it was my money and I had to choose woods gun? Probably not – at least in the 6.5″ barrel configuration. Taurus offers a 4″ barrel option that I would consider before this longer option. For those new to revolvers and looking for an accurate range plinker, the Taurus M627SS Tracker just might be the perfect choice.