Anyone with knowledge of the current CCW market options will at some point discuss the Glock 43X vs Sig P365. These two pistols are (arguably) two of the best choices available for an everyday carry gun. Both of these handguns are heavy hitting contenders from strong brands with reputations for reliability. After shooting and carrying both, I would personally trust and carry either one with no reservations. Each brings a unique experience to the table and I'll do my best to highlight the differences and unique aspects here.
CCW Pistol Market
The demand for compact and high capacity carry pistols has definitely increased in recent years. Not to start a debate or to branch off, but I believe we can all agree that the CCW market is constantly shifting away from heavy, low capacity options. The Glock's 43X and Sig Sauer's P-365 both fit into this market shift very well. Being on the upper ledge of the CCW market, these two options are going to cost you more than most other options. Understanding this market change is key to grasping why the G43X and P365 were designed the way they are.
Released in 2019, the 43X is an Austrian made pistol derived from the G43. The 43X is essentially an "upgrade" to most due to its higher capacity and longer grip.
Introduced by Sig as the "Ultimate Concealed Carry Pistol", the American made Sig P365 was released in January, 2018. The P365 rocks an impressively compact frame while providing an equally impressive standard capacity.
| Specification | Sig P365 | Glock 43X | | | |
| --- | --- | --- | --- | --- | --- |
| Price | $599 | $448 | | | |
| Weight | 17.8 ounces With Empty Magazine | 18.7 ounces With Empty Magazine | | | |
| Barrel Length | 3.1" | 3.41" | | | |
| Capacity | 10+1 | 10+1 | | | |
| Width | 1.00" | 1.10" | | | |
| Height | 4.30" | 5.04" | | | |
| Total Length | 5.80" | 6.50" | | | |
Frame Size Considerations: Glock 43X vs Sig P365
When choosing a concealed carry firearm, most of us are at least semi-conscience of the frame size and its ability to conceal without "printing." We are all built differently and therefore will view frame size in a different light. Few of us are likely to have any issues with either gun as a daily carry option. Both are relatively slim and designed to fit a wide range of individuals. I have a 32″ waist and I had very little issue appendix carrying either of these pistols.
The P365 really stands out in the "concealment" category. The P-365 blends into the waistline so much so that I honestly feel like I could wear a slim fitting t-shirt without anyone knowing the firearm was there. I have never carried a firearm that formed to the body so well. The concealment difference seems to be directly related to the height of each pistol.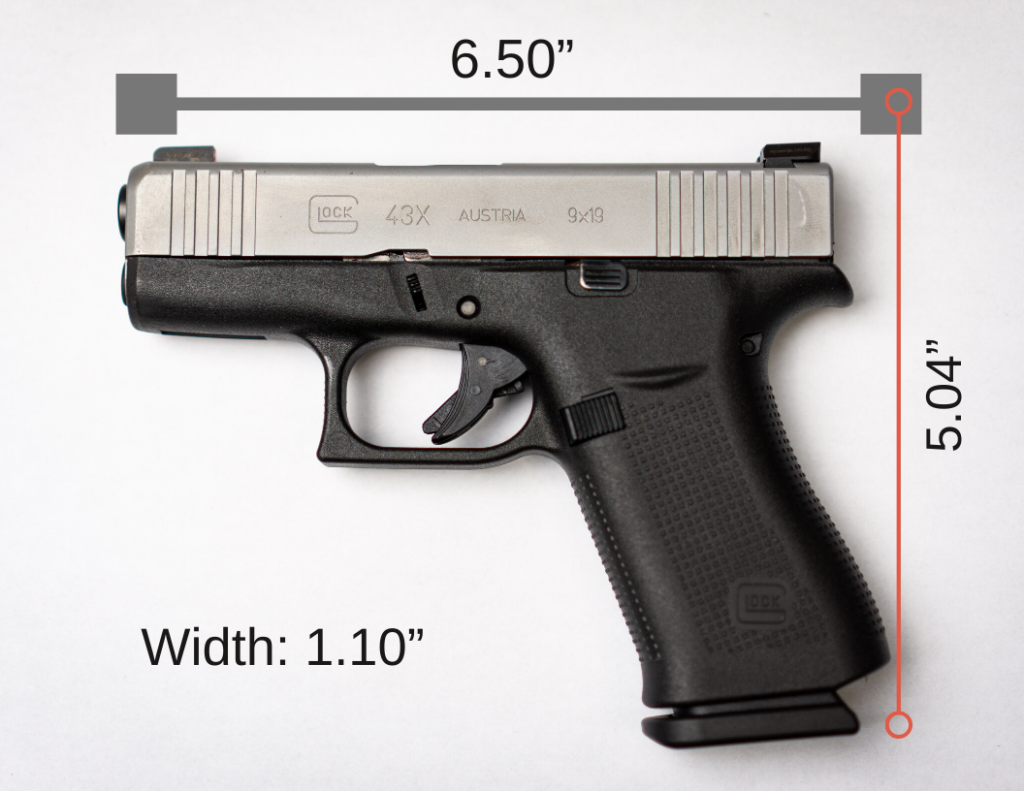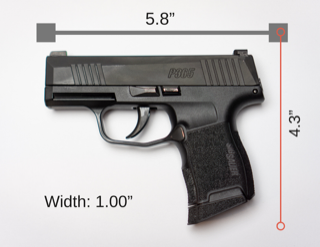 The grip height and overall frame size does (usually) translate to ease of draw from concealment and control of the firearm while firing. I had the opportunity to take both of these out to the range and shoot several hundred rounds of various ammunition through each of them.
I wanted to test each from concealment and also cycle popular self defense ammunition such as Federal HST 124 Grain 9mm ammo.
In my experience, the Sig P365 was slightly more difficult to draw from concealment due to the slimmer profile and shorter grip height. I'm sure that with an extended 12 round mag (which I didn't have access to) I wouldn't have even noticed this. The G43X allowed for an easier draw with a slightly wider and longer grip. When it comes to overall "fit" in the hands the G43X edged the P365 in my opinion. The shorter grip of the P365 was slightly harder to grip and it did push into my palm while firing. The back inside corner caused mild discomfort after extensive firing. This wasn't a huge issue but was noticeable.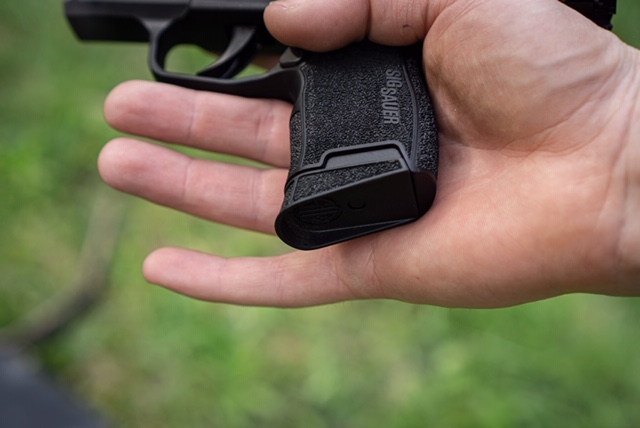 Impact on Muzzle Velocity
The G43X and P365 are both chambered in 9mm. I know it's a topic of endless debate in the shooting community but for me, 9×19 is the ideal caliber for a concealed carry weapon. It's really hard to go wrong with 9mm for several reasons, but primarily due to the expansive (pun intended) selection of quality self-defense rounds.
Both of these handguns handled the 9mm cartridges I fed them with no issues. I appreciated the balanced feel and smooth recoil handling from both of these handguns with each type of 9mm ammunition that I threw at them.
Using a Lab Radar doppler chronograph, I tested the muzzle velocity difference using 124 Grain HST Federal Premium rounds. I fired 5 rounds through each pistol for this test and averaged the muzzle velocity for each pistol. The advertised velocity from Federal Premium is 1,150 using a 4″ barrel.
G43X: 1,093 fps. (3.41″ Barrel)
P365: 1,072 fps. (3.1″ Barrel)
No surprises here. The slightly longer barrel of the Glock 43X provided about 20 extra feet per second of muzzle velocity. If you're concerned about muzzle energy or buy into the concept of stopping power – this velocity difference is equal to about half a foot pound of additional energy that you'd get out of the G43X. That's only about a .3% difference in energy compared to the Sig P365.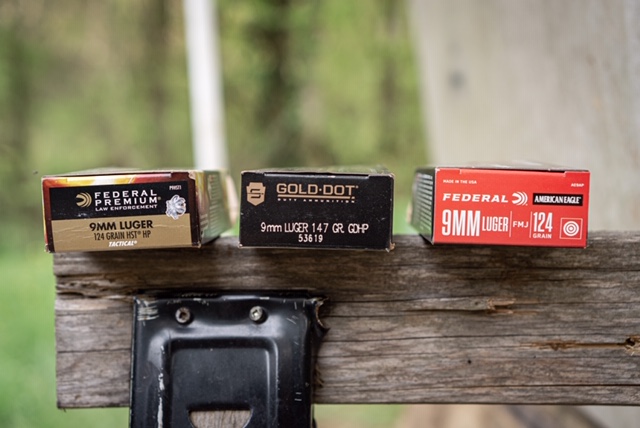 Trigger Experience: G43X vs. Sig P365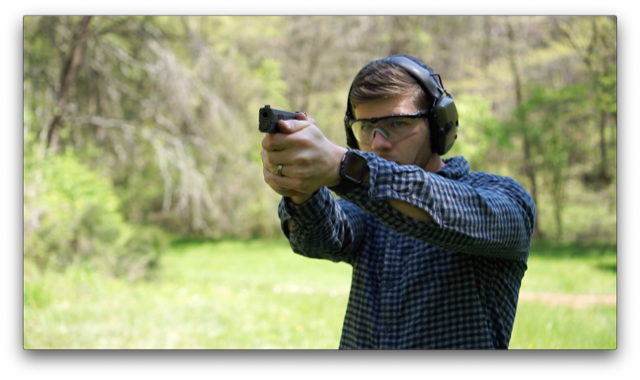 I have to preface this section by saying that I have relatively limited experience with aftermarket triggers. Because of that, my perspective might be different than those who are running the latest and greatest options.
Triggers often find their way into the conversation when discussing handguns. The trigger experience (whether good or bad) usually stands out more in a compact handgun.
G43X Trigger
I performed 10 pull tests with an average of right under 6 pounds. The pull was fairly smooth with a predictable and consistent break. An audible and crisp reset was noticed. Although the trigger felt fairly smooth, I would personally look into aftermarket options with less travel.
Sig P365 Trigger 
The P365 trigger really stood out to me. Out of all of the compact pistols I've ever fired, this one shined. An average of 10 pull tests showed a weight of just under 5 pounds with the pistol. I enjoyed the trigger's very smooth feel and short reset. The Sig trigger was one of my favorite aspects of this pistol. I've never felt more accurate with a compact pistol, and I truly believe it was due to the trigger.
Sights: Target Acquisition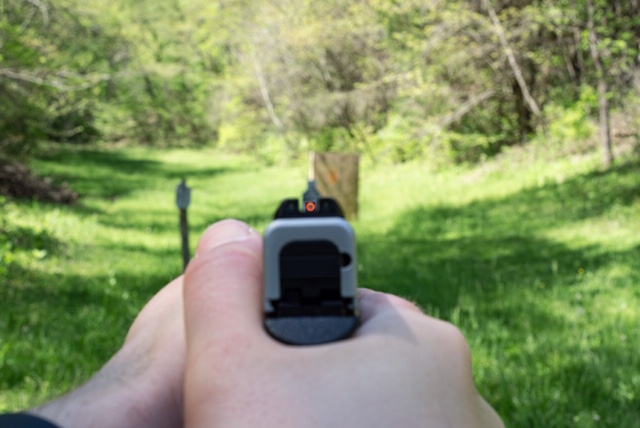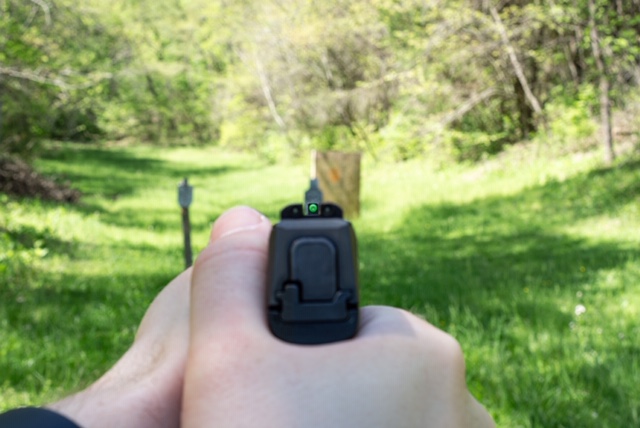 An important feature on almost any gun is the sights and their ease of use. I was pleased with the sights on both the G43X and the P365 that I tested. Both were fairly easy to pick up although I did notice a more natural target acquisition with the P365 – likely due to shooting primarily with similar sights in the past.
The G43X that I tested was equipped with Ameriglow night sights which were great for low light and daylight. I had no real issues with these sights outside of not being accustomed to the style. For the Sig P365 I tested, the pistol was equipped with X-RAY3 Day/Night Sights and I was able to pick them up very quickly. The P365 sights and smooth recoil really allowed me to take quicker follow up shots than I'm used to with a compact 9mm. It's hard to say whether or not it was  just overall sight picture preference, but I was consistently more accurate with the P365.
User Operation And Functionality
Efficient and functional operation is important with every firearm, but especially one you are carrying for self defense. Design and placement of key features such as the magazine release and slide lock are all aspects to consider. Each and every shooter is unique and hand size will play a role in determining how efficiently you can operate these features.
Even though these pistols varied in size, both seemed to have very simple and easy to use magazine releases. It was a natural and smooth motion to drop the magazine without it being something I might accidentally press. It's also worth noting that both of these pistols offer reversible magazine releases for those who are left handed shooters.
Overall Impressions: Glock 43X vs. Sig Sauer P365

After carrying these pistols and firing hundreds of rounds through each, I understand why they are in the market position they are in. Sig and Glock have set the bar high with these two compact carry options. Both offer 10+1 capacity, a compact frame, premium build quality, and a very "shootable" experience.
After feeding each pistol several hundred rounds, I was surprised by the fact that the P365 was actually more comfortable to shoot over the long stretch even considering the shorter grip. The trigger experience and recoil management was smoother than the G43X in my experience. Although balanced and comfortable in the hand, the G43X trigger became slightly annoying to me after extensive shooting.
I know it's not the most important aspect of a pistol, but as I've stated before, I'm not the biggest fan of the two-tone look of the G43X that I tested. For that reason, I'll give the nod to the Sig P365 on appearance. Out of the current CCW market options, these both stand out as heavy hitters that are built with your personal safety in mind.
The Takeaway
I would trust either one of these for personal defense straight out of the box. Hopefully I was able to provide some insight on both and help you in the decision making process. So, if you're looking for a strong performer in the CCW space, I'd encourage you shoot each of these as the major differences are primarily going to be personal style and comfort. Both are great shooters and you really can't go wrong no matter which path you choose in the Glock 43X vs. Sig P365 debate.