While .22 LR certainly isn't new to the handgun market, it is for Glock. When their Model 44 debuted in 2019, the market erupted as it represents the famed manufacturer's first entry in the rimfire world. Today, we'll be taking a close look at the first .22 LR the company offered up to the public in this Glock 44 review.
General Overview: Glock 44
The G44 is a United States built Glock. Glock timed the 2019 release so that it was sure to get exposure at January 2020's Shot Show – and that it did. With Glock reaching into completely new territory, customers and industry leaders were curious. Companies have made .22 LR conversion kits for Glocks in the past but seeing Glock make a handgun chambered to fire only .22 LR ammunition caught some off guard. Considering all that is going on currently with ammunition availability, the release of a 22 LR handgun was certainly a wise move in hindsight.
Glock opted to use the very familiar and easy to handle Glock 19 frame for the G44. With a compact frame size, easy to operate features, and low recoil caliber, the G44 is ideal for beginning shooters. It's fairly obvious that Glock intended the G44 to be a gateway handgun for those new to the firearm community.
Not only is the G44 a great entry level option but it provides the ability for experienced shooters to train at a much lower cost. The use of the common G19 frame and magazines means that shooters will be able to run the same holsters and magazine carriers for both platforms. One of the main differences in the G44 is the use of a polymer/steel blended slide. This slide allows for the correct weight needed to cycle properly while retaining strength.
While Glock takes pride in providing "perfection" in their products, the G44 saw its fair share of complaints regarding construction and reliability early on. Rimfire options in particular are prone to experiencing issues and while I didn't have any notable malfunctions with the G44 that I tested, you should be aware there are others who say they have.
Specifications: Glock 44
Glock 44 MSRP: $369
Caliber: 22 LR
Capacity: 10+1
Total Weight Empty: 14.64 ounces
Total Length: 7.28 inches
Height: 5.04 inches
Barrel Length: 4.02 inches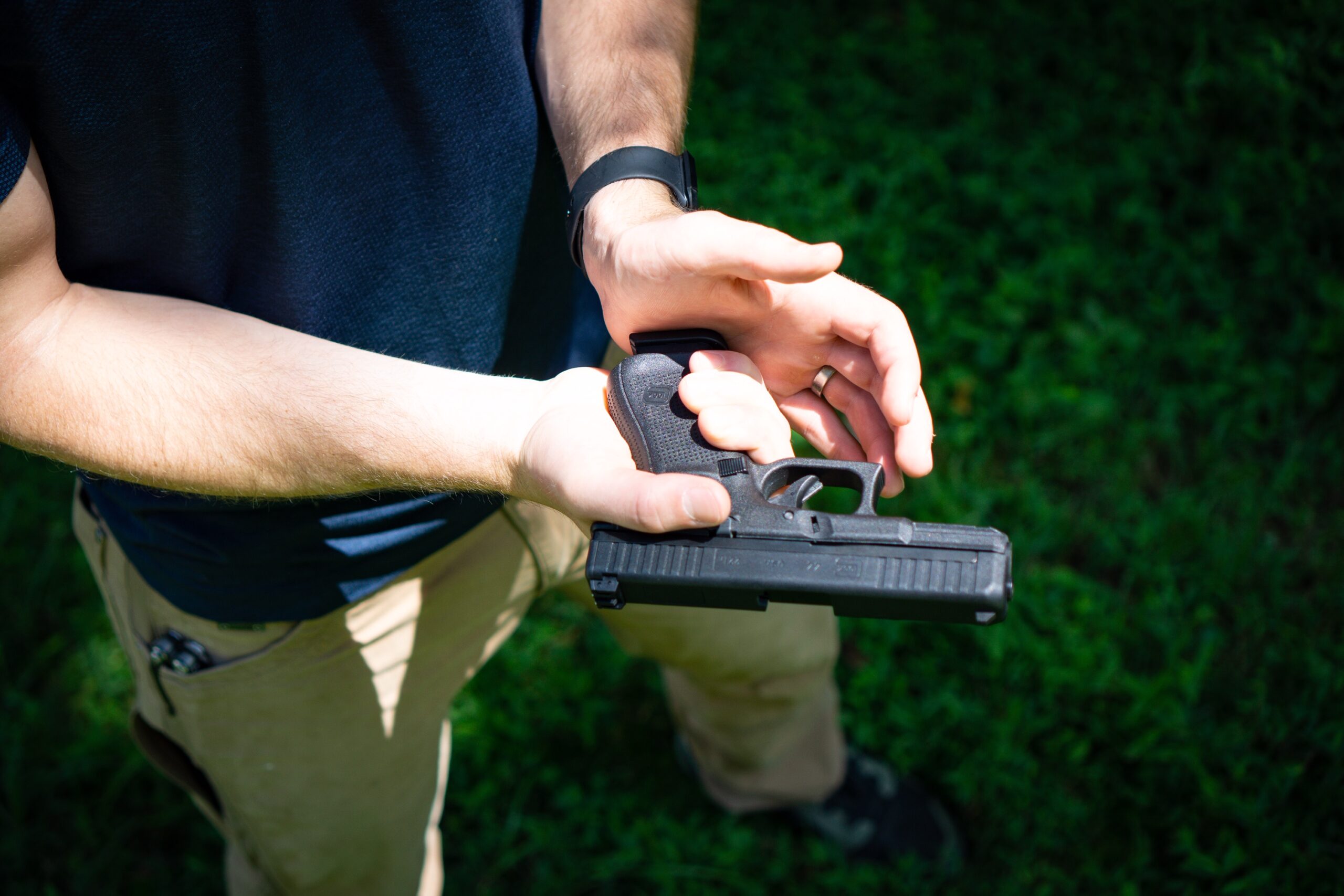 First Impressions
Within my first ten seconds of holding the Glock 44, I wasn't a big fan of the overall finish and look. That confidence in hand just wasn't there – it reminded me of an airsoft or BB replica variant. The aesthetics are all accurate and appear very true to the Gen-5 Glock 19, it's just the weight and texture of the slide that had me looking for an orange tip. If you're a newer shooter, this might not be an issue for you. I'm obviously more accustomed to the heavier hand-feel of the 9mm Glock 19.
I was able to get the G44 out to the range recently and feed it a wide variety of ammunition.
All of the 22 long rifle ammo I fired cycled without issue once I was able to feed the first round. The only real issue I noticed was when chambering that first round. On several occasions, the first round would be forced up and over the feed ramp and crushed into the top of the barrel. While the feed ramp wasn't especially clean, it wasn't filthy either. This might not concern or surprise some due to it being a rimfire, but it's something to be aware of.
Shooting the Glock 44 really does feel like shooting a BB gun compared to its 19 companion. Recoil management is extremely smooth. I had no difficult offering follow up shots. I'll touch on this a little more later on, but the trigger did seem be less than ideal – even for a stock Glock.
Issues aside, the Glock 44 I had fun shooting it. I found myself quickly burning through a good amount of ammunition just punching paper. The low felt recoil and ease of shooting accurately really draws you into the experience. The training potential with the G44 was obvious – it's not quite the same as shooting 9mm ammo (which can easily be 5x as expensive to shoot in normal market conditions) but the G44 still allows you to get live fire training.
Trigger & Sights: G44
My experience with the trigger on G44 was decent but not what I anticipated. The trigger seemed more "spongy" than a typical Glock trigger. Outside of the sponge like feeling in the take up, the break was crisp and reset reasonable. That "spongy" feeling in the trigger seemed to make the trigger pull feel heavier than it actually was.
Glock 44 Trigger Weight
Testing of the trigger pull showed an average pull weight of 6.2 pounds on the G44 that I used for this review.
Glock used their standard trigger safety here for the G44 – something I feel works well. This safety consists of a simple two-part system – trigger safety blade and the trigger itself. Both the safety blade and trigger must be depressed together to fire.
As with any other standard Glock, the G44 comes from the factory with adjustable rear sights and a fixed front sight. The classic Glock "U" shaped rear and single post front sight are typically considered serviceable. But I don't think the combo will impress you.
Target shooting with the stock sights didn't seem to be too much of an issue – though they're not not my favorite sights. I will say that I'm not a huge fan of the stock sights from Glock. With that being said, I don't have too much of an issue with them for a plinking gun.
G44 Muzzle Velocity
To get a glimpse of the muzzle velocity seen with the G44 I used a Labradar doppler device. For this test, I used a common round – CCI Mini-Mag 40 grain. The advertised muzzle velocity from CCI is 1,235 feet per second with this particular round out of a rifle. Considering the substantially shorter barrel on the G44, I was curious to see what the velocity drop would be.
A test group of 5 shots showed an average muzzle velocity of 990 feet per second out of the G44. Obviously the Glock 44 won't be able to reach out and touch as much as a rifle counterpart. With intent and purpose in mind, I still felt the velocity was well within reason.
Glock 44 Muzzle Velocity Data
High: 1,012 feet per second
Low: 979 feet per second
Extreme Spread: 33
Standard Deviation: 13.3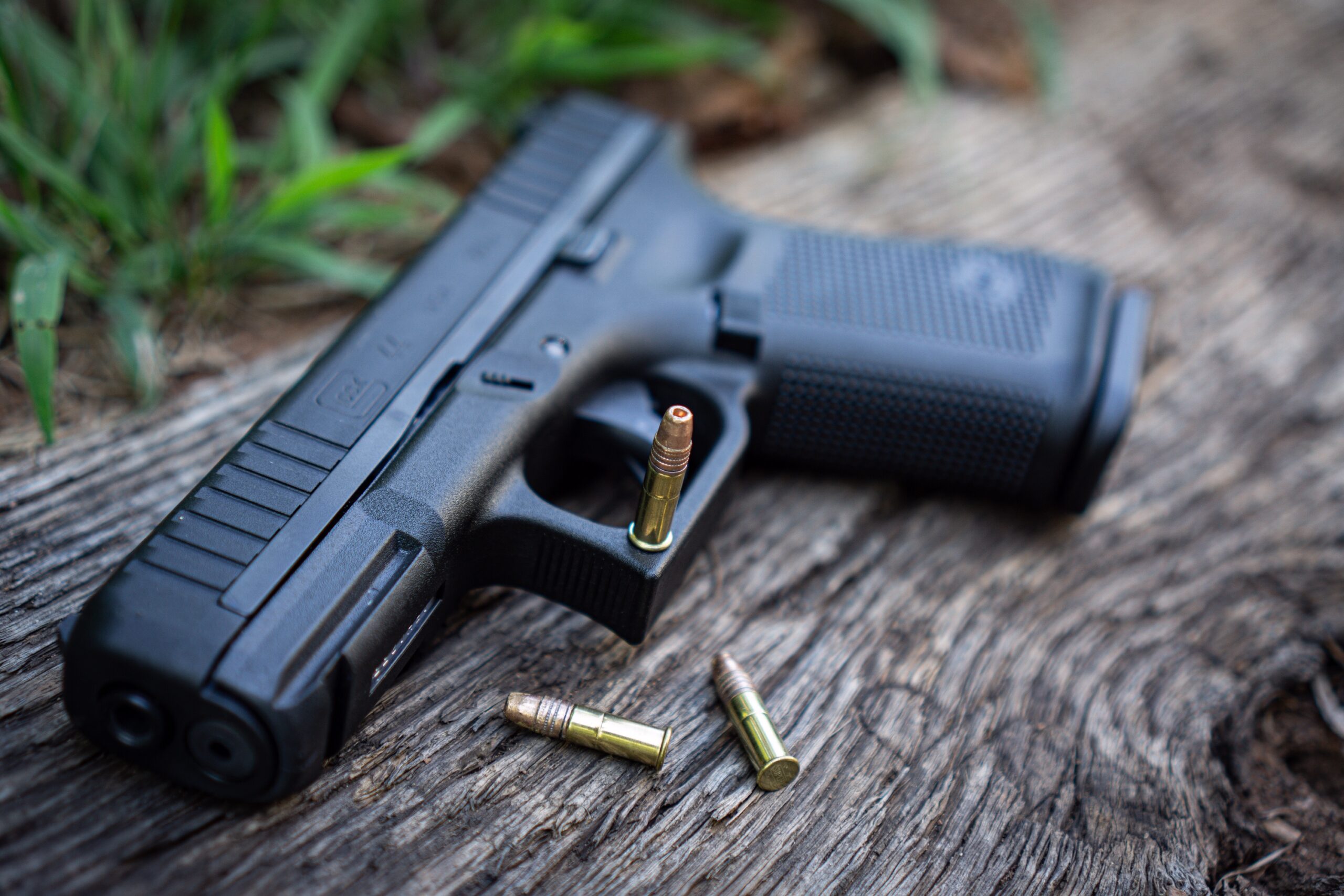 Accuracy
Ammunition types aside, the Glock 44 seemed to be simple to shoot accurately at standard handgun ranges. I did feel most accurate shooting high velocity rounds, of course. Overall, it's an easy firearm to shoot accurately in my experience.
The G44 offers almost non-existent recoil and that means obtaining quick follow up hits is very simple. Target transitions and sight acquisition training seems to be true highlight for the G44. The velocity and mass of the bullets do limit the gun some in terms of range – at least outside of 50 yards. I was able to get a few hits on steel at 80 yards or so but it wasn't something I could do consistently.
Final Thoughts
I write this review amid the ammo shortage of 2020. So, it seems the G44 entered the market at the right time. So many shooters already carry and train with a Glock 19 – a frame the same size but chambered in 22 LR just makes sense. The training value with the G44 does seem to be present and I'm sure many would benefit from use in that capacity.
This firearm is still relatively new and I would personally want to see how they hold up over time before investing in one. If any of the complaints regarding quality are substantiated, I'm sure that Glock will address them in updated variants. The plastic-like feel and look of the slide made me a little nervous – even with that famous "Glock" engraving.
I will say that the G44 is a very enjoyable handgun to shoot based on my experience with it. Purchasing one for inexpensive target practice is definitely tempting.