Glock came out swinging at the concealed carry market when they introduced the Glock 43X and Glock 48 at Shot Show 2019. The Glock 43X and Glock 48 both provide a slim and low-profile concealed carry platform. These firearms are essentially two extensively upgraded variants of the Glock 43 – a compact 9mm handgun that Glock has offered for quite awhile. Let's get into the details of each in this Glock 43X vs. Glock 48 comparison.
General Overview: Glock 43X vs. Glock 48
The G43X and G48 are both 9×19 chambered handguns that are a part of Glock's Slimline series. They are both built using the same frame but offer two different slides. A G43X is considered sub-compact based on length and the G48 is considered compact.
Released in January of 2019, these handguns both help bridge the gap between the G43 and the G19. At the time of this article being written, further variations of the G43X and G48 have been released. Some of the newer offerings include optic ready slides and included attachment rail. The handguns tested for this review do not have either of the mentioned options.
Both offer a capacity of 10+1 and an ultra-slim profile. Even with a slim frame, the G43X and G48 provide ample grip structure and comfort for the size. It's clear to see that Glock was listening to the feedback from customers in designing both of these. A Glock 19 is a little "thick" for some, while the G43 provides a less than desirable grip for many.
Biggest Difference Between Glock 43X vs Glock 48
The only true difference between the G43X and G48 is the length of the slide. A G48 provides a slide length comparable to the popular G19 while the G43X provides a G43 sized slide. On this note, if you already own a G43, it would make more sense to purchase a G48. You could swap slides and essentially change between carrying a G43X and a G48.
Specifications: Glock 43X & Glock 48
| Specifications | Glock 43X | Glock 48 |
| --- | --- | --- |
| Price: | $449 | $475 |
| Weight Empty: | 18.70 oz. | 20.74 oz. |
| Length: | 6.50" | 7.28" |
| Barrel Length: | 3.41" | 4.17" |
| Height: | 5.04" | 5.04" |
| Width: | 1.10" | 1.10" |
First Impressions: Range Time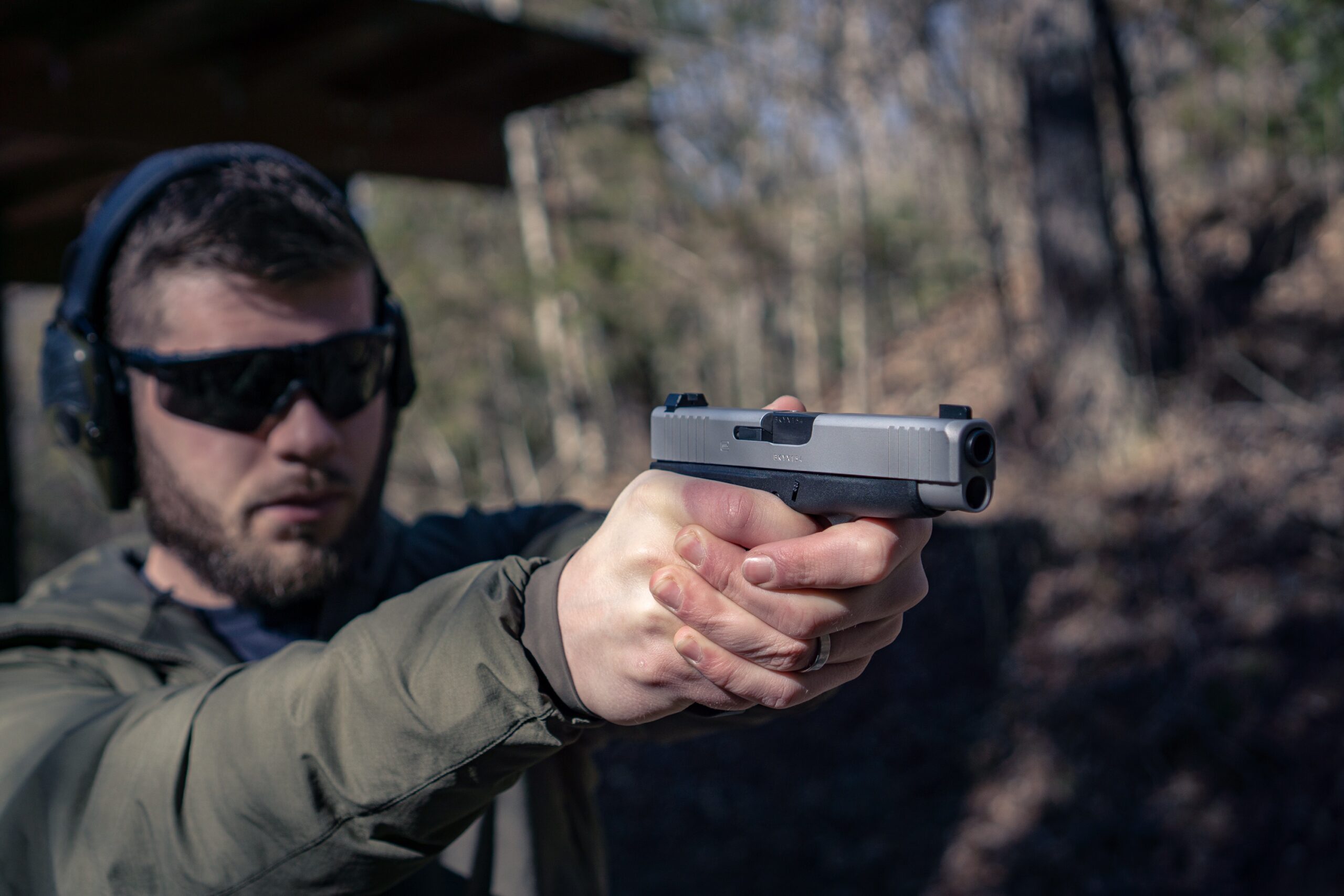 I need to preface this section by saying that I personally own and carry a Glock 43X – so I'm really testing a gun I know well. My thoughts and opinions are going to be biased based on this. 
Once you get past the funny look of the two-tone Glock 48 (Get the all black option) you can see how well-built these pistols are. When I first got my hands on the G43X and G48, I instantly was impressed with how comfortable the grip was. I don't feel that level of confidence with a compact handgun.
The comfortable and confidence inspiring grip shined in recoil management – for me. Compact and lightweight 9mm ammunition offerings tend to be a tad "aggressive" when it comes to muzzle flip. I felt that I was able to control both of these firearms with ease due to the grip design.
These frames are thin, but not too thin in my book. I was able to really "vise" down on the upper portion of these frames to control the recoil and get quick follow up shots. This was undoubtedly a bit easier to do with the G48 based on the longer slide and barrel.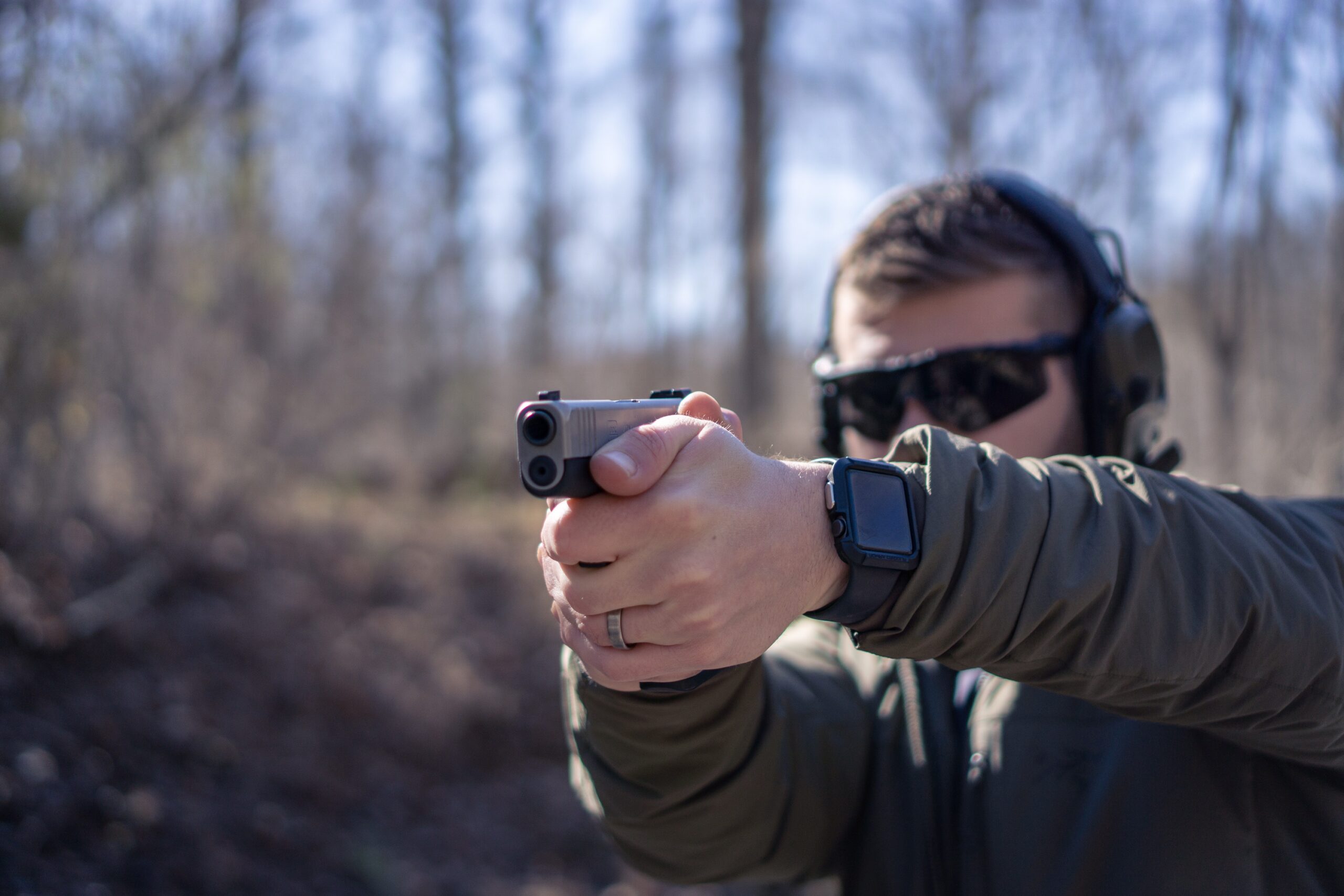 When I'm testing small guns like these, I usually start to get a little "over it" after a hundred rounds or so. With the Glock 43X and Glock 48, I really didn't experience that. I'm sure that it will be dependent on factors such as hand size, but it's truly a testament to Glock's design.
The design of the G43X and G48 grip is good that I actually feel more comfortable shooting either of these over the Glock 19. I pair the Shield Arms 15 round magazine with my Glock 43X and I'm essentially carrying a G19 with less of a footprint.
The longer sight radius of the G48 did seem to improve my accuracy when shooting beyond 15 yards or so – no real surprise there. That longer slide on the G48 also provided a smoother recoil experience. The G48 did shine on the range.
Trigger And Sights: Glock 43X & Glock 48
I believe it's fair to say that not many people out there are thrilled about a stock Glock trigger – much less stock Glock sights. Thankfully, I had the privilege of testing both of these handguns with aftermarket sights. I've gotten accustomed to most Glock triggers – these triggers don't impress me at all though.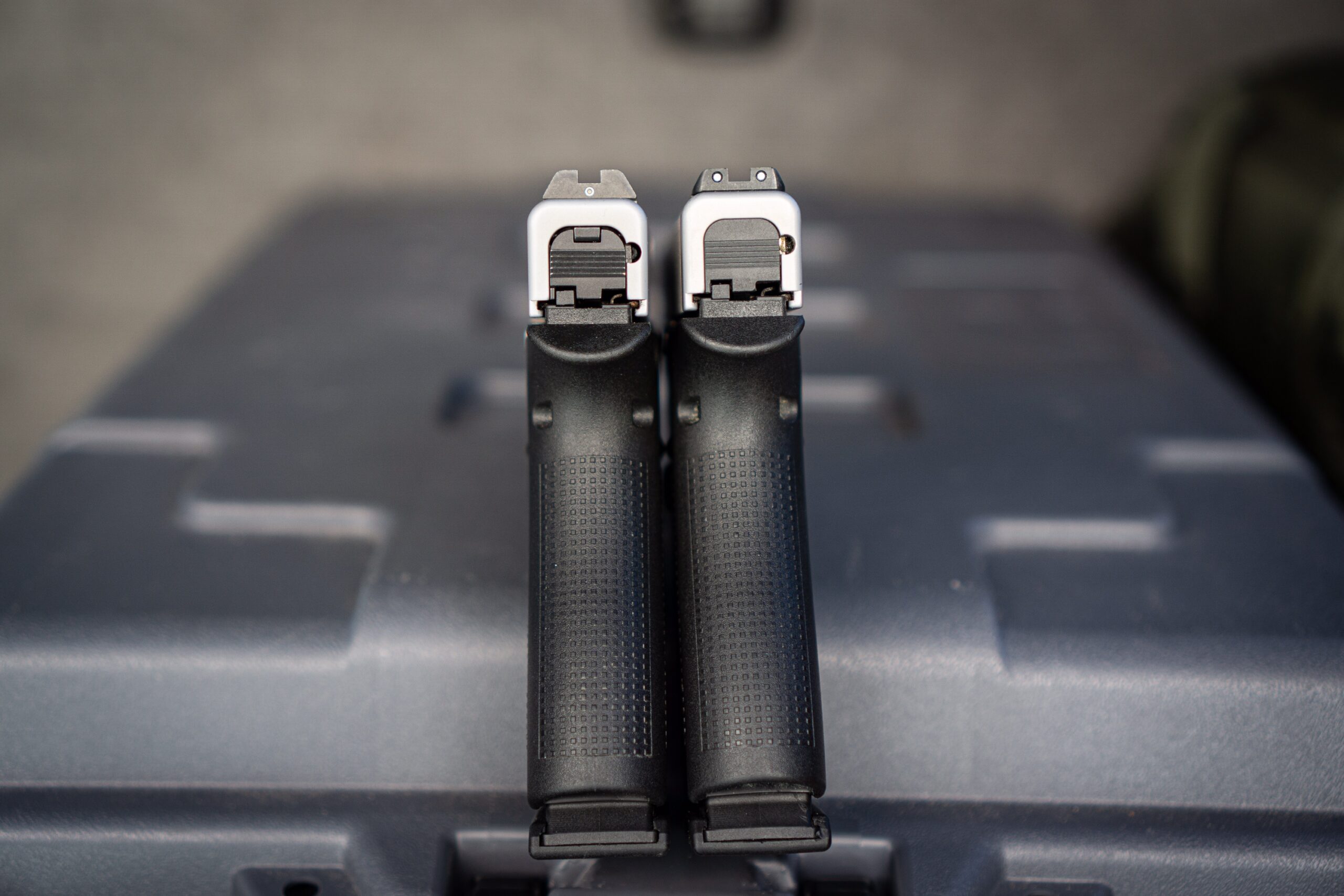 Both of these handguns offer Ameriglo sight upgrades directly from Glock – a needed upgrade from the typical stock sights.
The 3-dot configuration from Ameriglo proved to work fairly well for me at the range. My one and only complaint here is the size of the front sight post. This tritium front sight is fairly large and seemed to "cover" my target at close range. My experience with the Glock 48 sights really exposed the benefit of the longer slide with the increased sight radius. Most of us know that it can be tricky dealing with shorter a shorter sight radius – commonly found on concealed carry focused guns.
The G43X and G48 both have the same trigger that according to my testing, showed an average pull weight of 5.5lbs.  For a self-defense pistol, I feel this trigger pull weight is appropriate. I will say that I don't particularly like the trigger on the G43X or the G48. Glock uses a ridged trigger face that leaves my trigger finger feeling rough after a hundred rounds or so.
I appreciate the relatively smooth pull and crisp break on these triggers. Finding the reset and taking quick follow-up shots was fairly simple.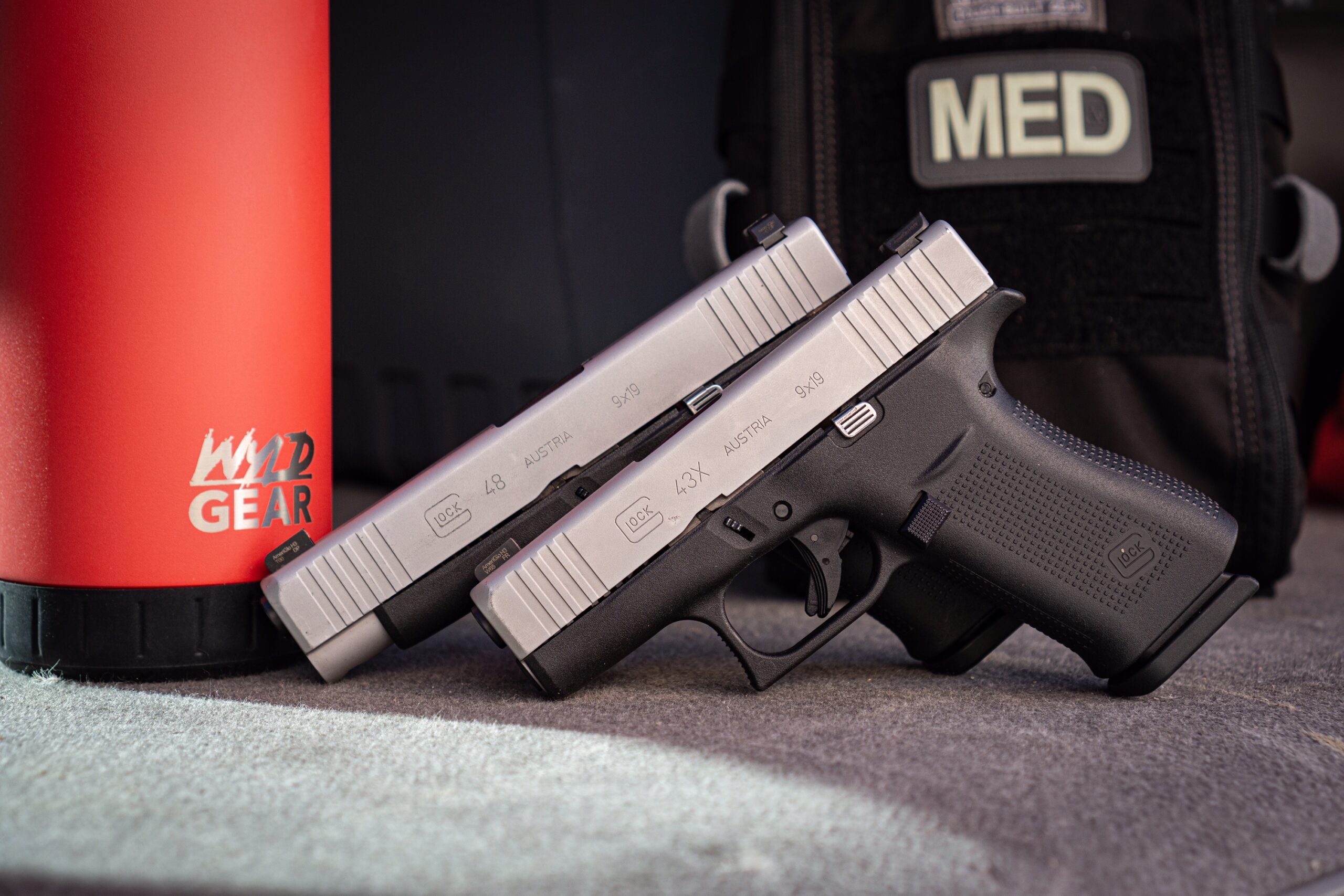 Functionality & Concealment Considerations
For anyone in the concealed carry market, I feel that both of these pistols are stellar choices. Glock was able to blend the aspects of the G19 that everyone loves with the concealment appeal of a G43. Even with the longer slide on the G48, concealment truly is a breeze. The extra 3/4″ or so does very little change how the G48 conceals. Those with experience carrying concealed understand that the grip length and shape has way more to do with concealment issues.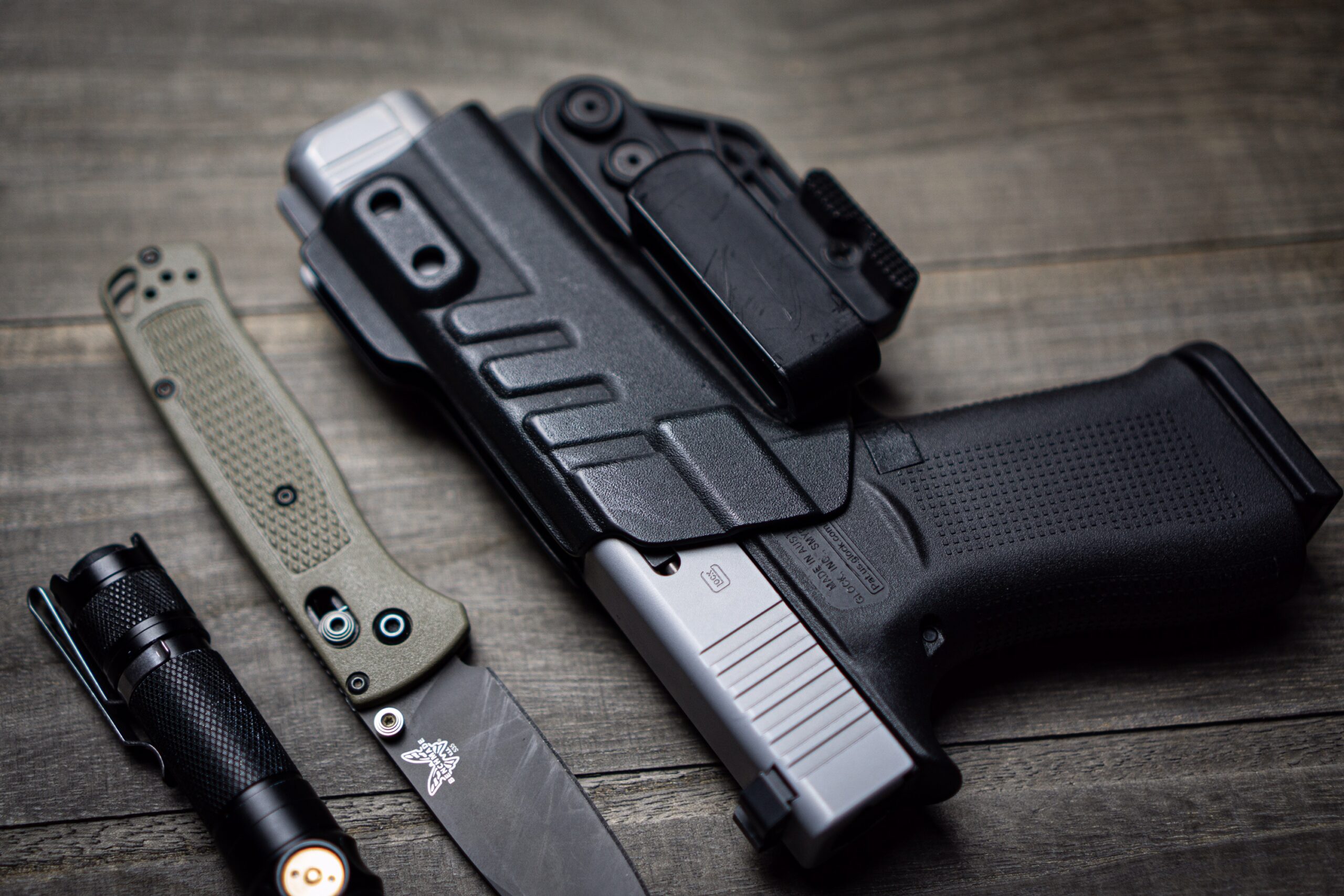 Essentially, you're adding sight radius and potential accuracy with the G48 without impacting "concealability." I believe this is exactly why many are choosing the G48 over the G43X in my circle of connections.
Both of these firearms offer a reversible magazine release – but don't have the Gen-5 specific ambidextrous slide release. All of the features were positioned in typical Glock fashion and I had no issues accessing or using anything as someone with average sized hands.
Muzzle Velocity & Ammunition Testing
As I typically do with for handgun reviews, I used a Labradar device to test the muzzle velocity out of each of these firearms. For this test, I used 5 rounds of 147 gr. Federal Premium HST ammunition – a popular self defense load. The average of all 5 rounds was then calculated for the results shown below.
Glock 43X: 953 fps.
Glock 48: 1,000 fps.
Looking at these numbers, I would say that the increased length of the G48 barrel makes the minimal difference. The barrel also is obviously more appealing from the recoil management and sight radius perspective.
I had no issues with any of the defense ammunition that I ran through each of these handguns. The increased weight and length of the G48 slide did seem to smooth out my shooting of the heavier loads – like the 147 Gr. JHP HST rounds. Still though, I felt that the G43X handled most of the ammunition fairly well for how compact it is.
The Takeaway
If you're in the market for a slim, concealed carry focused firearm, you really can't go wrong with either of these options. Considering that the newer variations of these include optic cut options and a light attachment rail, I think Glock nailed it with these. Slim firearms that don't feel slim and hard to control.
Most would agree that a capacity of 10+1 for a 9mm single stack pistol is adequate. With how compact the magazines themselves are, it's quite easy to carry a spare as well.
Side-by-side, these handguns aren't that much different. The overall length of the G48 does provide the extra control and sight radius – which I believe gives it a clear advantage. You aren't giving up any real concealment advantage with the G48 and it's going to be a more enjoyable shooting experience.
Regardless of which route you go in the Glock 43X vs Glock 48 debate, I'm sure the investment will be a worthy one! Both are relatively enjoyable to shoot and have the reputation for reliability that Glock brings to the table.