ThKimber is arguably one of the first companies that comes to mind for most of us when someone mentions 1911 style handguns. Kimber has been producing 1911 style handguns for quite some time and they have carved out respected territory in the market. Included in the Kimber lineup is a selection of concealed carry focused options – including the Pro Carry II that we are checking out here. The Pro Carry II (chambered in 9mm) from Kimber is one of their more common carry guns and is the handgun we are looking at today in this Kimber Pro Carry II review.
General Overview: Kimber Pro Carry II
Founded in 1979, Kimber found a way to establish a strong hold among 1911 lovers. Many individuals in the 1911 market are drawn to the design and history of the 1911 family. Kimber has consistently looked to fill that demand with multiple offerings for duty and personal use.
The Kimber Pro Carry II provides a full-size feel in a compact 1911. Available in 9mm (as tested) and .45 ACP, the Pro Carry II is has the fit and finish of a quality 1911. The way I see it, the Pro Carry II is the Glock 19 of the 1911 world. Kimber offers a medium sized handgun that can be carried easily in a variety of configurations. The Kimber Pro Carry II weighs in at 28 oz. empty – which is made possible by an aluminum frame. With a 9 round capacity and overall length of 7.7″, the Pro Carry II offers a fairly balanced feel in the hand.
It's hard to miss the strong aesthetics of the Pro Carry II – along with the premium in-hand feel. In terms of design, the Pro Carry II offers typical features that are common among the 1911 family. A grip safety and thumb safety are provided along with a standard magazine release. Without digging too much into the details yet, I will say that the sights and trigger on this handgun stood out – in a good way. We will visit each here in a bit.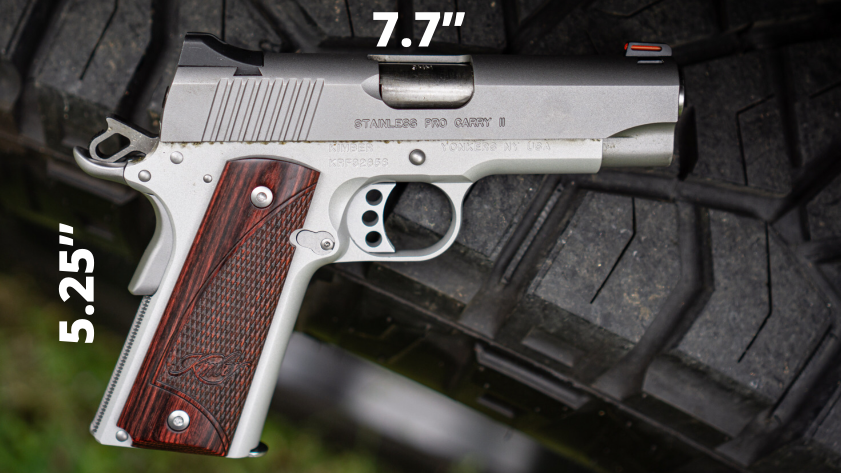 Specifications: Kimber Pro Carry II
MSRP: $972
Caliber: 9mm (Tested) 
Weight Empty: 28 oz. 
Length: 7.7″
Width: 1.28″
Height: 5.25″
Material: Aluminum
Range Experience: First Impressions
My initial impressions of the Pro Carry II were really quite strong. The firearm had a nice "feel" to it along with premium sights and above average trigger. Having fired a few Kimber handguns before, I essentially knew what to expect at the range – or so I thought.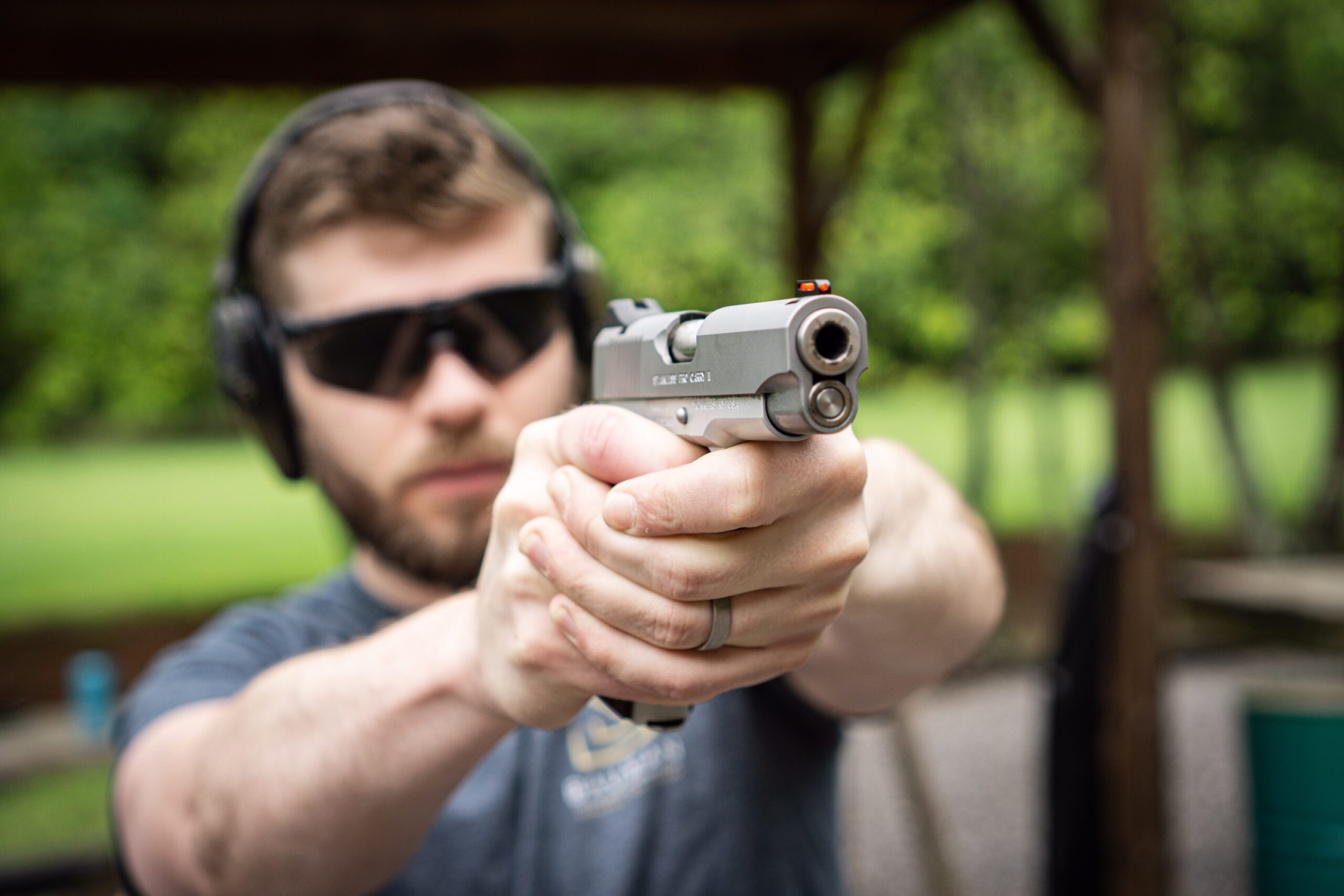 The good impressions and quality "feel" started to fade after I began having multiple malfunctions. For context, the Pro Carry II used for this review was practically brand new and was lubricated before hitting the range. The malfunctions seen were likely due to the "break-in" period described by many on forums.
Loading/Feeding Issues
Obviously, I was a tad surprised to be experiencing these malfunctions with a variety of 9mm ammunition. Basically, the first round or two of a magazine fed and fired as expected. Then, we'd have issues with subsequent rounds feeding properly.
It seemed as if the issues were being caused by a faulty recoil spring – if I had to guess. This is something that I noticed to be a trending topic on Kimber forums. We replaced our recoil spring and took the pistol back out to the range. In our case, we still had less than excellent results for reliability, which was quite frustrating.
I may have just gotten a lemon – and in that case I'm sure Kimber will makes things right by replacing or repairing the gun. I have also read on certain forums that the magazines are known to cause issues in the "break in" period.
Outside of those problems experienced, the Pro Carry II actually performed well. A smooth trigger and effective sights caught my attention quickly. Putting accurate shots on target felt exceptionally simple with the Pro Carry II. I'll attribute most of that to good sights combined with the buttery smooth trigger.
The controls and backstrap safety seemed to be intuitive. The overall size provided plenty of grip real estate while not being so large that carrying would be cumbersome. The Pro Carry II provided a Glock 19 size feel.
Trigger & Sights
I did really appreciate the trigger and sights Kimber provided. It's clear that Kimber did not skimp in this regard.
To be very transparent, this was likely one of the most enjoyable 1911 style handguns I've shot to date. Accuracy, comfort, and aesthetics blended perfectly. Too bad we weren't able to add reliability to that mixture – shots fired. On a serious note, I truly did develop some respect for Kimber based on the trigger found in the Pro Carry II.
The trigger on the Pro Carry II that I tested had average pull weight just under 2 pounds. A very small amount of take-up was noticed along with a crisp break. Small amounts of lateral play were noticed in the aluminum 3-hole trigger, but nothing serious. Shooting with this trigger definitely increased my accuracy at the range.
Kimber provided a nice set of sights on the Pro Carry II as well. Included on the Pro Carry II is a blacked out rear sight and fiber optic front – my preferred sight setup. The orange fiber optic stood out well against targets in varying lighting.
Target acquisition was simple and transitions were smooth with the fiber optic sight standing out well. The sights also seem to be at an optimum height. I've noticed that sights are typically set either low or too high with 1911 handguns. Nice work by Kimber here in finding that sweet spot.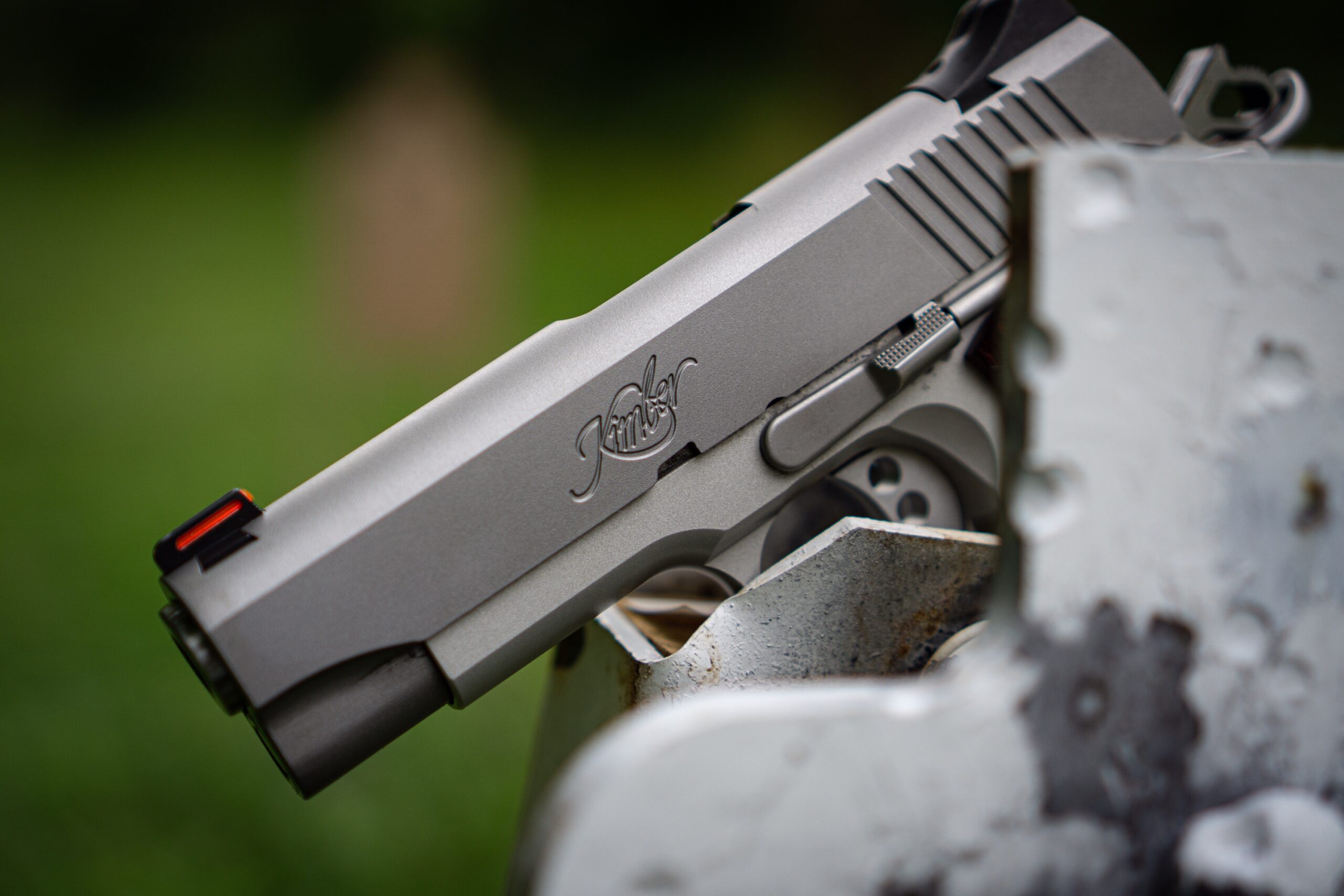 Features & Functionality
Most of the features found are common 1911 style features. I did find the grip to be a bit wide, which prevented me from easily accessing the magazine release. This is a very common issue for me on 1911 style handguns though. For those with average sized hands, rotating the gun towards you in your dominant is a must for dropping the magazine.
Kimber provides a grip safety and thumb –  more common 1911 features. Both functioned well in my opinion. The thumb safety had a really nice amount of tension that ensured I didn't accidentally engage it while firing. From firing other 1911 handguns, I can tell you this is an issue I have seen.
The Pro Carry II actually does have slightly flared magwell – which caught me by surprise. Magazine changes on a typical/stock 1911 are not something you want to be doing under pressure due to the squared off magazine and typical magwells. At least the flared magwell here provides a little bit of forgiveness in the insertion.
One of the things that I would have liked to see on the Pro Carry II, would have been slide serrations on the front of the slide. The rear slide serrations work well but the front of the slide did become a bit slick at the range. It's definitely not a deal breaker, but it would have been a nice touch.
As mentioned earlier, the "functionality" was pretty poor. The gun wouldn't fire a magazine without a malfunction in the testing. This was with extensive lubrication and various ammunition types surpassing 400 rounds.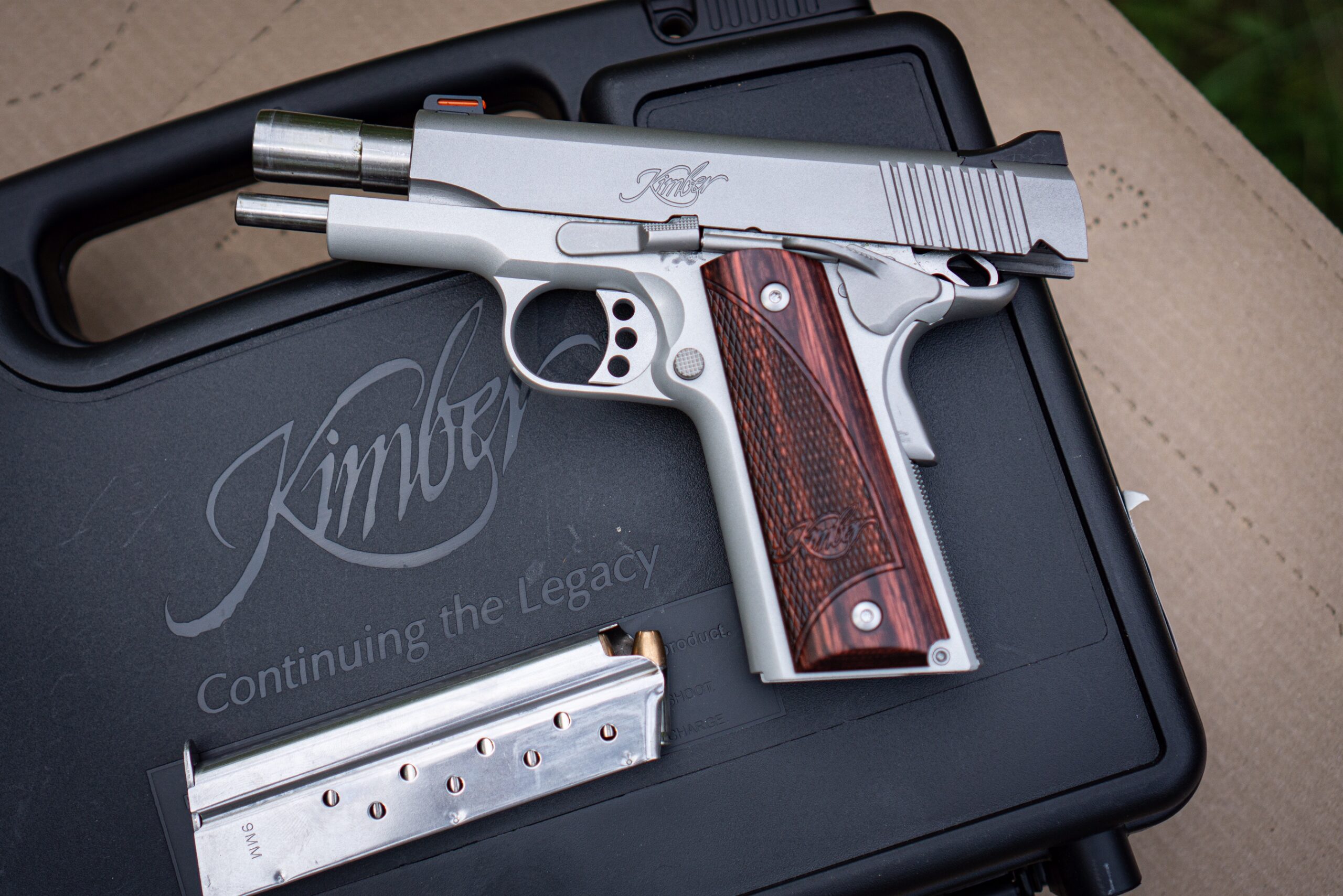 Muzzle Velocity Analysis
As I try to do with all handgun reviews, I tested the muzzle velocity of the Kimber Pro Carry II using a common self-defense round. For the test, I fired 5 rounds of 124 Gr. Federal Premium Hydrashok with a Labradar collecting data. Shown below, is the data from that test.
Average: 752 fps.
Highest: 1,088 fps.
Lowest: 489 fps.
Extreme Spread: 599
Standard Deviation: 234.2
I believe the results clearly show that this Pro Carry II is still well inside of the "break-in" period. Alternatively, the hollow point Hydrashok rounds used for this test are not ideal for use in the Pro Carry II.
Final Thoughts: Kimber Pro Carry II
For right under $1,000, the Kimber Pro Carry II offers exceptional aesthetics and ergonomics. With this being said, I'm hesitant to endorse the idea of the handgun being worth the price tag based on my experience. Several others on forums mentioned faulty recoil springs being an issue and I feel that Kimber should address the issue.
The Pro Carry II was smooth (when operating) – even compared to similar 1911 style options. I truly wanted to like this handgun but the reliability issues turned me away – at least for now.