Of all the handgun options on the market, .22LR variations hold a semi-niche place. It's not that people don't buy them, they do. It's just that (generally speaking) a .22LR handgun is thought of as a plinking only gun. A good number of us (myself included) train and shoot handguns that we also can carry for self defense. For those in target plinking mode or maybe just training on a budget, these .22 LR handguns can be a blast to shoot. The handgun we are taking a look at today is aimed at those who want to take accuracy and ergonomics to the limit with a .22LR cartridge. So let's get into the meat and potatoes of this Taurus TX22 review.
General Overview of the Taurus TX22
Introduced in 2019, the Taurus TX .22LR brought a new look and experience to the table. Taurus claims that the TaurusTX .22LR offers a "custom tuned, competition gun" feel and performance. One of the more notable features (on the model tested for this review) is the optic ready slide – something definitely unique for a .22LR handgun. The particular model tested even included a threaded barrel.
The price tag of $533 for the model tested for this review may seem high initially, but I think some of the features discussed below help justify that sticker. Taurus does offer other TX22 variants at lower prices. In fact, it's not uncommon to find some of those TX22 variants priced under $300 from gun shops all over.
Taurus TX22 vs Glock 44
I'm sure that many looking at the Taurus TX 22LR are also considering the relatively new Glock 44 22LR handgun. As someone who has shot each now, I believe it comes down to intent and application. In my Glock 44 review, I found it's a great fit for those who already own Glock 19/17 holsters and want to train with a firearm that feels just like their defense handgun. On the other hand, the TaurusTX 22LR Competition offers quite a bit more for a very similar price. This will come down to preference, though I believe the TaurusTX 22LR (as tested) is the best bang for the buck.
Specifications: Taurus TX22 Competition
Barrel Length: 5.25″
Overall Length: 8.15″ 
Height: 5.44″ 
Overall Width: 1.25″ 
Weight: 23.20 oz. 
Firing System: Striker 
MSRP: $533 as tested 
First Impressions: Range Time
When I first picked up the TaurusTX for this review, my first reaction was "alright, this looks interesting." The gun has a very distinct "race gun" look and feel to it that is made even more prominent by the funky optic mounting location. I wasn't able to shoot the TaurusTX with a mounted optic, but I did find myself changing the way I handled the firearm based on the mount platform location.
I was able to run several hundred rounds of varyied .22LR ammunition through the Taurus TX with no issues. Given some 22LR's propensity to be finicky with feeding/cycling, I was impressed.
The ergonomics and functionality quickly drew my interest too. Some of the design features appeared similar to that of Smith & Wesson grip offerings, and it seemed to work well. My hands fit well on the gun and the the grip texture stood out as a nice feature to me.
With small caliber handguns, speed and accuracy are often easily combined and I found myself enjoying my time behind this gun for that very reason. Felt recoil was minimal (no surprises here) and the gun cycled and fired like I was shooting a staple gun. For those that are used to shooting 9mm or other common defense calibers, this will feel like a shooting cheat code.
I did find the magazine release a bit difficult to operate and I'm also never really a fan of external safeties on handguns. All things considered, I was impressed by how the TaurusTX ran.
Sights & Trigger: TaurusTX 22LR
The TaurusTX sights got the job done, but weren't ideal. Taurus included a 3 white dot sight configuration that I found slightly difficult to acquire quickly. One of the nice things about shooting a .22LR handgun is that the sights don't move much while firing, so follow up shots were a breeze. With the super prominent optic plate, I don't think many will be using the iron sights for long though.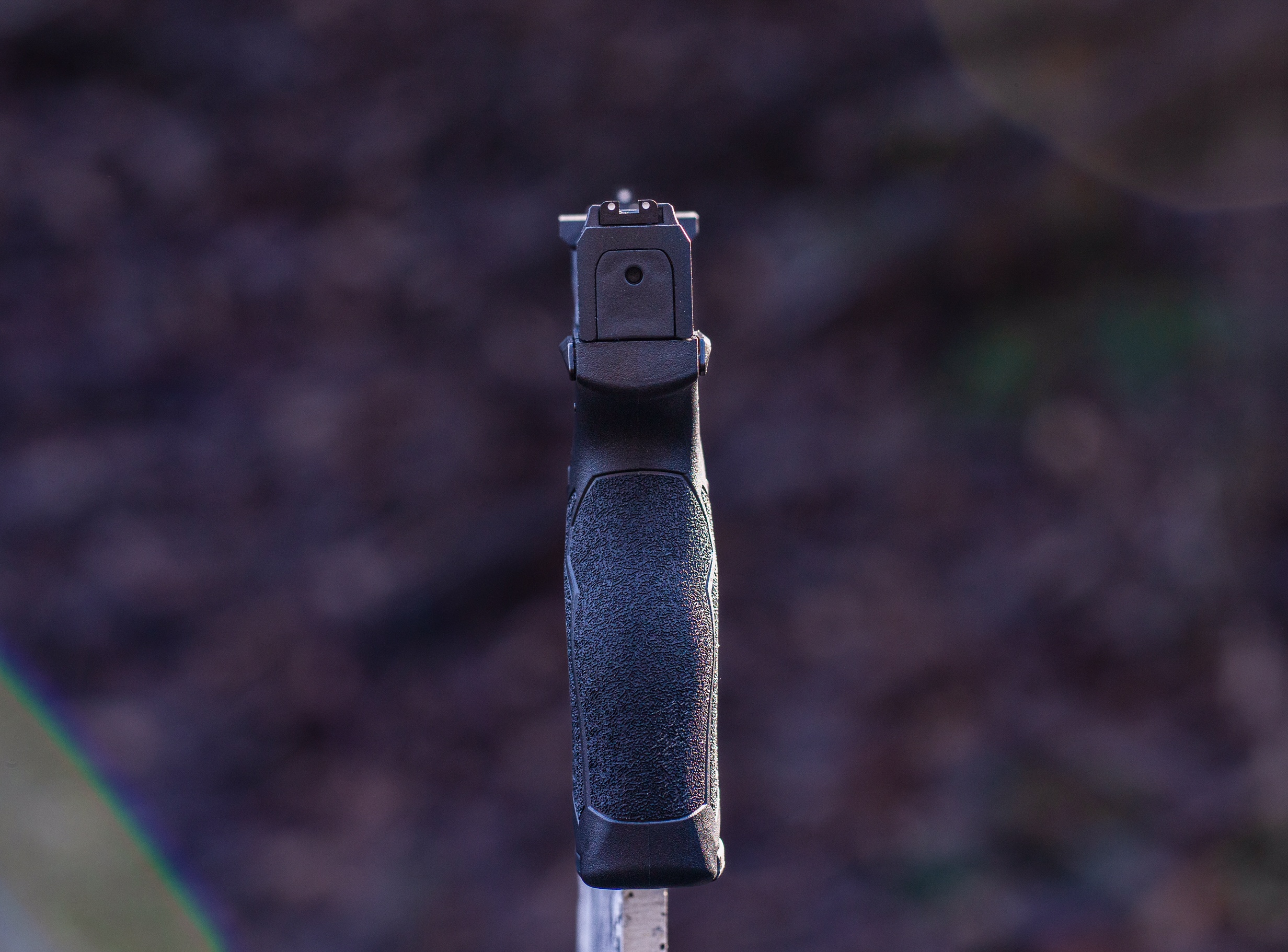 My experience with the trigger on the Taurus TX22 was better than expected. Each pull felt smooth and actually fairly light from my perspective. Trigger pull weight for the TaurusTX is around 4.5 pounds, though it felt lighter.
Velocity: TaurusTX 22LR
I was able to conduct some velocity testing at the range with the TaurusTX using a Labradar device. A 5 shot group using 40gr solid ammunition gave me the following results. With the 5.25″ barrel length taken into consideration, nothing seemed out of the ordinary to me here.
Average: 968 feet per second
Highest: 985 feet per second
Lowest: 931 feet per second
Extreme Spread: 54
Standard Deviation: 21.9
Taurus TX22 vs. TX22 Competition
We spent our time at the range with Taurus' TX22 Competition model. It's a little bit different than the standard TX22 that the company released in 2019. Aside from the optic-ready slide, here are the other major differences:
The competition model's overall length is 8.15″ versus 7.13″ for the base model. It's also about 6 ounces heavier.
The competition model offers a bull barrel with compensator from the factory too – the base model doesn't offer that.
Final Thoughts: Taurus TX22 Review
For those hitting the range with the sole intention of quickly punching holes in paper, the Taurus TX Competition just might be a top contender. With a relatively fair dollar to feature ratio, I don't see how many would find this handgun to be a poor purchase.
I found myself truly enjoying my time behind this handgun and that seems to be rare when I'm shooting .22LR pistols. The smooth operation and dialed in ergonomics will have you double checking the frame to make sure it's actually a Taurus logo. I believe that many will find this to be a great training aid – especially with the cost of ammunition and this guns similar frame size to that of many self defense pistols. Taurus undoubtedly put in the effort with this offering, and it shows. I highly recommend renting one at your local gun range and experiencing it for yourself.