What happens when you combine a timeless 1911 design with a compact frame? Kimber would argue that their Micro 9 Carry handgun is the perfect blend. Even the 1911 handguns marketed as compact tend to be on the larger side. Kimber saw the market opening here and took it. So grab a coffee/cigar and sit back as we get into this Kimber Micro 9 review.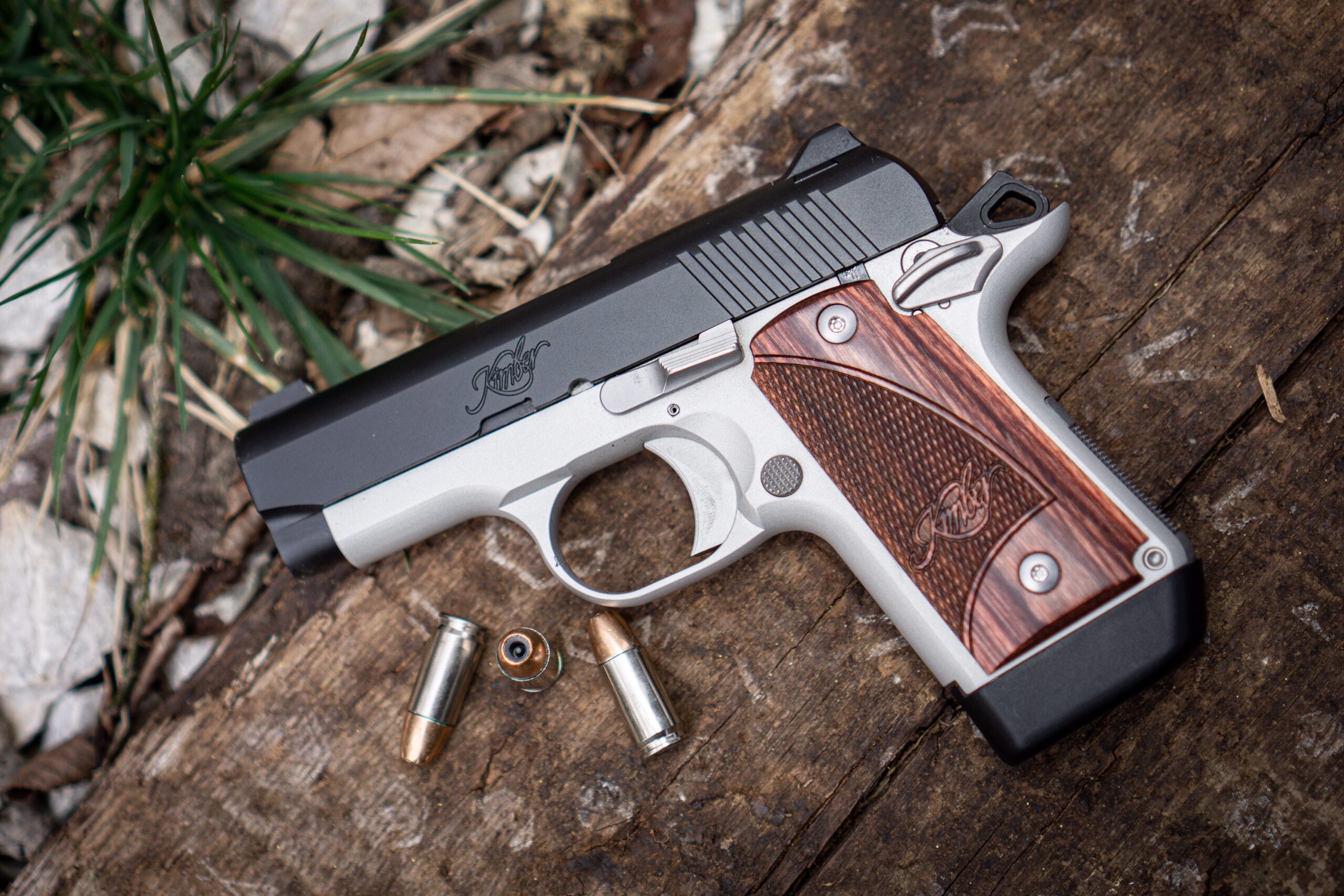 General Overview: Kimber Micro 9 Carry
When I first got my hands on the Kimber Micro 9 Carry, I instantly was drawn to the aesthetics and overall finish. Kimber (of all companies) typically handles the details in style. This is an aluminum frame – U.S. made – 1911 that was introduced in 2018 as a part of the Kimber 2019 product lineup.
Labeled as a "subcompact," the Micro 9 is truly small – even compared to several subcompact polymer options. Holding it actually reminds me of the Sig P365 – an ultra slim 9mm polymer gun. As the name reveals, this handgun is chambered in 9mm. A standard capacity of 7+1 gives it the real "1911" feel. This handgun weighs in at just under one pound with an empty magazine – feather light by most standards.
The model I tested for this review had wooden grips over the aluminum frame and two-tone color scheme. Rear slide serrations and metal sights are included. Kimber strategically designed the magazine to act as a part of the grip with the base extending beyond the magazine well. This technique is commonly used in compact handguns and prevents the pinky finger from falling off of the grip.
Kimber knows that more and more people are looking for compact carry options that still provide adequate capacity and functionality. With the Micro 9 Carry, the owner is given the grip feel of a larger platform in a very concealable package.
Specifications: Kimber Micro 9 Carry
Caliber: 9mm
MSRP: $706
Total Length: 6.1″
Barrel Length: 3.15″
Height: 4.07″
Width: 1.06″
Frame Material: Aluminum 
Grip: Rosewood
Capacity: 7+1
Weight With Empty Magazine: 15.6 oz.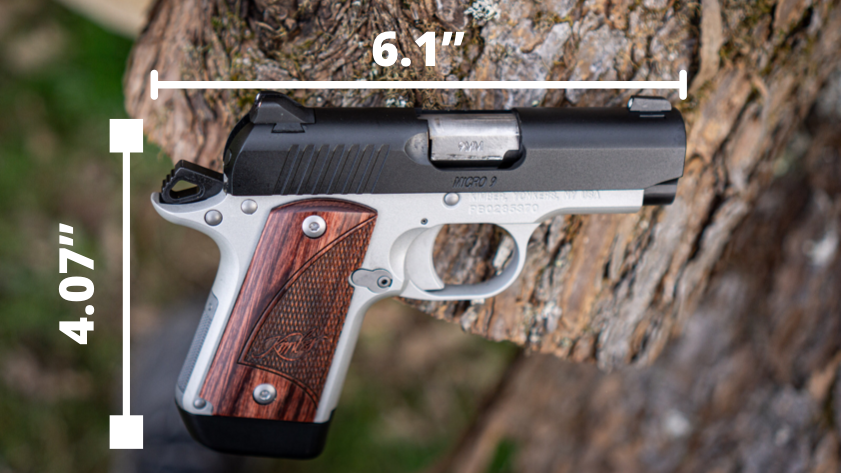 Range Experience
Coming into this review, I truthfully didn't expect much in terms of comfort with the Micro 9 Carry. Based on my experiences with full sized 1911 options recently, I was expecting much more in terms of recoil. Even though this option is chambered in 9mm, I was still pleasantly surprised by how many rounds it took for my hands to say "can we start shooting a Glock?"
Kimber Micro 9 Cycling Problems
I had a relatively smooth experience with the Micro 9 Carry for the first hundred rounds or so shooting different types of ammo. Cycling self-defense ammunition, target loads, and even reloads was going well initially. After about 120 rounds (give or take) I started having some cycling issues. I had issues extracting spent casings with increasing frequency after the first one. This issue would have likely been resolved easily with some cleaning and lubrication.
Outside of my cycling issues, I enjoyed shooting the Micro 9 Carry. I was able to pick up the sights fairly well and put shots mostly where I wanted them. Most of my shooting was done within 5-15 yards with this gun, but I did reach out to 50 yards occasionally.
I appreciated the high beaver tail which allowed for a comfortable and controlled firing grip. This grip also didn't interfere with the manual thumb safety – something I've experienced issues with on the larger 1911 offerings.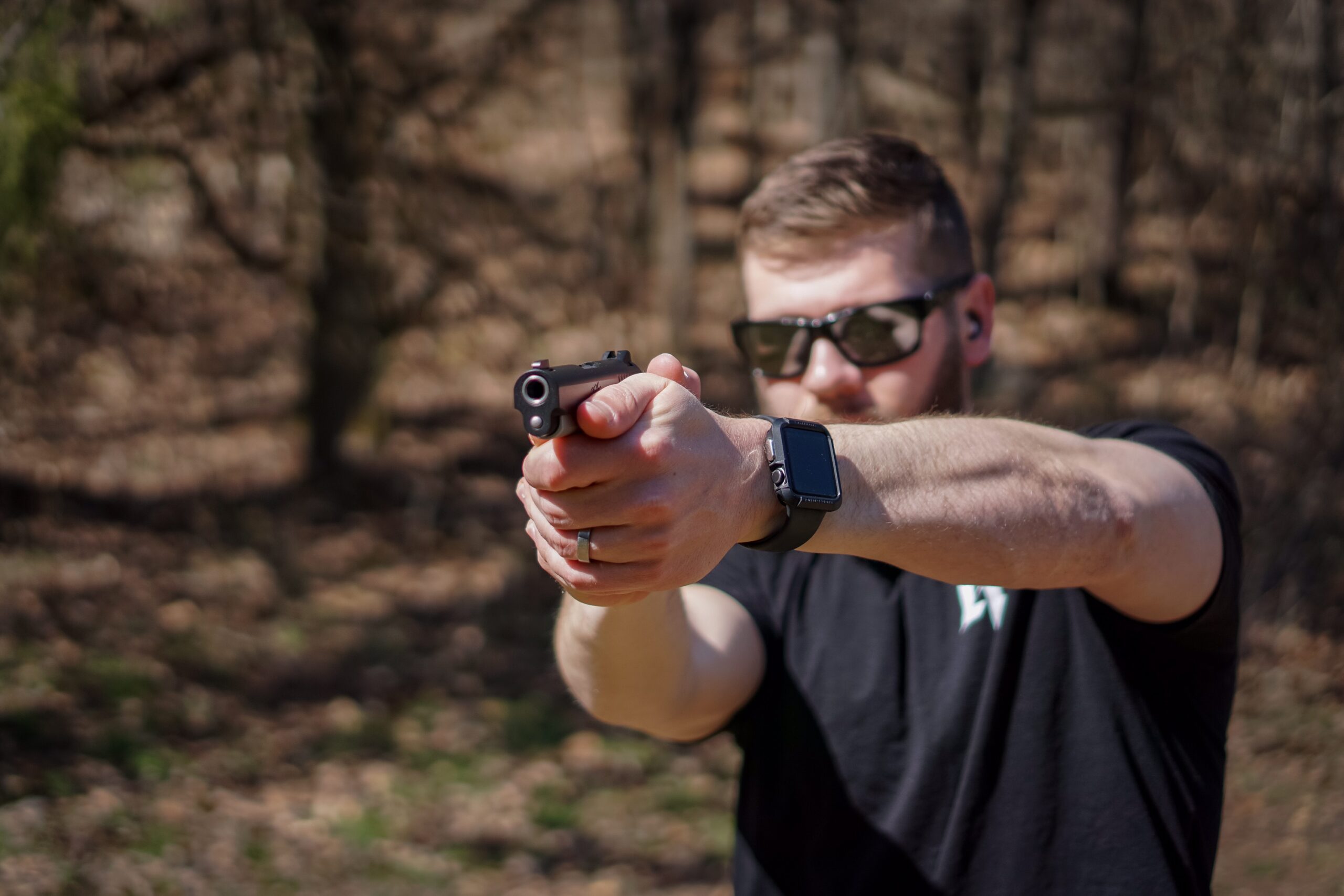 I was pleased with how efficiently I was able to get shots on target with such a small framed pistol. Exceptional confidence was felt at the 5-15 yard ranges.
Outside of the cycling issues, I was decently satisfied by how the Micro 9 Carry ran. Fairly mild felt recoil and the refined ergonomics really shined here. When it runs, it runs well.
Trigger & Sights: Kimber Micro 9 Carry
On a compact handgun like this one, the trigger is something that is typically not all that great. Kimber didn't get the memo, this trigger felt smooth and respectable. A short take-up and crisp break shined here. In terms of fitment, this trigger had no vertical play at all.
My testing of the trigger with a Lyman trigger scale showed an average pull weight of 3.7 lbs. Considering the frame size, this felt much lower while shooting.
The three dot sight configuration on the Micro 9 Carry that I tested provided a sufficient sight picture. I would have liked to see a front fiber optic sight here, but these worked out. For a higher-end carry gun, I do feel that they could have provided a little more in this department.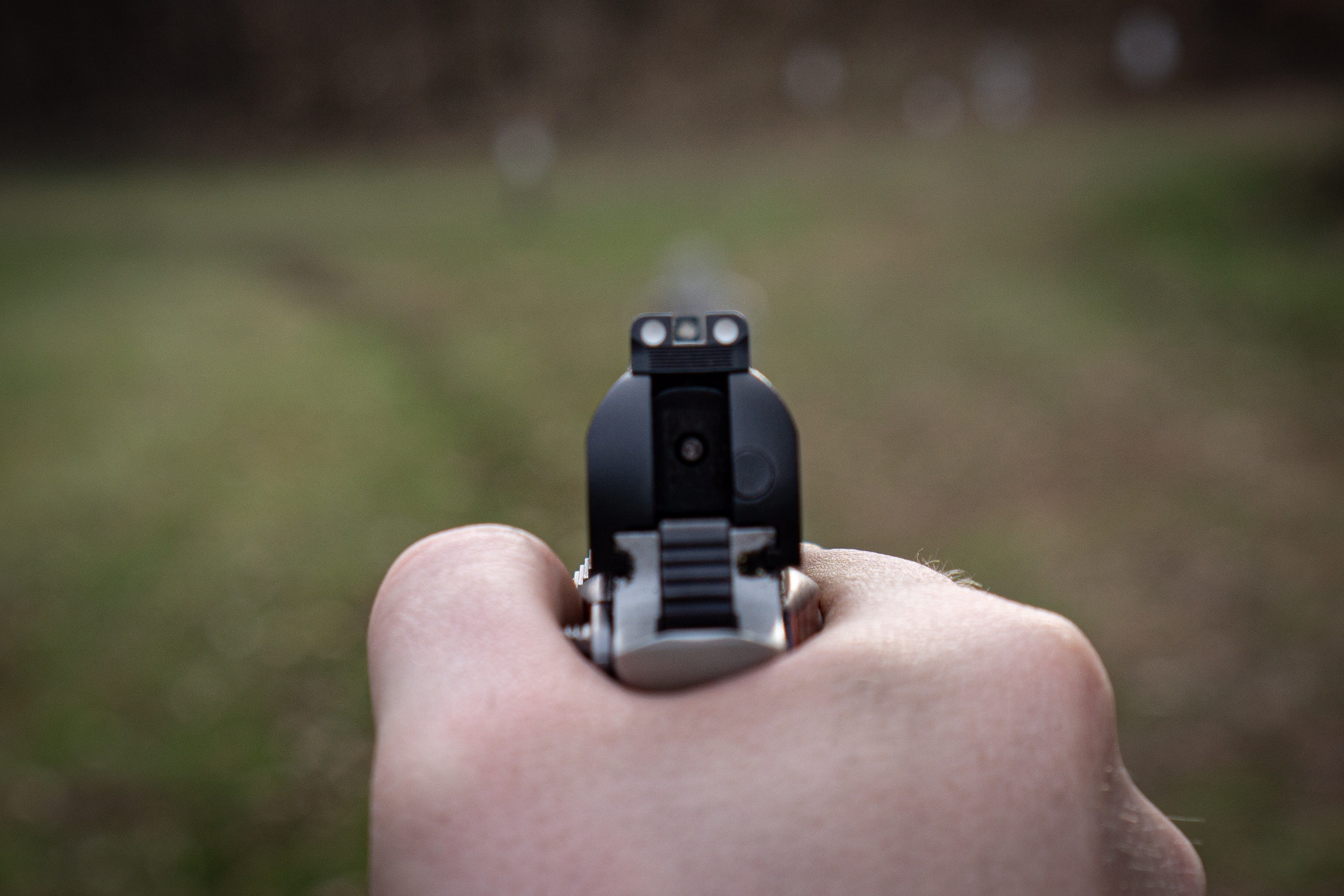 Funtionality & Features: Kimber Micro 9 Carry
On a compact framed handgun like this, getting anything beyond "functional" is typically a bonus. Kimber isn't going to just pass the test – but exceed. While I may not entirely love all of the controls on this handgun, I do appreciate and respect the craftsmanship.
Shortly after picking up the Kimber Micro 9 Carry, I noticed that everything about it felt extremely solid. Kimber absolutely crushed the fitment and placement of controls. Strong James Bond Walther PPK vibes hit me while holding the Kimber.
Accessing the magazine release, slide lock, and manual thumb safety was intuitive from my perspective. The thumb safety isn't something that I personally prefer on a handgun, but this one functioned well. I was able to get it to deactivate and activate with what I felt was the "perfect" amount of pressure.
Magazine reloads were as difficult and awkward as you would expect for a tiny handgun. They weren't smooth by any means with how narrow the magazine well is. With this being said, I would assume this is more of a minimalist close-range gun.
Concealment Potential
I didn't have a holster to carry this handgun for testing, but I know it would conceal well. The extremely conservative footprint and overall thin profile lead me to believe the Micro 9 Carry would make an excellent dress-attire or restrictive area carry option.
A capacity of 7+1 doesn't stand out to me as ideal for concealed carry, but to each their own. Some of the recent additions to the concealed carry market, including the Glock 43X, are of similar size with a much higher capacity. Practicality arguments aside, the Micro 9 Carry is definitely classy and I see the appeal.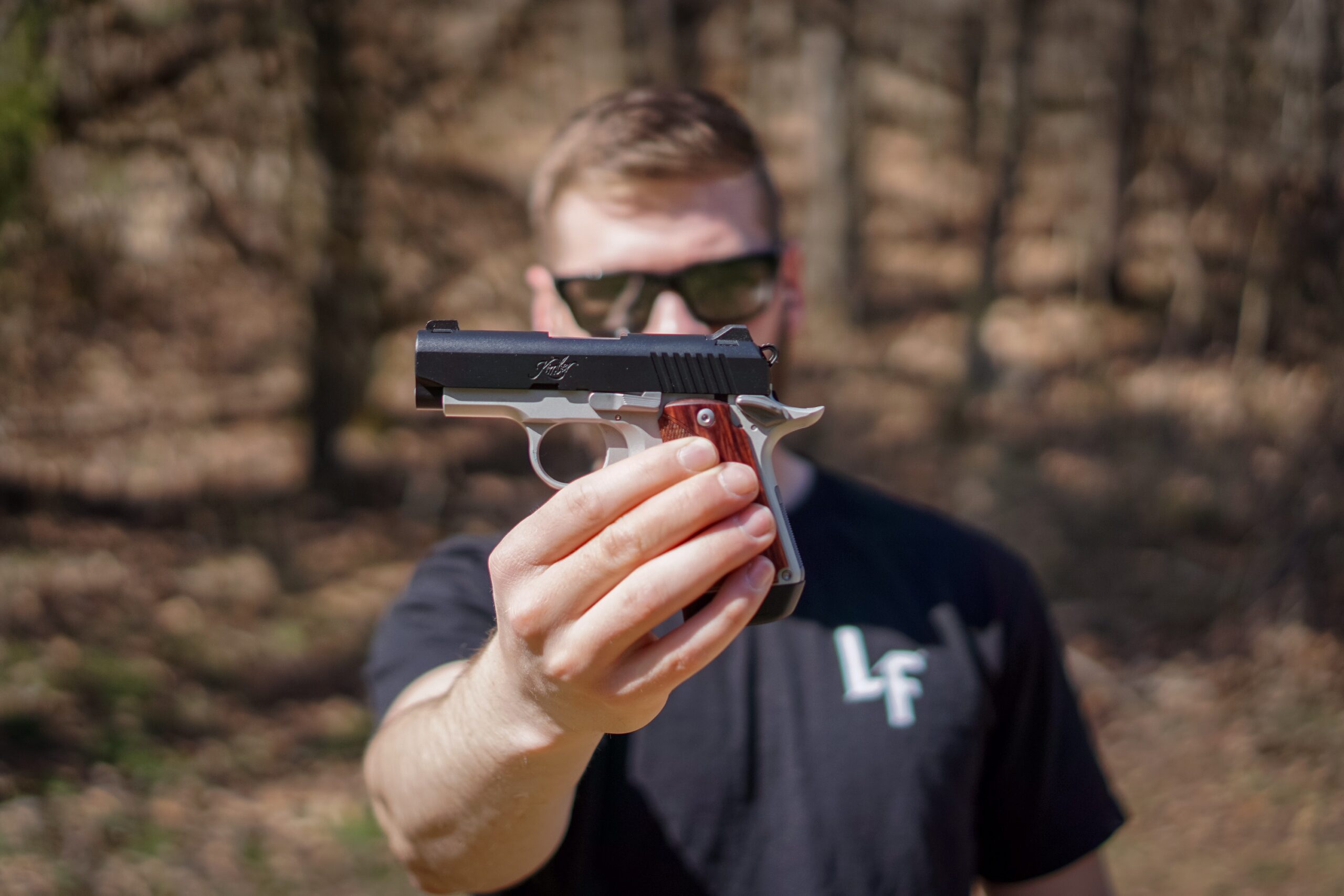 Impact on Muzzle Velocity
I took advantage of my access to a Labradar device for my testing of the Micro 9 Carry and tested muzzle velocity. For this test, I used a common self defense ammunition – Federal Premium 124 Gr. Hydrashok rounds. My testing involved 5 rounds and I included the data from that test below.
Average Muzzle Velocity: 1,079 fps.
Highest: 1,100 fps.
Lowest: 1,048 fps.
Extreme Spread: 52
Standard Deviation: 20.1
Out of a 3.15″ barrel, these numbers are right on par with what I expected. Federal advertises a muzzle velocity of 1,120 fps. out of a 4″ barrel.
Final Thoughts: Kimber Micro 9 Carry
The Kimber Micro 9 Carry is a well-built and stylish carry gun that brings a lot to the table – including a big price tag. I have no doubt that this handgun will perform well when carefully cleaned and maintained. For me personally, I can't see myself spending $700 on a firearm for self defense that I'm not 100% confident will operate in harsh conditions.
I've ran modern polymer guns twice as dirty with fewer issues. My malfunctions experienced here make me question the reliability of a compact 1911 design – beyond just Kimber. While it wasn't my favorite from a self defense perspective, it is surely a handgun I would like to own for style points alone.