The compact handgun market is continually growing and evolving. Companies are listening to customer feedback and continually offering new and improved versions of concealable firearms. The CCW (Concealed Carry Weapon) market has been extremely popular in recent years with several great options on the table. This article will touch on one of those great options in what we hope is a helpful Glock 43X review.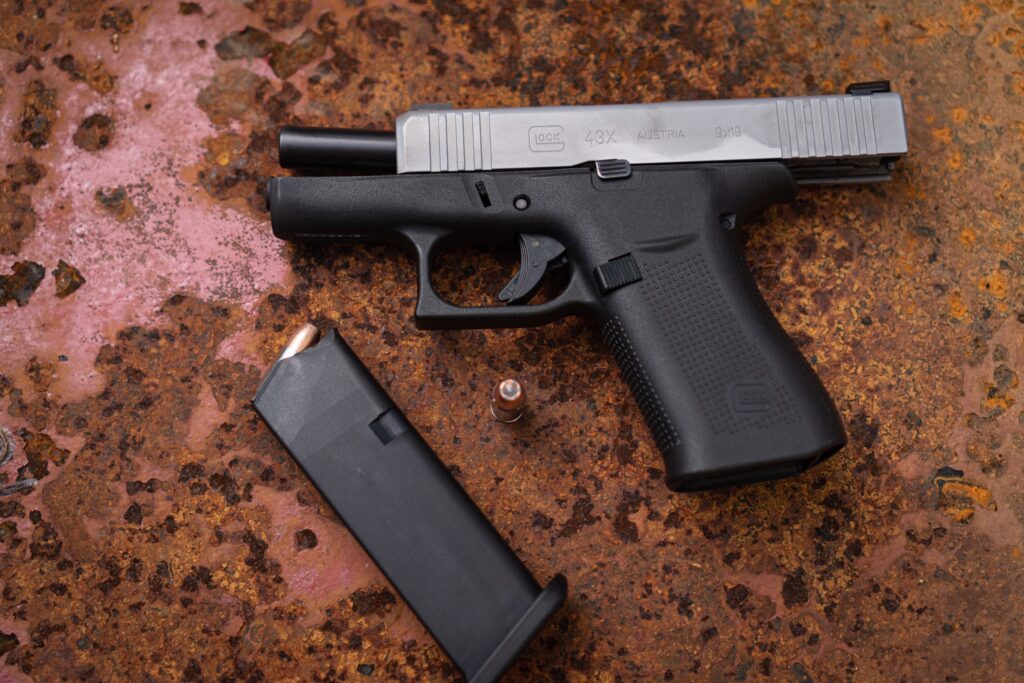 Glock usually finds a spot among the top contenders in handgun categories, and for good reason. Glocks are well-known for their reliability, relative affordability, and simple design. When someone is looking for any type of handgun, Glock will (9 times out of 10) enter the conversation.
Where the Glock 43X Came From
Before we dive into this review, let's touch on how the G43 originated to provide a little context. The G43X is a revised and expanded version of the Glock 43. Released in January of 2019, the Glock 43X (and G48) are Australian built pistols designed to provide the CCW market a higher capacity, slimmer frame choice.
Glock 43 vs. Glock 43X
A taller frame Glock 43X provides at least two noticeable advantages over the Glock 43.
1.) The most obvious and talked about is going to be the capacity. The G43X provides a standard 10+1 configuration compared to the G43 6+1 capacity.
2.) Also an improvement that is directly linked to the capacity upgrade, is the grip height. A common gripe with the G43 is the short grip that can lead to a less than idea shooting grip. The G43X solves this issue with a grip height of similar size to the Glock 19.
Concealed Carry Considerations
Most people have at least a few basic requirements in mind when it comes to a concealed carry handgun. I know a few of you out there are trying to ankle carry an MK-18, but the rest of us are slightly less…adventurous.
The common priorities (in my opinion) are listed below:
Firearm Caliber
Frame Size
Capacity
Weight
That's my list of priorities I analyze when considering concealed carry firearms. Ultimately, that list will impact my review of the Glock 43X. Another consideration outside of just the pistol itself is often the bank account damage. Picking up a new G43X will likely cost you $449 at a minimum. I'll list comparable market options below to show how the G43X ranks.
Comparable Options:
Sig P365 – $599
S&W Shield – $374
Springfield XDS – $328
Ruger Security-9 – $379
Glock 43X Specs
Overall Length: 6.5 inches
Overall Width: 1.1 inches
Slide Length: 6.06 inches
Slide Width: .87 inches
Height (with magazine): 5.04 inches
Line of Sight: 5.24 inches
Trigger Reach: 2.64 inches
Weight (empty magazine): 18.7 ounces
Capacity: 10+1
First Impressions of the G43X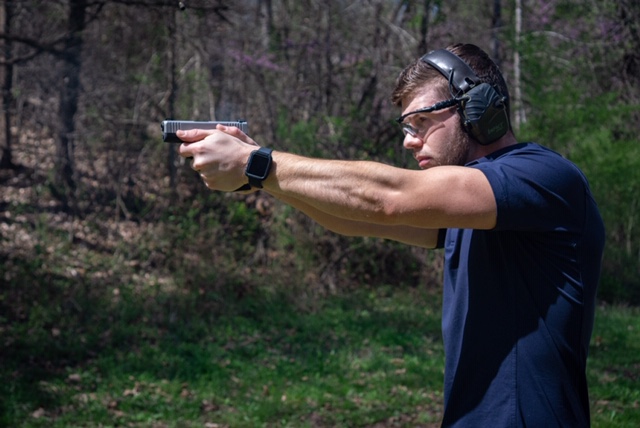 I recently had the opportunity to take a Glock 43X out to the range on a perfect weather day. I spent a few hours feeding it several hundred rounds of varied ammunition types. This was my first time ever firing this particular firearm, and I must say, I was pleasantly surprised. What I expected and what I actually experienced with the Glock 43X, were two different things.
I had one recurring thought when I showed up at the range to fire the Glock 43X, "this thing is so lightweight.. it must be snappy."
I loaded up my first magazine with Speer Gold Dot 115 GR ammo and sent them into a steel plate. I immediately noticed that the pistol was actually fairly smooth in recoil management and didn't "snap" nearly as much as I anticipated it would. My hands felt right at home high into the beavertail grip and I had very little issue maintaining control of the frame while firing.
Glock 43X Trigger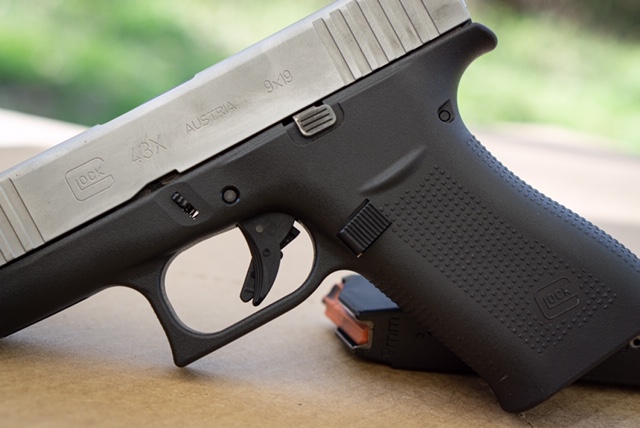 The trigger is a common point of consideration when choosing any firearm, but especially when it's a compact handgun.
For someone with minimal experience using aftermarket triggers, the 43X trigger seemed completely reasonable. My trigger pull weight test showed an average of 6-pounds 10-ounces out of 10 test pulls. I have seen others claim to experience a "less than ideal" experience with this trigger but that just wasn't the case with the 43X I tested. I experienced a smooth trigger pull with a predictable break and crisp reset.
For those interested, I have seen several aftermarket options popping up and I'm sure they are great.
Caliber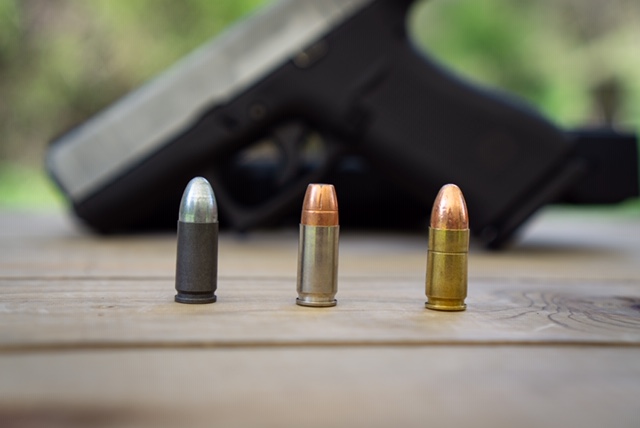 The Glock 43X is chambered in the Honda Civic of ammunition, 9mm. As someone who prefers 9mm, this fell into the "pro" list before I even held the firearm. Most will agree that 9mm is a great round and is worth trusting your life with. The 9mm ammunition options are seemingly endless and relatively inexpensive.
9mm pistols are generally mild in felt recoil and because of that, appeal to a wide range of shooters. It's hard to go wrong with a 9mm CCW, and Glock capitalized on that here.
I was able to run several types of ammunition through the Glock 43X and it handled all without issue. Knowing that many of you carry premium self defense ammunition, I wanted to test a popular ammunition option to ensure reliability in the 43X. For this informal test, I used Speer Gold Dot 115 GR and noted no problems cycling even when fired rapidly. That's what I want to see out of a potential carry pistol.
It's fair to say that Glocks are willing to eat almost anything you throw at them with few complaints.
G43X Review: Frame Size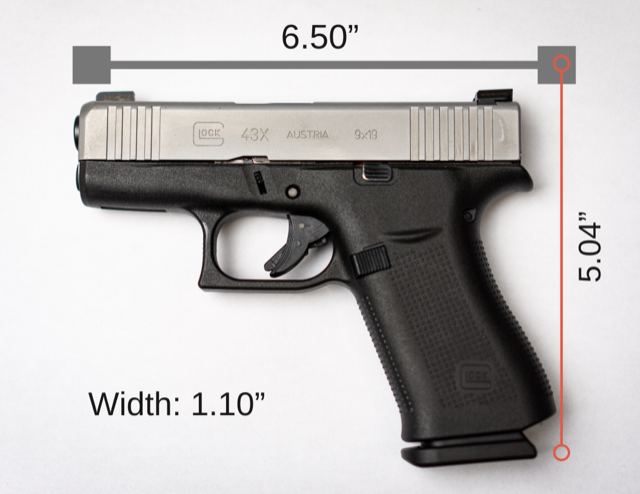 Coming in at just 1.10″ wide and 6.50″ long, the Glock 43X feels and looks like a Glock 19 spent all of July in Phoenix, Arizona. Lean, but not excessively slim, the Glock 43X fits nicely in my hands while still concealing extremely well in the appendix carry position.
The importance of frame size will obviously vary based on body type and build. I'm 5'10" with a 32″ waist so I prefer a pistol like this one. For some, this isn't a big issue and they don't mind "printing" as much. It's ultimately up to you, but if you are like me, the Glock 43X should fit the bill.
For a side-by-side comparison, I placed my current daily carry, a Smith and Wesson Shield 9mm pistol next to the Glock 43X. I noticed that both firearms appeared to be very similar in width and length. When comparing the G43X to the Shield, I did notice a difference in how it formed to my body in the appendix carry position. Based on several days of carrying the 43X, I would say the Shield takes the win in this category. Don't get me wrong though, the 43X is still relatively very simple to conceal.
The slim and lightweight frame was surprisingly comfortable in the hands while firing. A good balance of weight was obvious when handling the 43X, which translated well in the "experience."
Glock 43X Capacity
In the capacity department, the Glock 43X stands out from your typical compact pistol by providing 10+1 as a standard configuration. I don't think anyone will complain about having 11 rounds of 9mm in a CCW pistol. Considering the compact frame and overall weight, the Glock 43X is a great platform for those who prioritize round count.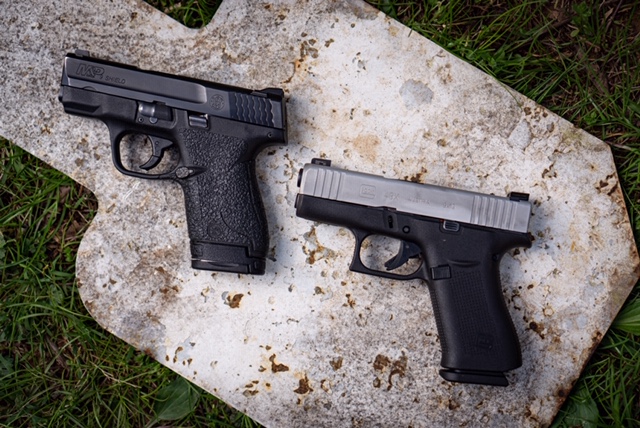 My only real complaint regarding the 43X has more to do with my personal preference after carrying a Smith and Wesson Shield for so many years. The Shield forms to the body extremely well (especially with a good holster) and I didn't feel that the 43X was able to match that with the longer grip length. Again, user preference and could very well depend on holster since I only used one for testing.
Weight
The Glock 43X is very light. At only 18.70 oz. with an empty magazine, this pistol feels lighter than any pistol of similar size that I've held. With that being said, I would't describe it as being "too light." If you are going to trust your life to a firearm, you don't want it to feel like you're holding a nerf gun. The 43X has a nice balance and consistent quality feel in the hand.
Final thoughts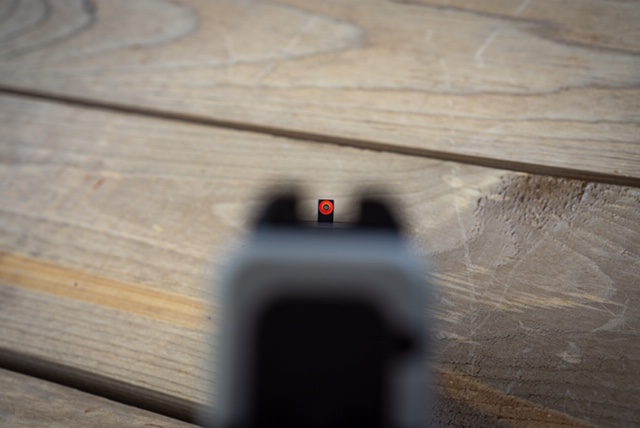 I have to say, this little piece really impressed me. Shooting the 43X is comfortable and enjoyable. The functionality, simple design, and compact size really were refreshing.
Picking up the Ameriglow night sights was a breeze and really added to the confidence felt with this gun in my hands. The trigger pull and break felt very smooth and predictable. The slide release and magazine release were simple to operate and didn't feel awkward at all. Having well-placed serrations on the rear and front of the slide proved to be efficient and added to the exterior finish.
In terms of pure aesthetics, I really could do without the two-tone look since I prefer the all black finish. Based on the shooting experience and glove like fit in the hand, I can forgive the color.
Out of all the compact options on the market, this pistol definitely stands out as a respectable choice.
After hanging out with and firing this compact option, I'm tempted to get one for myself.