The firearms industry has seen a wide variety of additions over recent years – including some from across the water. While new foreign firearms aren't anything out of the ordinary, most of us are initially a little skeptical – especially at cheap price points. Although plenty of companies overseas produce well-built firearms, each design faces the scrutiny of the saturated American gun market. The firearm we are looking at today is a Turkish-built handgun that has recently developed a name for itself in the U.S. market. Let's take a close look at this full size handgun in this Canik TP9 Review.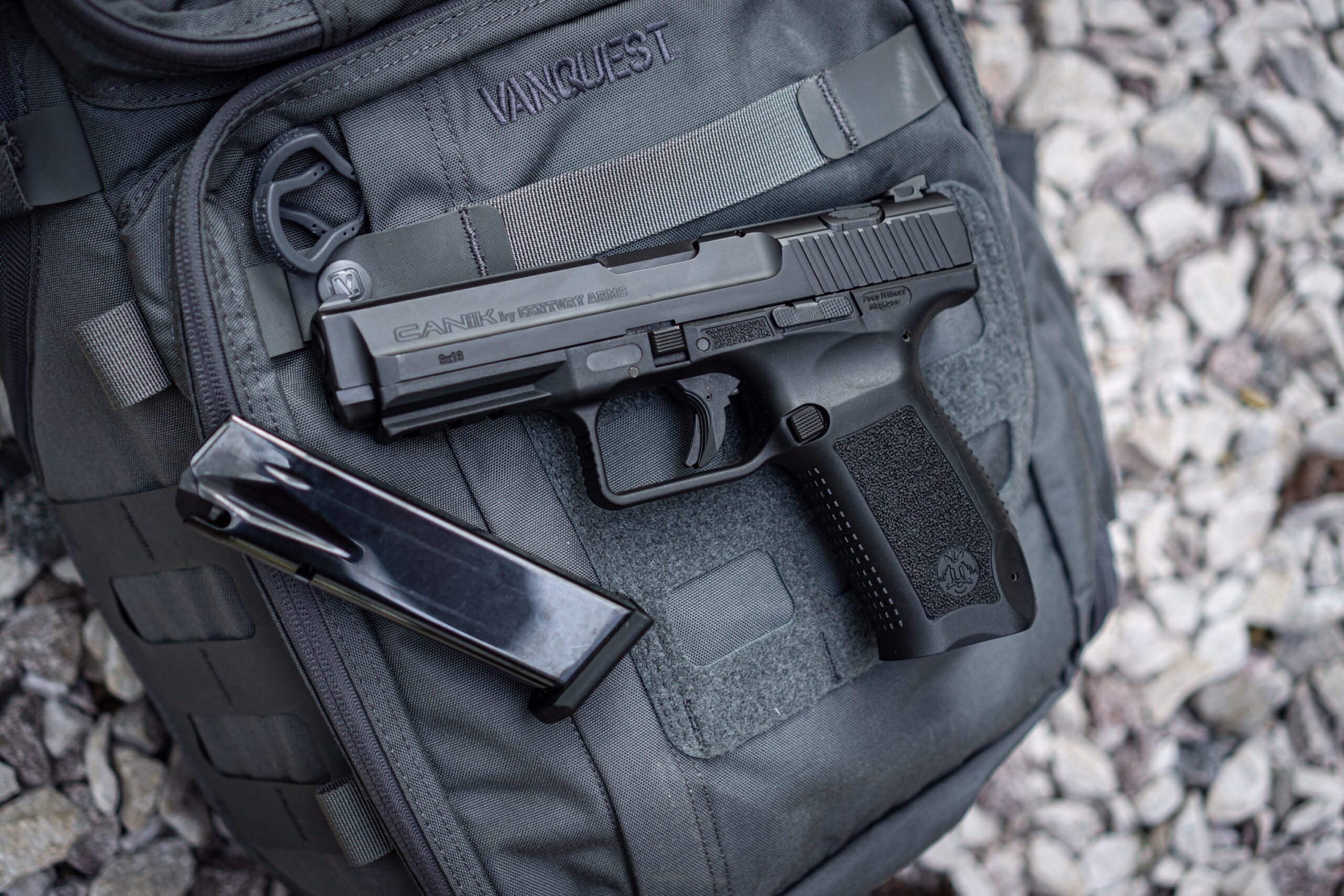 General Overview: Canik TP9SA
The Canik TP9SA is a 9mm full sized handgun that is imported by Century Arms from Turkey. While not extremely familiar to everyone, the Canik brand has gained some traction in the U.S. market. Truthfully, I hadn't heard about Canik until very recently. Turkey does have experience in the firearm and aviation production side of things and the Canik firearms we see today are produced in an ISO 9001 rated weapons facility.
Essentially a clone of the Walther P99, the TP9 isn't innovative from a design standpoint. Canik originally offered the TP9 in a Double Action/Single Action configuration. This design allowed the shooter to de-cock the firearm by depressing a button on the top of the slide. The TP9SA (which I'm using for this review) is the updated and revised version that is single action only. Canik still provides the same manual de-cocker that now renders the trigger dead. This is a point of concern for some and I'll touch on this deeper into the review.
As far as the frame feel and overall aesthetics, the TP9 SA is a well put together firearm. It fits great in the hands and doesn't look all that bad – especially considering the price tag. This might be the biggest selling point of the TP9 SA from my perspective. It's clear that Canik is offering a good amount of firearm for what they are priced at – only $360.
Comparing the TP9 SA to other full size price tags, this is on the low end for sure. Although Canik has seen mixed reviews of the TP9SA, most are at least semi-pleased by the overall performance considering the "budget" status. This was definitely the case for me. I didn't have a flawless experience with the TP9SA – but it was more than I expected.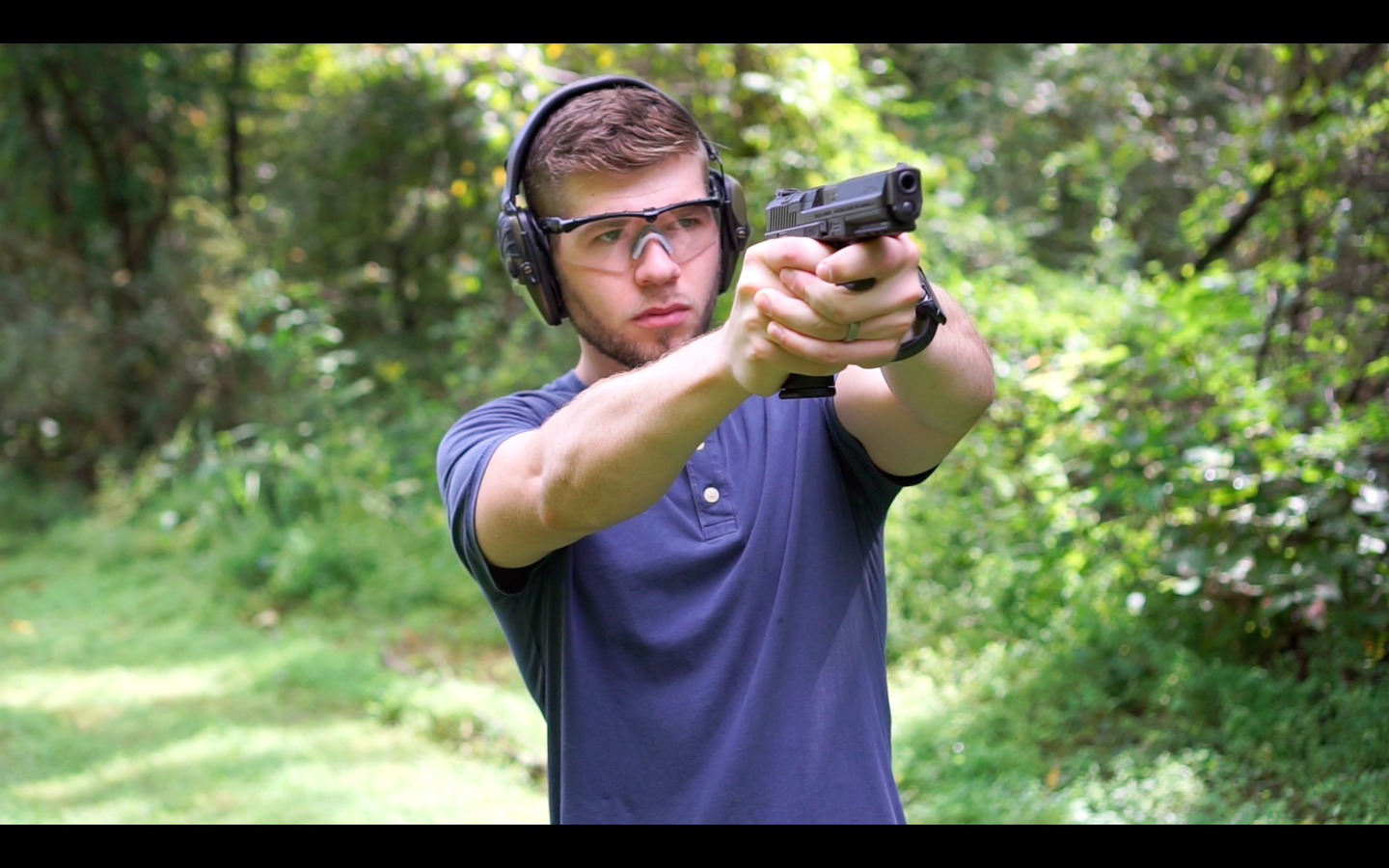 First Impressions: Canik TP9 Review
As I mentioned earlier, the ergonomics of the TP9SA are fairly comfortable. Once I was out at the range with the TP9SA, I was pleased with the "shootability."
The overall size of the frame and and slide provide a comfortable shooting experience in my opinion. My only real complaint here is more on the functionality side – the lack of front slide serrations and frame texture. I noticed my hands really had a hard time gripping some of the surfaces on the slide and I feel like that is an area for improvement. The upper portion of the frame also has some pretty slick surfaces which weren't ideal for maintaining a solid grip.
The gun handled recoil very well in my experience and I felt unusually accurate with it – likely due to the very positive trigger experience. I'll touch on this more later.
I ran several hundred rounds of varied 9mm ammunition types through the TP9SA with two failure to feeds. Now, I will say that both of the failure to feeds were from the same re-load ammunition batch that I tested. This leads me to believe it was due to the ammunition. The TP9SA was already a few hundred rounds into firing when I experienced both failure to feeds and it had no issues with all of the other ammunition I fed it – including several self defense rounds.
All things considered, I was fairly impressed with how the TP9SA performed at the range. It definitely functions outside of its' price league.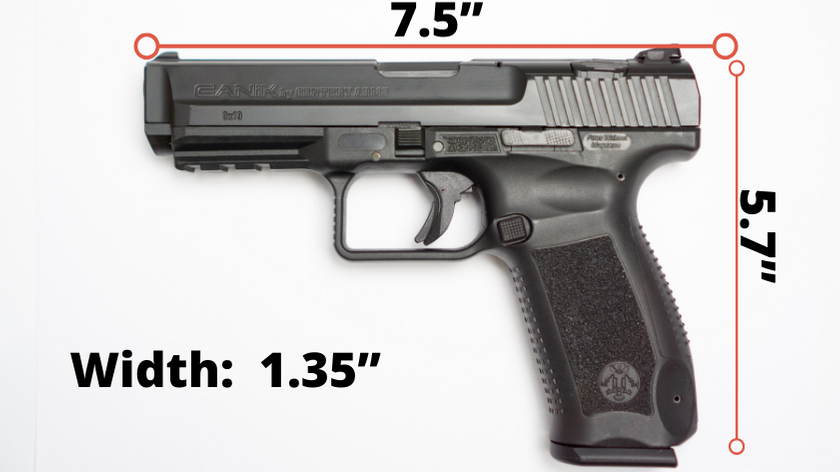 Specifications: Canik TP9SA
MSRP: $360
Caliber: 9mm
Weight Empty: 24 oz.
Total Length: 7.5″
Height: 5.7″
Width: 1.35″
Barrel Length: 4.09″
Capacity: 18+1
Sights & Trigger
While not terrible, the all too familiar sights on the Canik TP9 are lackluster.
A standard three white dot setup is seemingly the go-to for the industry but it's surely not the best configuration. I was able to pick up the sights without too much of an issue – though it did renew my appreciation for aftermarket options on my personal firearms.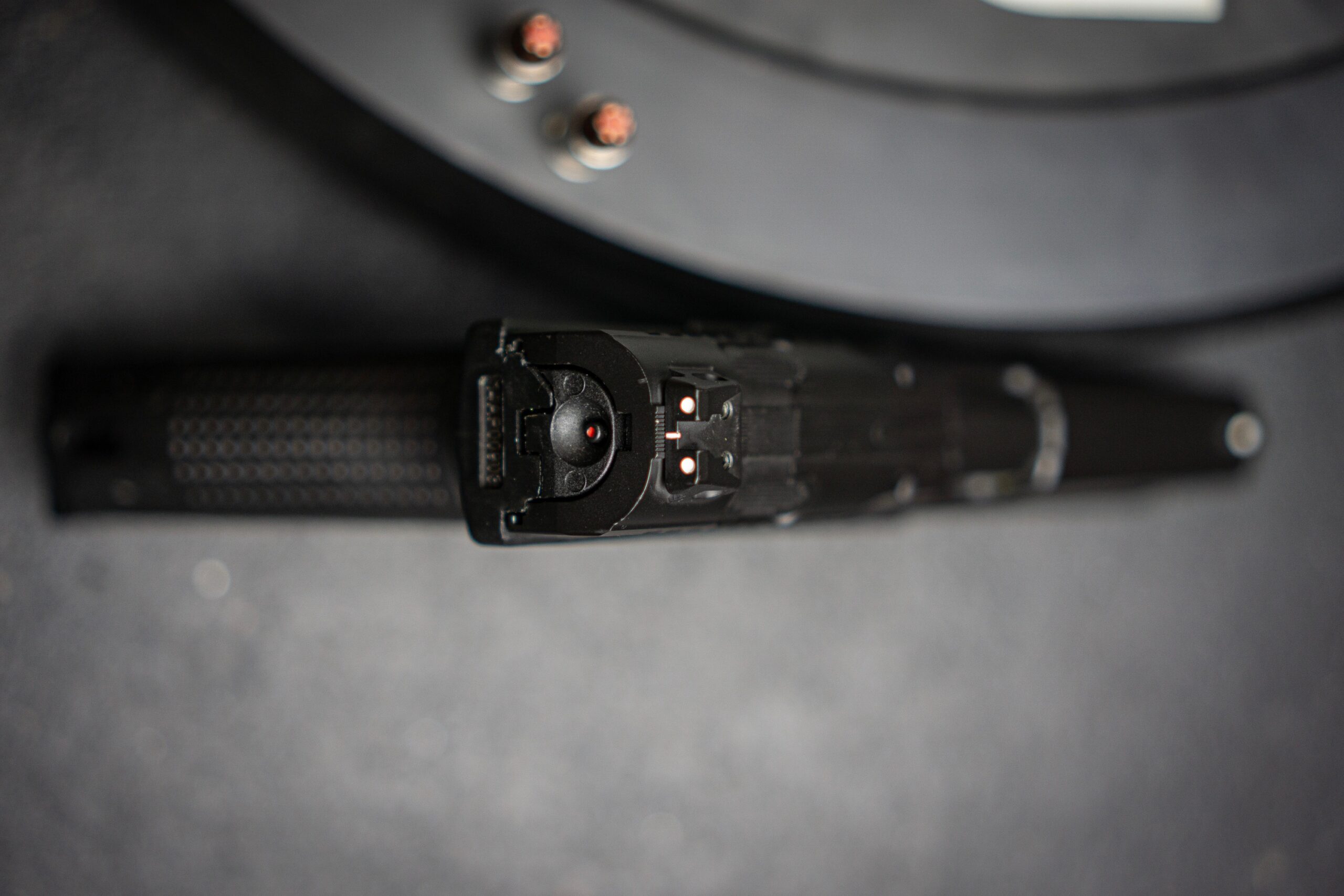 The trigger in the TP9SA is really where this gun stands out. It is fantastic. Quite arguably one of the best stock striker fired gun triggers out there. I experienced a very smooth pull and crisp break in this trigger – even compared to brands known for good triggers like Sig. My testing of the trigger for this Canik TP9 review discovered an average trigger pull weight of right over 3 pounds.
I was impressed with not only how the trigger felt but how it impacted my shooting experience as well. Getting off quick consecutive shots with the TP9SA was made easy with this trigger. My shooting felt exceptionally accurate with the TP9SA – and I attribute that partly to the trigger.
As is common with many other striker fired handguns, the trigger on the TP9SA includes a safety blade. Both the safety blade and trigger must be depressed simultaneously for the gun to fire. No other manual safety mechanism is found on the TP9SA – something I'm a proponent of.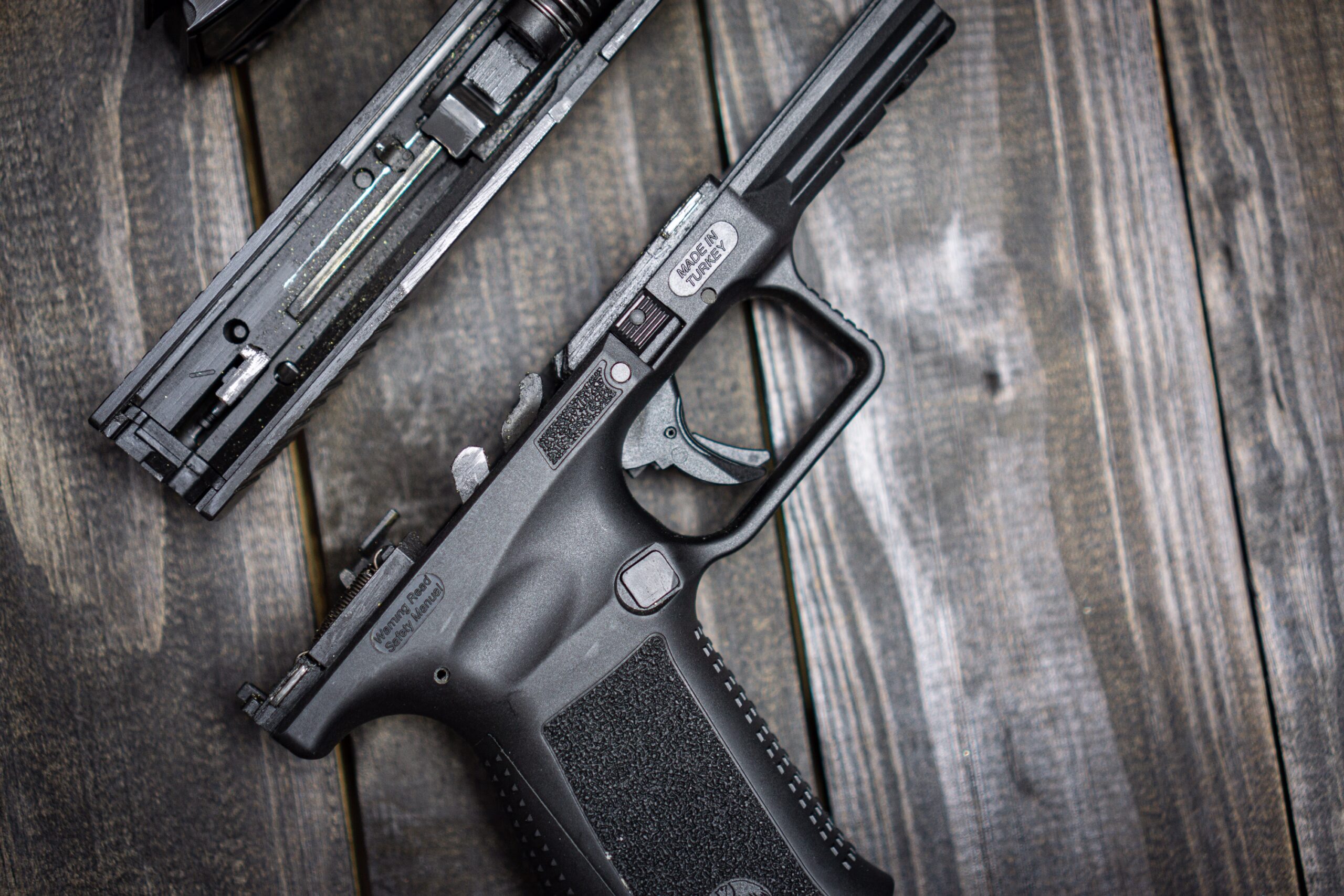 Functionality & Features
Canik offers several well-thought out features and design implementations and also a few that just don't seem to make sense. I'll start with what I consider to be the "bad" and work my way into the positives in this category.
The most prominent and unusual feature on the TP9SA is the "de-cocker" on the top of the slide. As I mentioned earlier, the de-cocker was on the original TP9 as a method of putting the firearm in double action. Since this variation is a single action and the de-cocker only deactivates the trigger, I'm not really sure why it's here at all.
I think this makes for a decent argument against using the TP9SA as a self defense tool but that's ultimately up to you. It takes approximately 5 pounds of downward force to de-cock the firearm – though it feels much lighter.
An easily identifiable red striker indicator is provided on the rear of the slide – important considering the de-cocker. This allows you to visually confirm that the de-cocker has not been depressed but does not indicate whether a round is chambered. A chambered round indicator is on the top of the slide for visual and tactile confirmation.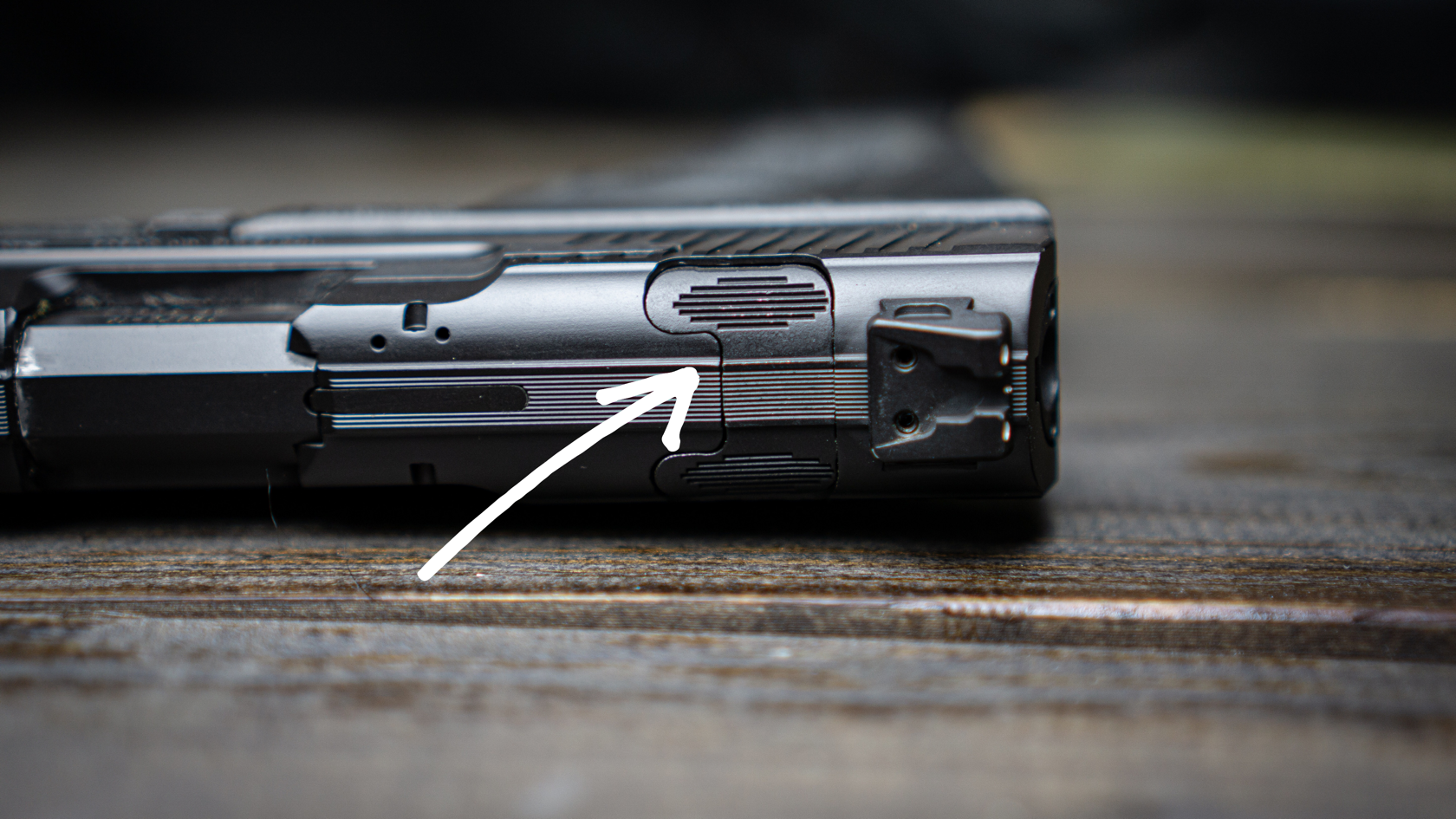 In terms of basic operation, I feel that Canik did a decent job with placement and design of the magazine release and slide release. Both were easy to access for me while at the range. The slide release is a bit unique – just not in a bad way. It is longer and more low profile than most but I didn't have any issues using it.
Other TP9 Variants Offered
It's worth mentioning that Canik does offer a few other variations of the TP9 that some might find appealing. Although I haven't fired any other variations, the features offered are more attractive on paper and would increase the overall value of this pistol.
A TP9SFx "Elite" model is available that offers some very nice features and improvements over the TP9SA. Of those improvements, the most notable would be the removal of the "de-cocker" and addition of an optic mounting plate. Other additions such as serrations on the front of the slide and Warren Tactical sights really add to the package. This option is priced at $550 – undoubtedly worth the money.
Canik also offers an updated version of the TP9SA – the TP9SA Mod. 2. This variation provides Warren Tactical sights, a match grade barrel, reversible magazine release, and an improved trigger according to Canik. The "de-cocker" is still found on the Mod. 2 but it is changed to a single side button on the top of the slide compared to the full width seen on the TP9SA. The price tag on the Mod. 2 is still $360.
Muzzle Velocity
As a part of my time shooting for this Canik TP9 review, I wanted to test several self defense ammunition loads through it and collect a little data while I was at it. I was able to run several popular brands and ammunition types but I used just one in particular for a five shot test group of muzzle velocity. The round I opted to use is the Barnes TAC-XPD +P 115 gr.
My five shot test volley with a Labradar doppler device showed an average muzzle velocity of 1,123 feet per second. Barnes advertises a muzzle velocity of right at 1,125 out of a 4″ barrel so this is pretty much right on par out of the Canik TP9SA.
Highest Velocity: 1,139 fps
Lowest Velocity: 1,107 fps
Extreme Spread: 32
Standard Deviation: 12.0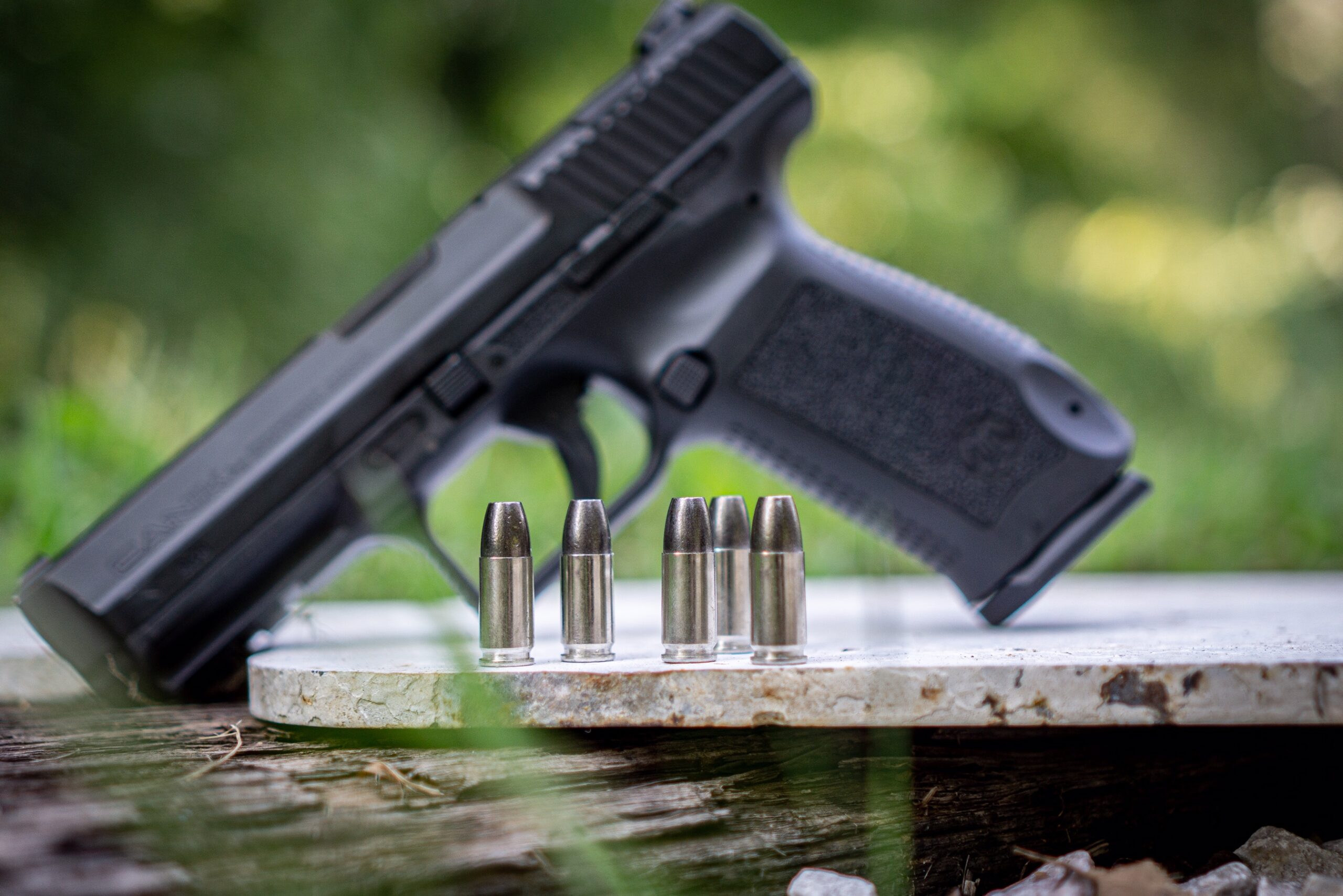 Final Thoughts: Canik TP9 Review
For the price point and shooting experience provided, it's hard to not like this pistol. It really is an enjoyable gun to shoot and I see the draw because of that. I personally have concerns about trusting my life to it for self defense due to the de-cocker feature. From a reliability standpoint, I'm not really able to make a great judgement on that. I didn't have any serious issues with mine but I also wasn't able to run several thousand rounds through it for my testing either. Researching and confirming a track record of unmatched reliability is imperative to me in choosing a self defense firearm. My research of reliability from other reviewers showed mixed results.
I would absolutely recommend this gun to anyone looking for a budget friendly range or competition gun. With just a few improvements such as slide serrations and frame stippling, this handgun would be bringing a whole lot more to the table. I can't help but want to pick one up myself and get to work on those very upgrades.