Glock is known for producing some of the most popular handguns on the market and for good reason. Handguns that are simple, reliable, and rugged seem to spark interest in the industry – strange, right? Once you hone in a design that works and works well, many brush off  "updates" and revisions as a marketing play. The latest Glock 17 (Gen-5) is a handgun that is trusted by many in the LE and military community. Let's take a close look at this pistol in this Glock 17 Gen-5 review.
 Initial Impressions: Gen-5 Glock 17
I believe it's only fair for me to be upfront and say that I do own a few Glocks (including a Gen-4 Glock 17.)  Therefore, I'm probably a touch biased in my perception. With that in mind, I don't love everything about Glock – and I likely never will. My personal opinion is that it's important to look beyond brand loyalty, especially when it comes to firearms.
It's no secret that the Glock 17 holds a respected position in the gun community. With extensive government and private operational use, the G17 has essentially become the standard among full sized handguns. These Austrian built polymer frame 9mm handguns with origins dating back to the 1980's, have increasingly seen more use. Whether you are a fan of Glock or not, the reputation is undeniable.
Gen 4 vs. Gen 5
Glock released the Gen-5 lineup in 2017 as their latest generation (as of the time we published this article.) Each generation brings changes. Some of those changes seen in the Gen-5 G17 are relatively minor while others are more prominent. An improved barrel, lack of finger grooves, a beveled and flared magazine well, and upgraded sights are found on the Gen-5 models.
With a full size frame and barrel length, the Glock 17 really handles well for most people. If you're accustomed to shooting compact, single-stack firearms, the G17 will feel like a staple gun. Not exactly – but you get the idea.
Specifications: Glock 17 Gen-5
Cost: $560
Caliber: 9mm
Overall Length: 7.95″
Height: 5.47″
Width: 1.34″
Weight With Empty Magazine: 22.26 oz.
Barrel Length: 4.49″
Capacity: 17+1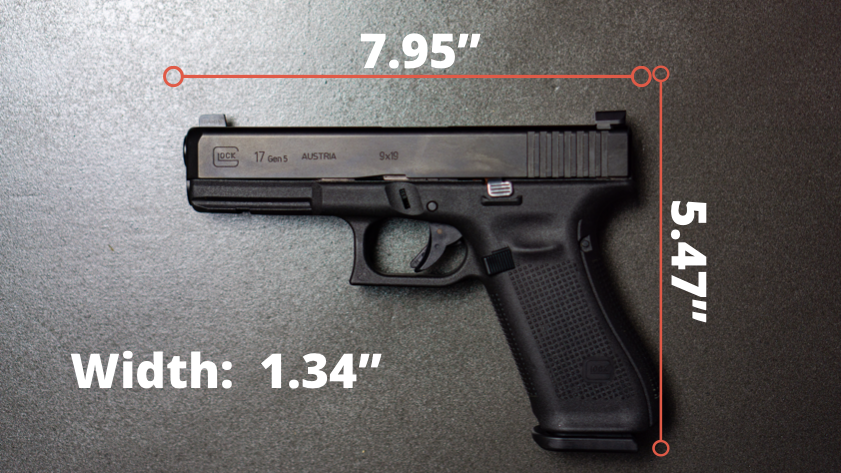 Range Time: Gen-5  G17
When I was first handed the Gen-5 Glock 17 for this review, I felt right at home with it – it's not that different from the Gen-4 Glock 17 I own myself. The changes aren't that drastic and the overall fit in the hand is relatively the same, outside of not having finger grooves.
As with any other Glock, the frame is squared off and the aesthetics are blocky. The ergonomics and appearance found in Glocks are things that people seem to either love or hate.
I quickly noticed the flared magazine well, as it was something you'll see on the Gen-4 G17. For many, this is a nice touch that directly correlates to faster and smoother magazine changes.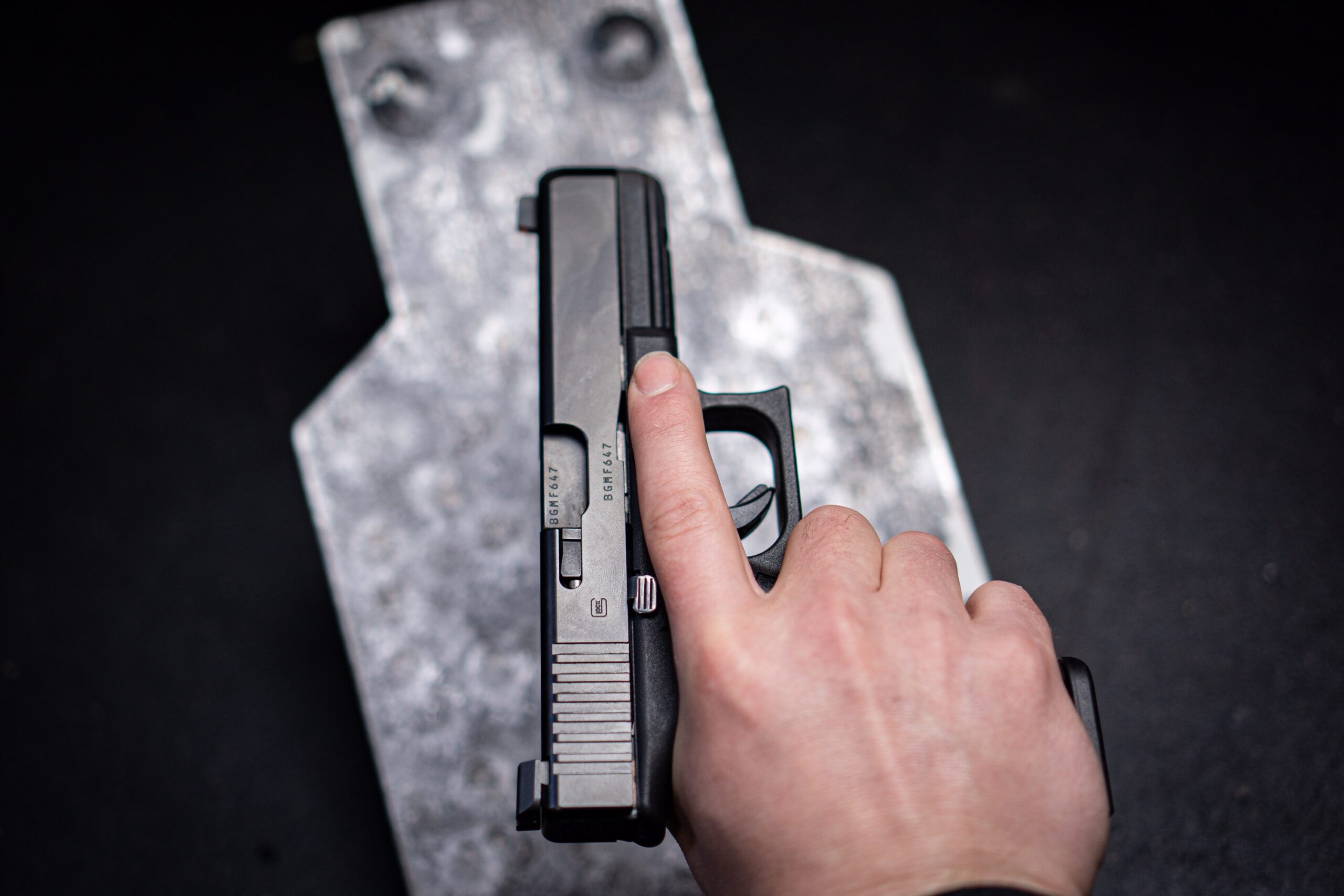 My experience with the Gen-5 Glock 17 at the range was mostly positive and offered few surprises. For this review, I ran several hundred rounds of different ammunition types through the G17. All of the ammo cycled smoothly – including the Federal Premium 147 Gr. HST ammo I tested.
In terms of accuracy, I felt fairly confident with the G17 even out past 25 yards. The updated trigger was something I noticed and appreciated while firing. This is something that I'll touch on more in a bit, but its improvement seemed substantial.
From a concealment standpoint, I don't see many attempting to carry a G17 concealed. Unless you are larger person, the frame will likely be just a tad difficult to conceal effectively without bulky layers. With that being said, I feel that the frame could work well for on the waist band carry under a jacket. Want to carry a Glock and need something smaller? Look to the Glock 19 or the Glock 43.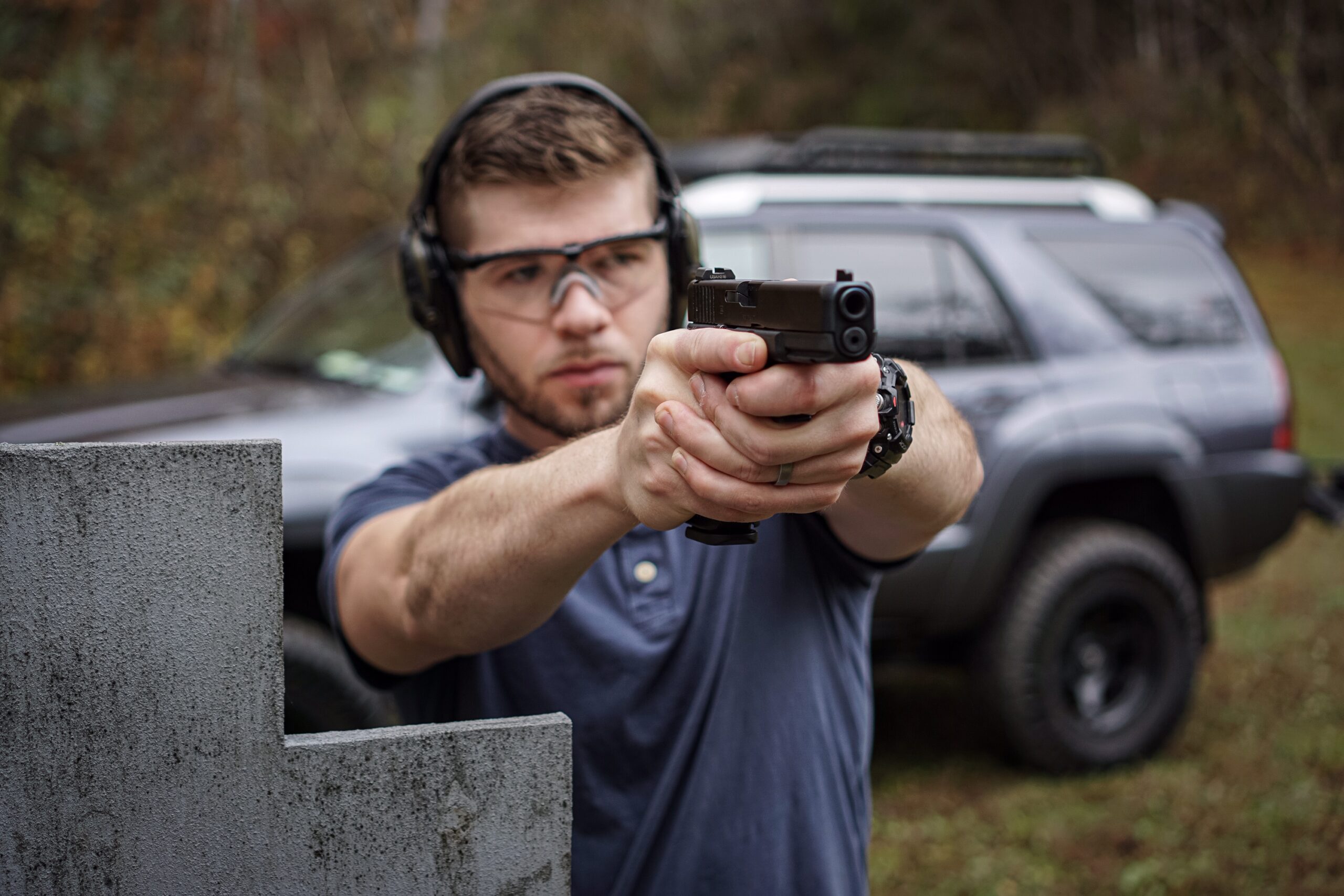 Trigger & Sights: Glock 17 Gen-5
One of the most common complaints I hear regarding Glock handguns is in regards to the trigger. Most people don't seem to be too thrilled with a typical Glock trigger – including me. While stock triggers are manageable in my opinion, aftermarket options usually are a nice touch with Glocks.
The improvements to the Gen-5 G17 trigger assembly were notable for me. A smooth pull and predictable break really seemed to assist on the range when I was pushing my shooting distance. A typical blade safety is built into the trigger. The shooter must depress that bald in order to fire the pistol. I noticed a reset that was crisp and allowed me to quickly get back on the "wall" for follow up shots.
Glock 17 Gen 5 Trigger Weight
My testing of the Gen-5 G17 used for this review showed an average trigger pull weight of 5.4 pounds – right on par with the advertised pull weight.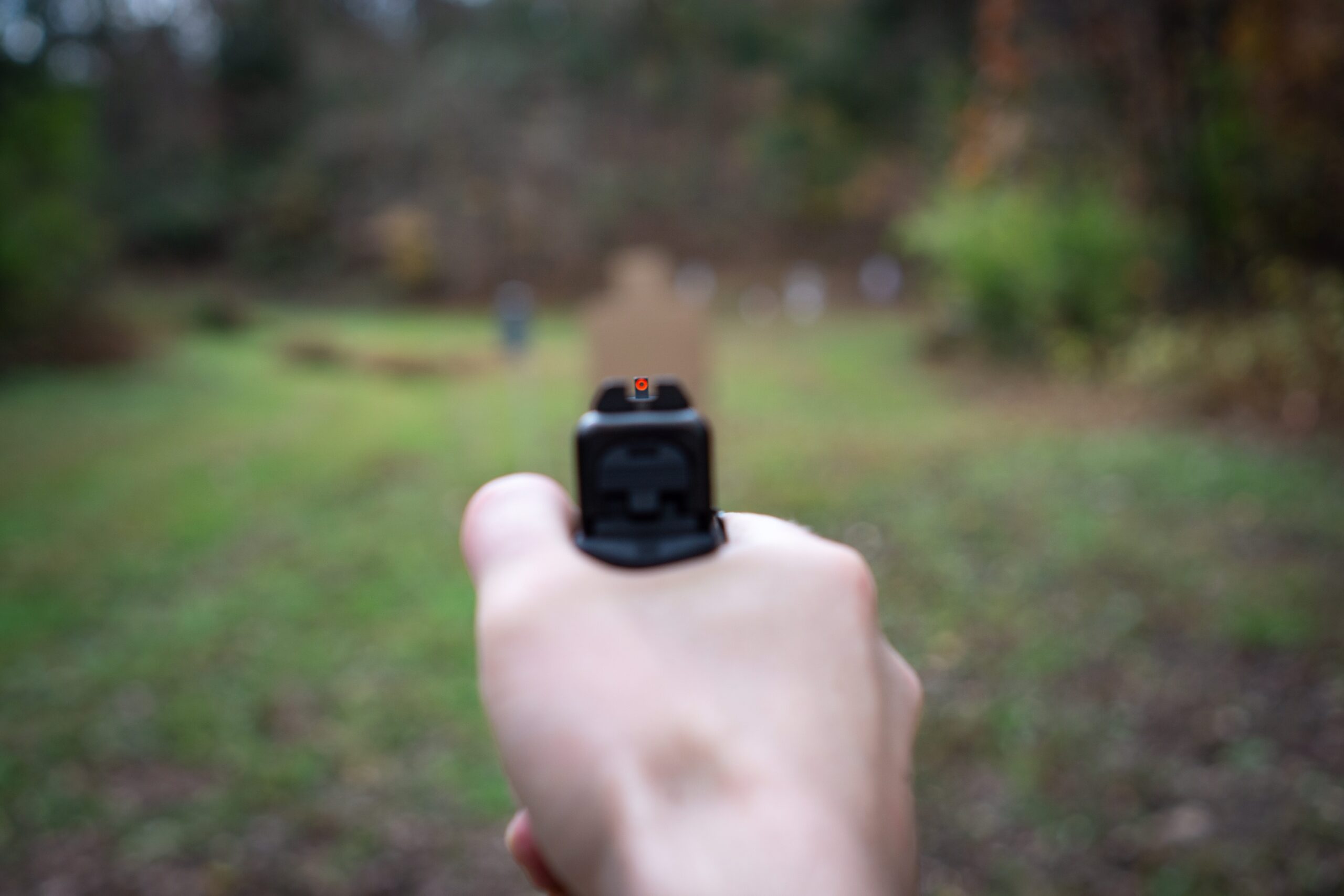 Sight Picture
I was fortunate enough to miss out on the stock Glock polymer sights for this review. We all know it's true – stock polymer sights are typically lackluster and difficult to shoot with. The model that I tested was fitted with Ameriglo night sights. Although not my preferred sights, they worked well for me.
A colored front sight post combined with a blacked out rear is usually a solid iron sight configuration for me. I found that I had to aim a little low but otherwise had no issues with the sights provided.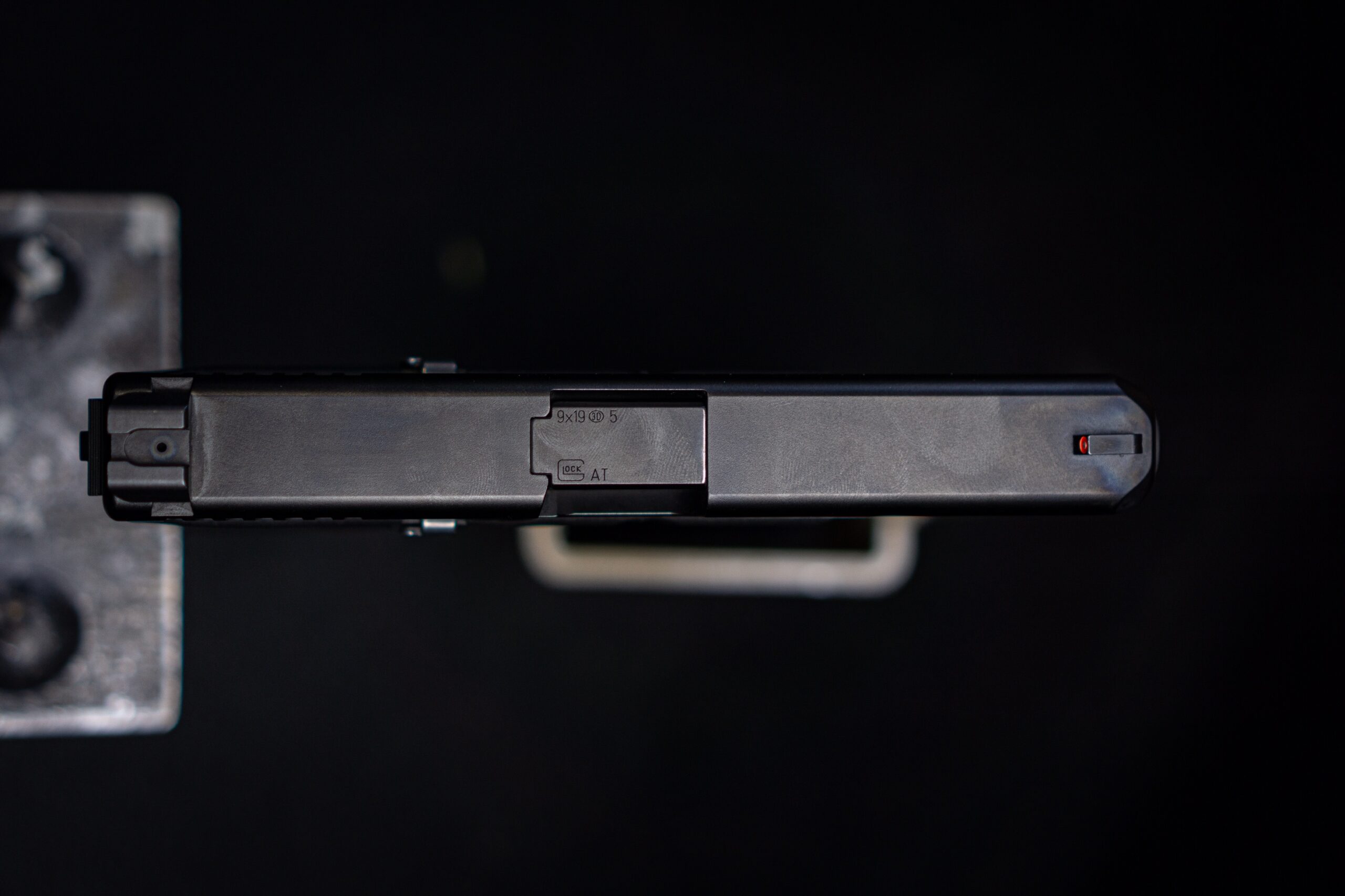 Functionality: User Experience
Out of all of the handguns on the market, Glock is especially known for their simplistic and functional designs. The Gen-5 Glock 17 provided a mostly straight forward and enjoyable shooting experience. I really do enjoy shooting Glock handguns and I typically have no major issues with the design. This isn't to say that I don't have things that I would prefer to be different about them.
One of the more unique aspects of the Gen-5 G17 was the built-in ambidextrous slide release. I thought was a little strange considering that it was sitting right under my index finger on the frame as a right handed shooter. A reversible magazine release is featured on the Gen-5 frame. This goes to further show the level of inclusivity that Glock is aiming for.
While the Gen-5 G17 frame and slide provided a fair amount of texture and grip, I did find myself thinking about how nice it would have been to have front slide serrations. I commend Glock for listening to the feedback and tossing out the finger grooves here. A "one size fits all" approach isn't typically ideal when it comes to grip structure.
As I mentioned earlier, the Glock 17 embodies that staple gun feel for many with smooth recoil management. My ability to track down the sights for follow up shots just seems exceptionally efficient with the Glock 17. Whether or not that's due to experience training with Glocks or not is up for debate.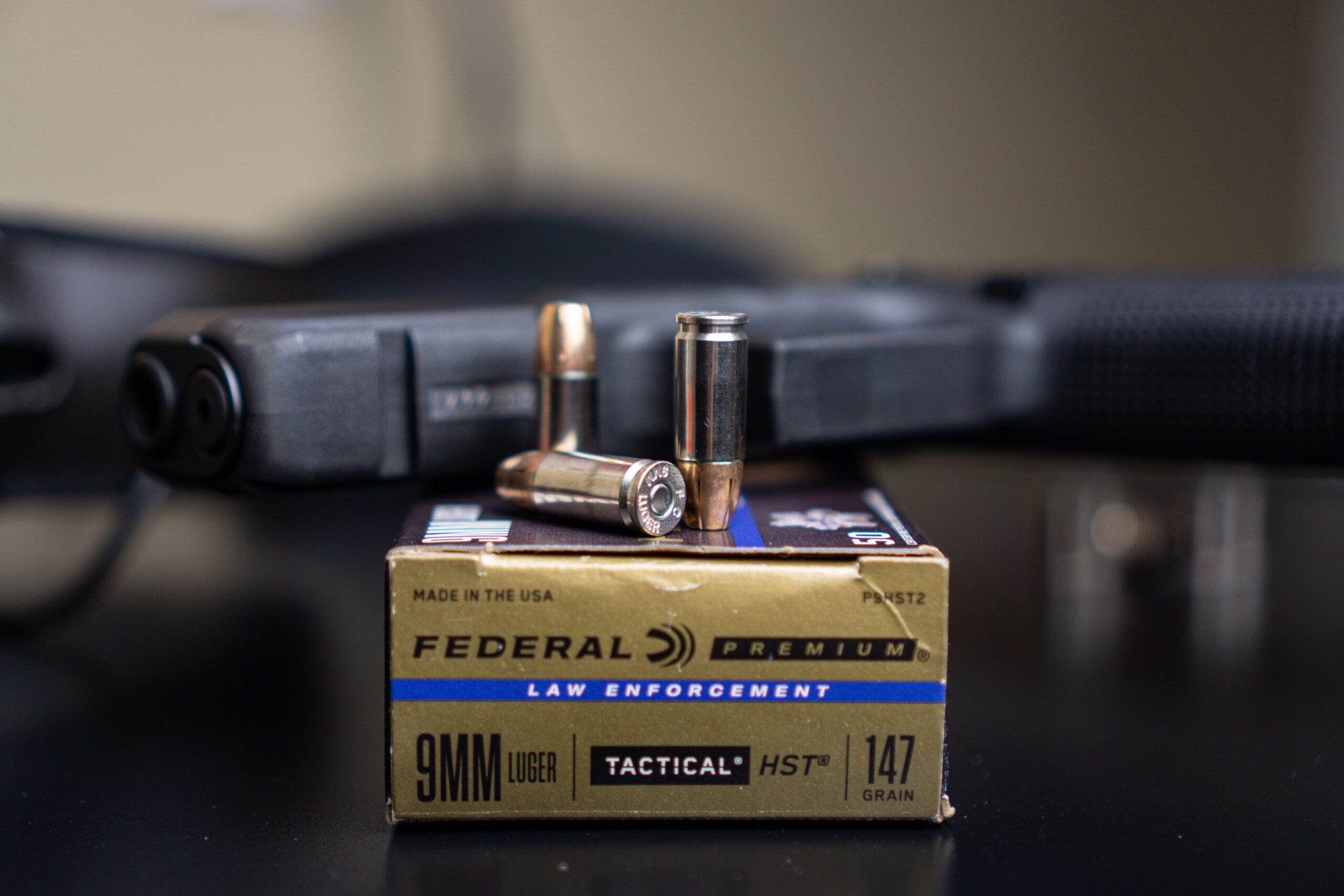 Muzzle Velocity
I conducted a muzzle velocity test as part of this review using Federal Premium HST 147 Gr. ammunition – a common self defense round. For this test, I used a Labradar device and fired 5 rounds as my test group. I'll preface the results by saying that Federal advertises a muzzle velocity of 1,000 feet per second out of a 4″ barrel.
My test showed an average muzzle velocity of 1,004 feet per second – right in line with advertised ammunition specifications.
Highest Velocity: 1,014 feet per second
Lowest Velocity: 994 feet per second
Extreme Spread: 20
Standard Deviation: 8.3
Final Thoughts
It's really hard to go wrong with the Glock line – from my perspective. The Gen-5 Glock 17 offers undeniable value at the price point and is sure to work when you need it most. Glock options may not look the most stylish or have all the bells and whistles, but they do function in almost any environment and with almost any ammunition type.
Aftermarket accessories and parts are readily available for Glock pistols due to the popularity in the market. Finding holsters and lights that fit will be no issue at all in today's industry.
Thousands of law enforcement and military personnel trust the Glock 17 with their life on a daily basis – and a very large number do so by choice. This reputation of duty level quality and performance is telling if you ask me. For those in the market for a full sized handgun, the Glock 17 Gen-5 is a surely a worthy contender. Good luck finding one in stock.