Out of all the .45 Auto semi-automatic handgun options, Glock surely holds a respected position. Glock is known for reliable and simple designs – important factors for many shooters. Glock was able to mediate between those who wanted larger caliber ammunition in a handgun and those weary of carrying only 6 or 7 rounds in a magazine. This brings us to the firearm we are looking at for this review, the Glock 21.

General Overview: Glock 21 SF
Glock introduced the G21 SF (Short Frame) in 2007 to compete for a DOD contract. The contract didn't end up landing, but the firearm did gain traction among law enforcement agencies and civilians alike due to unique features. Based on the Generation 3 Glock 21, the company made only a few modifications for this variant. We fired and operated the Glock 21 SF for this Glock 21 review.
Glock 21 vs. Glock 21 SF
| | Glock 21 | Glock 21 SF |
| --- | --- | --- |
| Caliber | 45 ACP | 45 ACP |
| Weight With Empty Mag | 830 grams | 825 grams |
| Mag Capacity | 13 | 13 |
| Barrel Length | 4.61 inches | 4.61 inches |
| Trigger Pull | 28 N | 28 N |
Of the modifications seen on the Glock 21 SF, the most prominent (as the name claims) is a smaller frame circumference. Not to be confused with frame width, the short frame provides less frame depth than the Gen 3 version of the Glock 21. This shorter frame depth allows those with smaller hands the opportunity to obtain a proper grip and access features. In newer generations (Gen 4), the Glock 21's grip length is about identical to the G21 SF.
As mentioned earlier, the Glock 21 SF is chambered in one of the "big boy" calibers – .45 ACP. Most shooters know 45 ACP as a classic caliber and plenty of self-defense reliant shooters still depend on the cartridge today.
Glock 21 Capacity
Glock blends tradition with capacity in the Glock 21 SF. A 13+1 capacity is offered in the Glock 21 SF – a seemingly reasonable number considering the frame size.
Another unique aspect of the Glock 21 SF is the inclusion of ambidextrous magazine release. While this feature is convenient, I felt that the functionality is lacking. I'll touch on this in more detail further into the review. A select few of the Glock 21 SF frames were built with a Picatinny style rail for accessory mounting – not many are out there still and holster compatibility is a concern.
Many of the Glock 21 SF variants that are available today are from police departments that have rotated them out of duty use. These trade-ins can be found for only $350-400 in some places – undoubtedly a great deal.
Glock 21 SF Specifications
Caliber: .45 Auto
Price: $545
Capacity: 13+1
Weight With Empty Magazine: 29.10 oz.
Barrel Length: 4.61″
Overall Length: 8.07″
Width: 1.34″
Total Height: 5.51″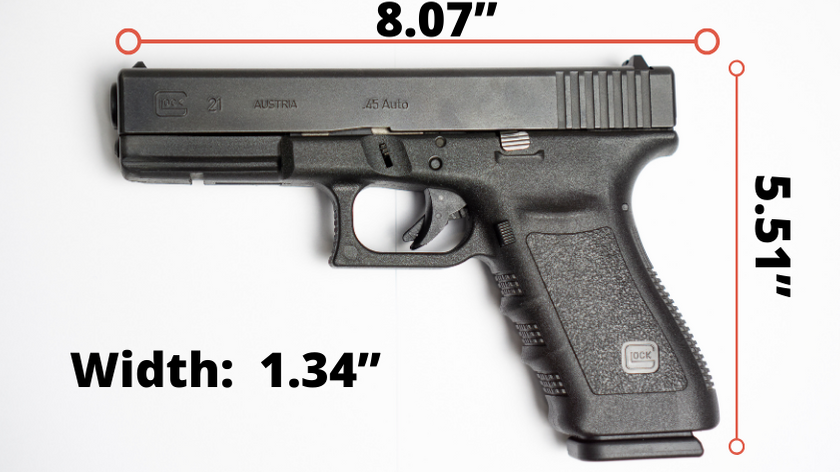 First Impressions: Range Experience
When I first got my hands on the G21, I quickly felt at home with it in my hands. I know that not everyone prefers or even enjoys the Glock "experience" but as someone who owns and fires Glocks, it felt comfortable to me. Some might even argue that Glock is an "acquired" taste – regardless if you like the ergonomics of Glock, the 21 SF will feel right.
Even though it's built for use by those with varying hand size, the frame still has a fairly beefy feel to it. I shoot a Glock 17 fairly often and this frame provides more to grip than the 17. While I'm not against the frame feel or size, I still did have some issues accessing the magazine release. I'll touch on this more later when I address the functionality side of things.
Recoil Management
My expectations of how this gun would handle recoil and run in general were wrong. Based on the caliber, I expected a little more difficulty on those follow up shots. However, I was pleasantly surprised. This gun really handled well in my experience. The gun ran all of the ammunition types that I fed it without issue. I was really impressed with the recoil management.
Although the frame was comfortable, I did find myself wishing it had more textured surfaces. Especially after firing for a while or with sweat involved, the G21 SF began to feel slick. The slide on the 21 SF felt did not have any front serrations and seemed to be difficult to grip consistently. Some frame stippling and slide serration work would be a nice aftermarket addition.
Shooting the G21 SF provided great confidence in hand – confidence that increased when I realized that quick and accurate follow up shots were very possible. I ran several drills using a C-zone steel plate from approximately 15 yards while moving forward and laterally. The consistent hits and controllability I experienced with the Glock 21 made this handgun very enjoyable to shoot.

Glock 21 Sights
Glocks aren't really known for fantastic factory sights or triggers. They get the job done typically aren't anything spectacular. My experience with the G21 SF fell right in line with every other Glock I've fired in this regard.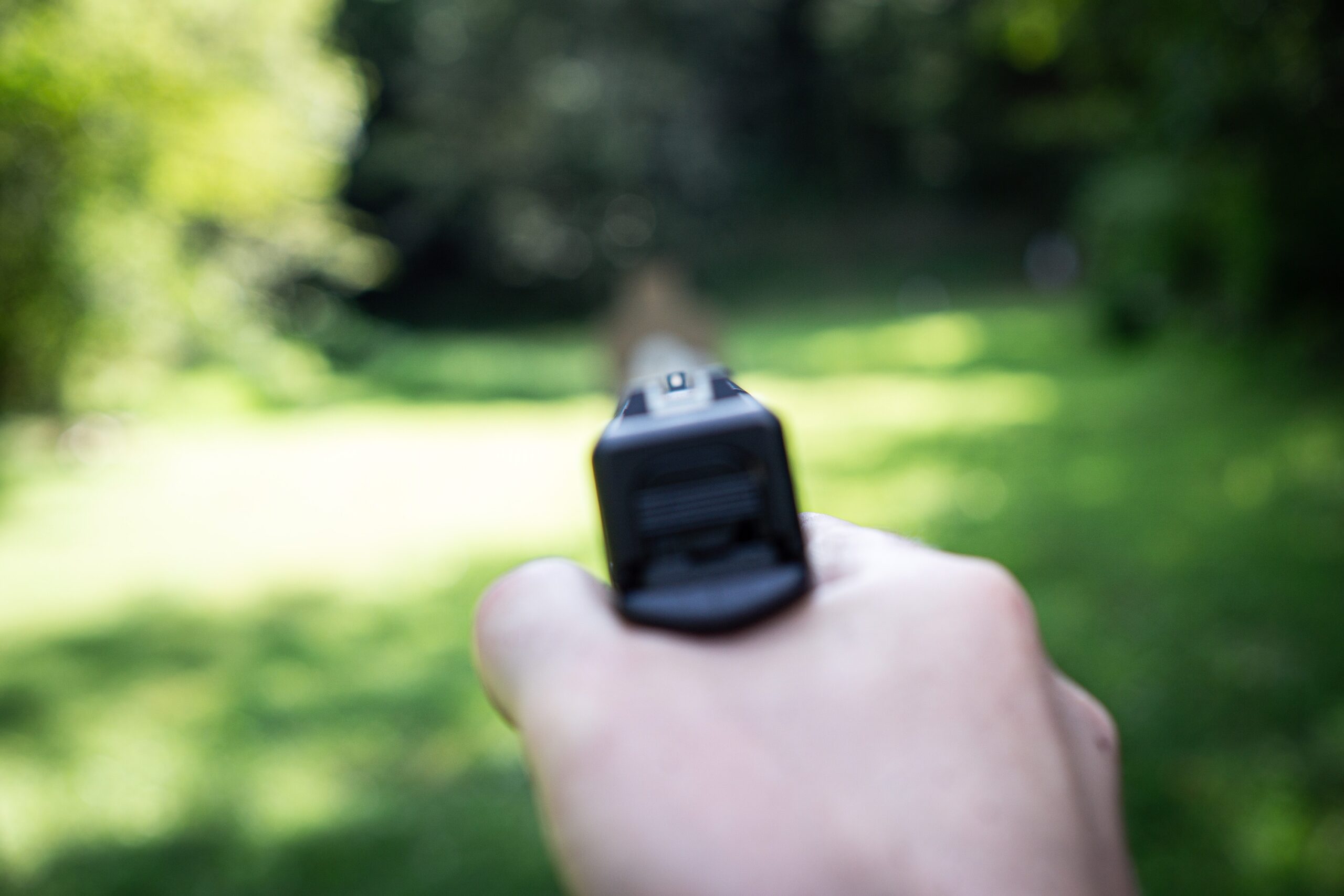 The stock white "U" shaped rear sight with standard post front are found here on the G21 SF. I was able to acquire these sights well enough to feel fairly confident but again, I have used these sights before. If you do purchase one of these G21 SF (typically a police trade-in) be prepared to replace the sights for low light use. I know it comes down to preference, but the fiber optic front with blacked out rear aftermarket options seem to work well for me.
Glock 21 Trigger Pull
My testing of the G21 SF trigger showed an average pull weight of right at 5.5 pounds using a Lyman trigger scale – pretty typical for a Glock trigger. I know that many are really against these triggers. I've fired enough Glock handguns at this point to not be bothered by them very much.
This trigger in particular felt smoother than a normal Glock trigger. It might very well be due to it's age and years of "break-in." Regardless, I appreciated the smooth take up and crisp break. No real complaints from me here.
Functionality: Glock 21 SF
For the most part, the gun is simple and straightforward. it is a Glock after all. I still noticed a few things about the functionality that proved to be fairly annoying – the ambidextrous magazine release being the first. I feel that Glock compromised on the functionality here to fit the requirements of the DOD contract.
The design of the magazine release provided a much smaller footprint than your typical Glock magazine release. I ended up really having to break grip and rotate the frame to access this release. My hands are on the average side of sizing. I was a bit shocked to struggle as much as I did to get the right angle to conduct magazine changes.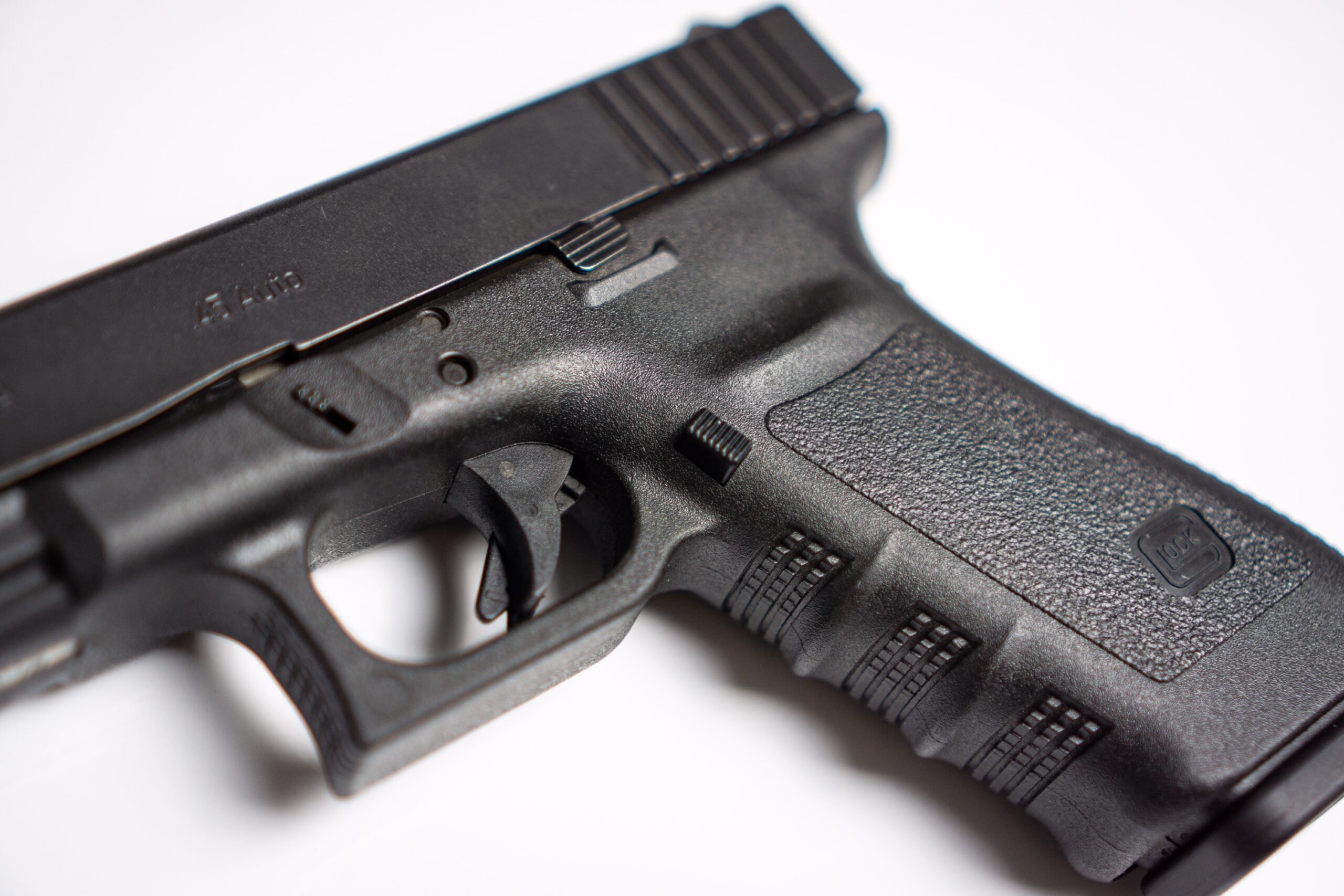 The slide release also seemed to stump me some. While the design seemed to be on par with a normal slide release from Glock, it didn't seem to function as one. It took extraordinary and precise pressure to get the slide release to move. I ended up just manually racking the slide during most of my shooting.
It may not be a deal breaker (and I know aftermarket slide release options are out there) but I felt it was worth mentioning.
Muzzle Velocity With Defense Ammunition
As a part of my range testing with the Glock 21 SF, I used a Labradar doppler radar to obtain ballistic data. Using Speer Gold Dot 230 Gr. ammunition, I fired 5 shots with the Labradar running.
The average muzzle velocity from this test was 832 feet per second out of the G21 SF. Speer advertises a muzzle velocity of 890 feet per second. Here's a closer look at the ammo performance I recorded with the Glock 21.
Highest Velocity: 861 feet per second
Lowest Velocity: 821 feet per second
Extreme Spread: 40
Standard Deviation: 16.6
The Takeaway
The Glock 21 SF is clearly a proven and tested firearm that has been through years of duty use. With readily available Glock and aftermarket support, it's hard to go wrong with a firearm like this. Considering the price tag and potential for finding plenty used variants in good condition, the value seems high.
My experience with the G21SF beyond what I expected in performance and I honestly want one myself now. It's not a perfect handgun but it has strong potential for being dialed in with a few simple aftermarket modifications in my opinion. If you're looking for a well built, reliable .45 Auto, the Glock 21 SF just might be for you.