When it comes to the 1911 market, a Dan Wesson 1911 holds a respectable position. The attention to detail and reliability place the Dan Wesson Classic well ahead of the pack. Demand for the 1911 style remains strong among shooters and the passion behind the pistol format is truly unique. With so many options available, choosing the right 1911 can be a challenge. Let's jump into the details of this handgun in our Dan Wesson 1911 review.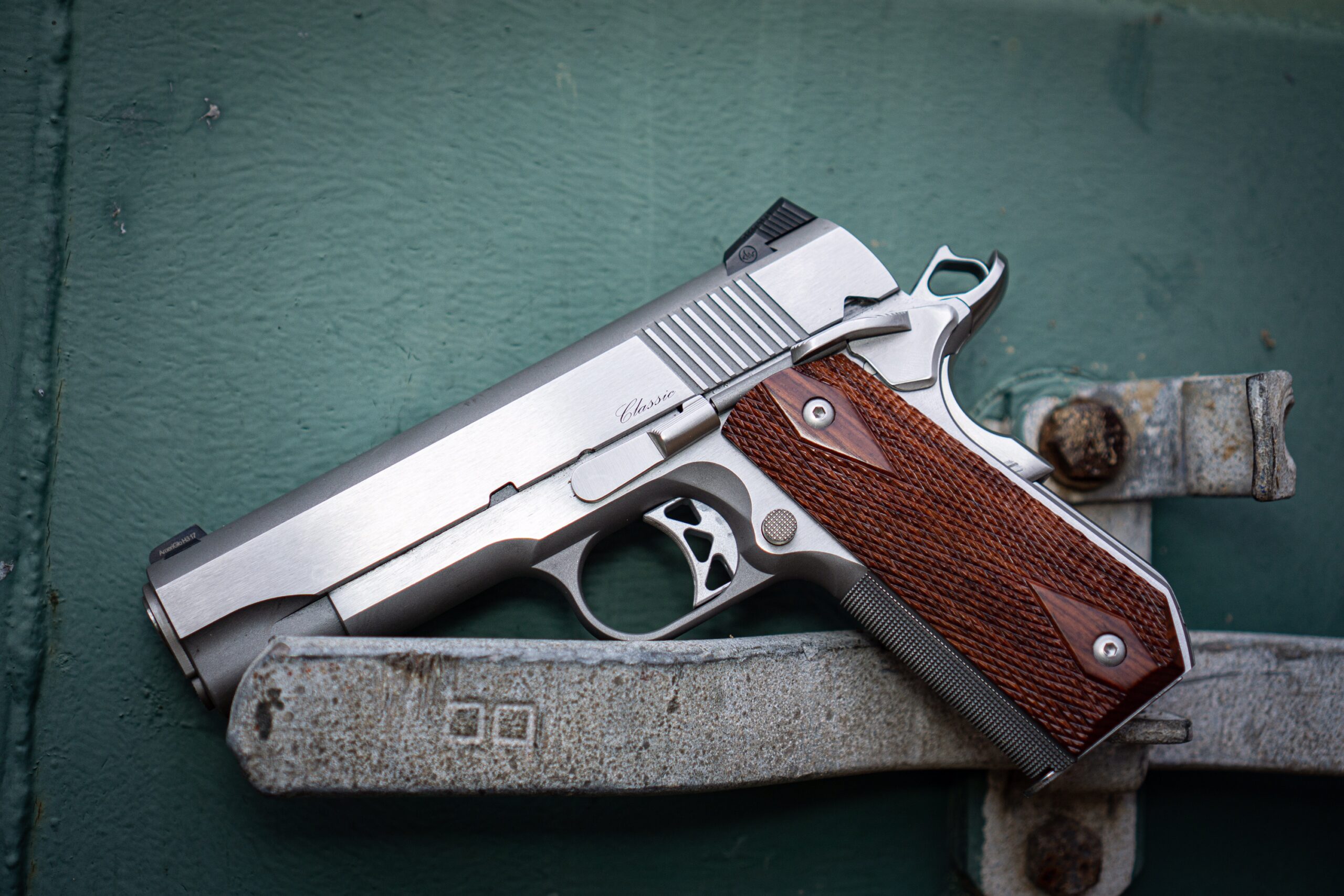 General Overview: Dan Wesson 1911 Classic
The Dan Wesson Commander Classic 1911 is a U.S. built handgun chambered in .45 ACP. With a history starting in 1968, the Dan Wesson brand derives from the Quality Control side of Smith & Wesson firearms – Dan Wesson. Dan started Dan Wesson firearms and the company ran primarily on its own until 2005. Then CZ-USA bought the company. CZ currently operates Dan Wesson Firearms with their primary production facility based in New York.
This particular Dan Wesson 1911 has seen some regained popularity over recent years as a uniquely sized handgun that can fit a variety of roles. For those in California, the 8+1 capacity is a true attraction. It seems the West Coast is where sales of this model have been strongest.  A stainless steel body paired with a single action trigger and wooden grip truly embodies the "classic" name.
From essential functionality to the intricate details of the frame and slide, Dan Wessons experience in quality control shows. In typical fashion, the Dan Wesson Classic includes a grip and manual safety.
A brushed forged stainless frame provides an exceptional feel and aesthetic. The "Bobbed Mainspring Housing" allows for a more concealable frame and smoother grip edges.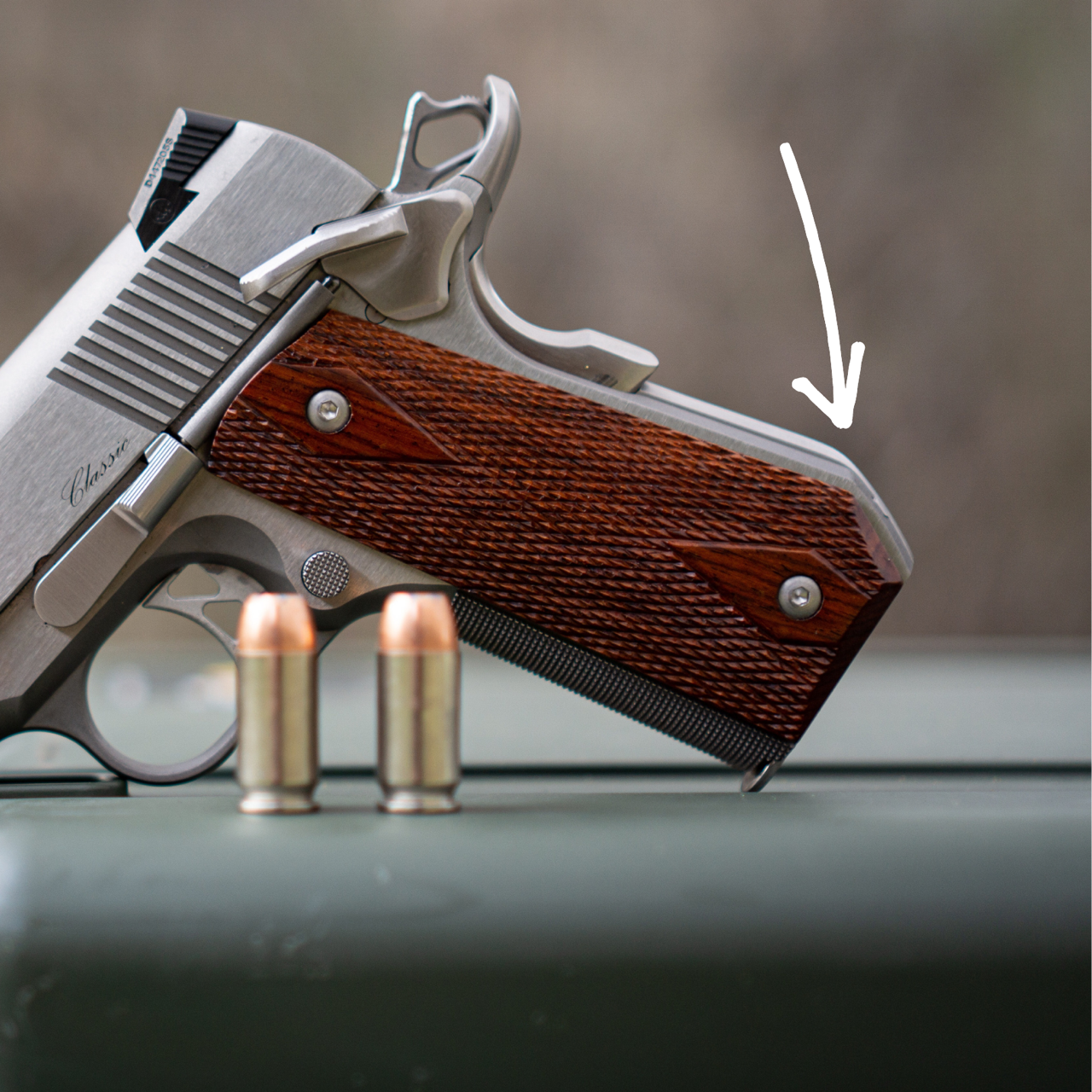 Specifications: Dan Wesson 1911 Commander Classic
MSRP: $1,688
Caliber: .45 ACP
Trigger Mechanism: Single Action
Overall Length: 8″
Barrel Length: 4.25″
Weight: 36.5 oz.
Capacity: 8
Height: 5.5″
Width: 1.45″
Range Time: User Experience
I kind of assumed I would be less than impressed by this heavy and "dated" handgun due to the style. I carry and shoot a lot of polymer pistols. However, it didn't take long at the range for me to appreciate the design and overall performance of the Wesson 1911.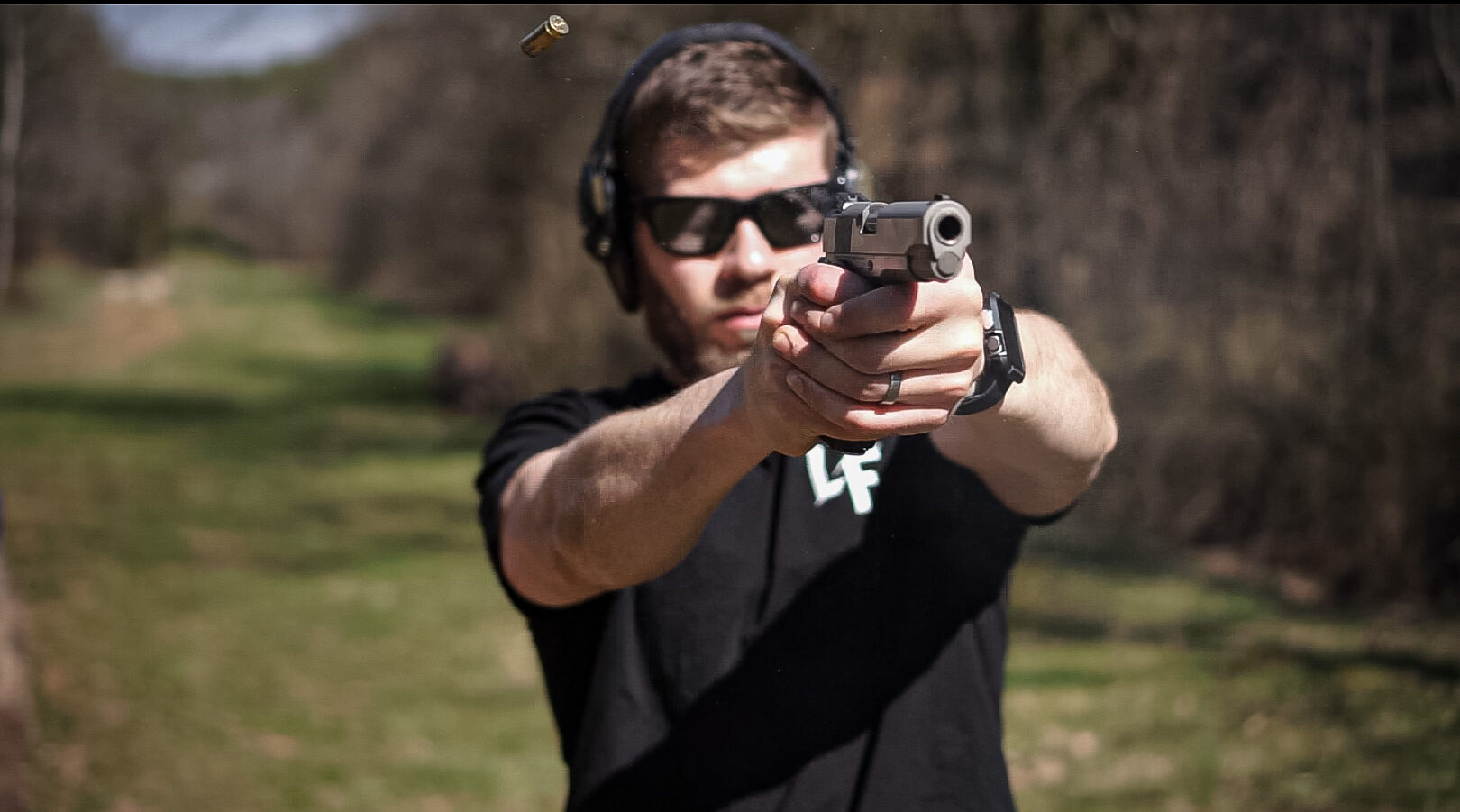 I won't say my experience with the Dan Wesson Commander Classic was perfect though – nor did I expect it to be. It's a 1911, and as mentioned before, I'm not really a 1911 type of guy. I tend to look at guns from a practical and functionality standpoint over aesthetics and history. Losing my internal bias and accepting the gun for what it was at the range wasn't a simple process. Thoughts of "who would buy this – it only carries 8 rounds – I could buy a Glock plus accessories for the price of this" subsided after a few magazines through it.
It's difficult to fully cheer on and praise a gun that you don't feel extremely comfortable shooting. For my time testing the Commander Classic, my comfort level was around the 6/10 area. I enjoyed it for the most part but felt like I was struggling for a bit to find the right shooting grip. The thicker grip and thumb safety seemed to force my hands to adapt on the fly. I'm sure this is common theme among those of us with average sized hands though – so I won't knock the grip entirely.
Comparing the Commander Classic to another 1911, I would say the Classic provides a smooth shooting experience. Comparing the Commander Classic to a modern polymer frame .45 ACP like a Glock is a whole different story. Looking at the big picture here with finish and overall construction quality, it's completely understandable that the Classic isn't built entirely for comfort.
I ran several hundred rounds of various 45 ACP ammunition types through the Classic and did not experience any issues feeding, firing, or extracting. Compared to other .45 ACP handguns, I felt fairly pleased with my accuracy out of the Classic. Everything within 15 yards or so felt relatively simple.
Sights & Trigger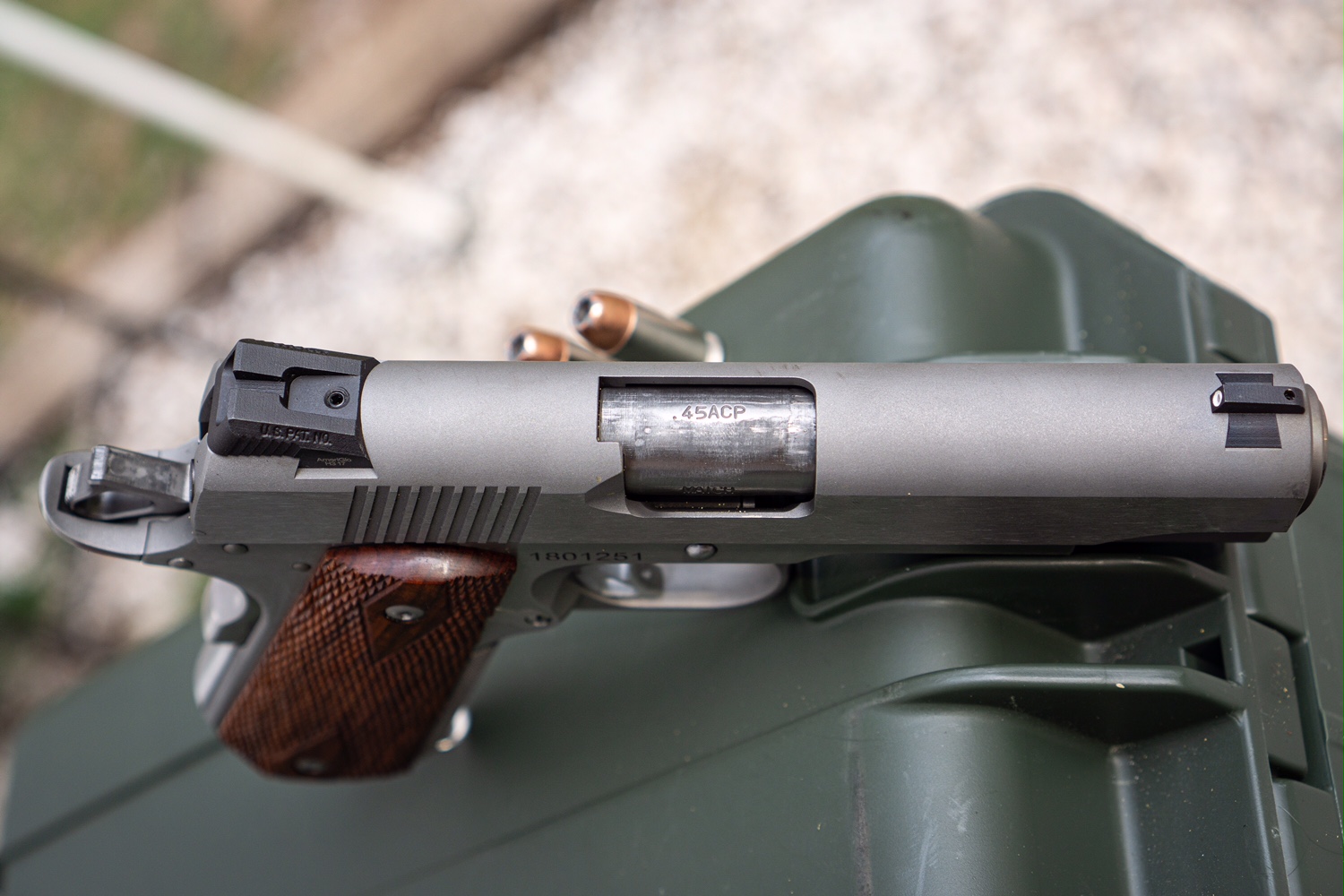 As such integral parts of any handgun, I really appreciate companies that provide high quality sights and trigger from the factory. My experience with both was above average for a 1911.
I found picking up and firing with the provided 3-dot tritium night sights a straightforward experience. I don't typically prefer a white front sight post, but these sights performed fairly well in the lighting conditions that I had.
The trigger Wesson provides is exceptional. A crisp, short pull provided a smooth experience – something we all appreciate. A unique "K-Style" trigger design provided a nice surface that I felt promoted a good press. A tested pull weight with a Lyman trigger scale showed an average of 4 pounds 12 oz. That weight felt appropriate to me.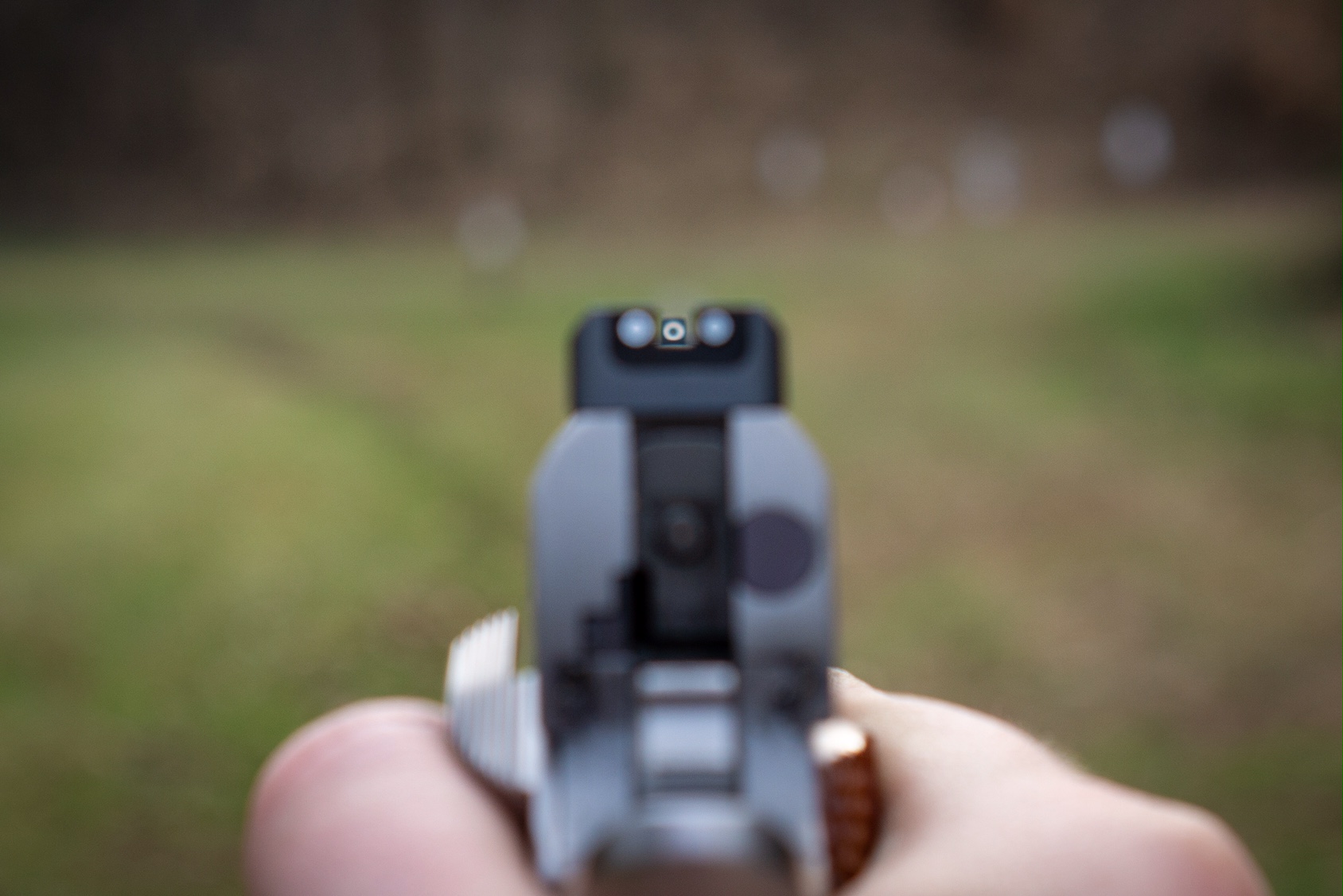 Functionality & Features
Based on my experience at the range with the Dan Wesson Classic, I would say they did a pretty decent job of balancing functionality with aesthetics. Especially after firing several hundred rounds without issue, I felt confident in the ability of this gun.
Some of the features that I struggled to appreciate based on my individual preference, were the magazine release and thumb safety. Reaching the magazine release on this particular handgun proved to be a bit awkward based on the thickness of the grip. I really had to rotate the gun a good ways before I could depress the release.
On the topic of magazines, I didn't have too much of an issue with the magazine well provided. I'm sure it would take some time and effort to really become proficient at speed reloads on this platform, but it's surely possible.
The rear slide serrations were a nice touch but I definitely would have liked to see some matching ones on the front. Overall though, the slide and frame provided ample grip texture for operation. The grip texture was just aggressive enough and the bobbed mainspring housing was a nice touch.
While I don't typically appreciate grip safeties, the one on this handgun didn't really seem to bother me. The high beaver tail allowed me to get a solid purchase on the rear of the grip and forget all about the safety.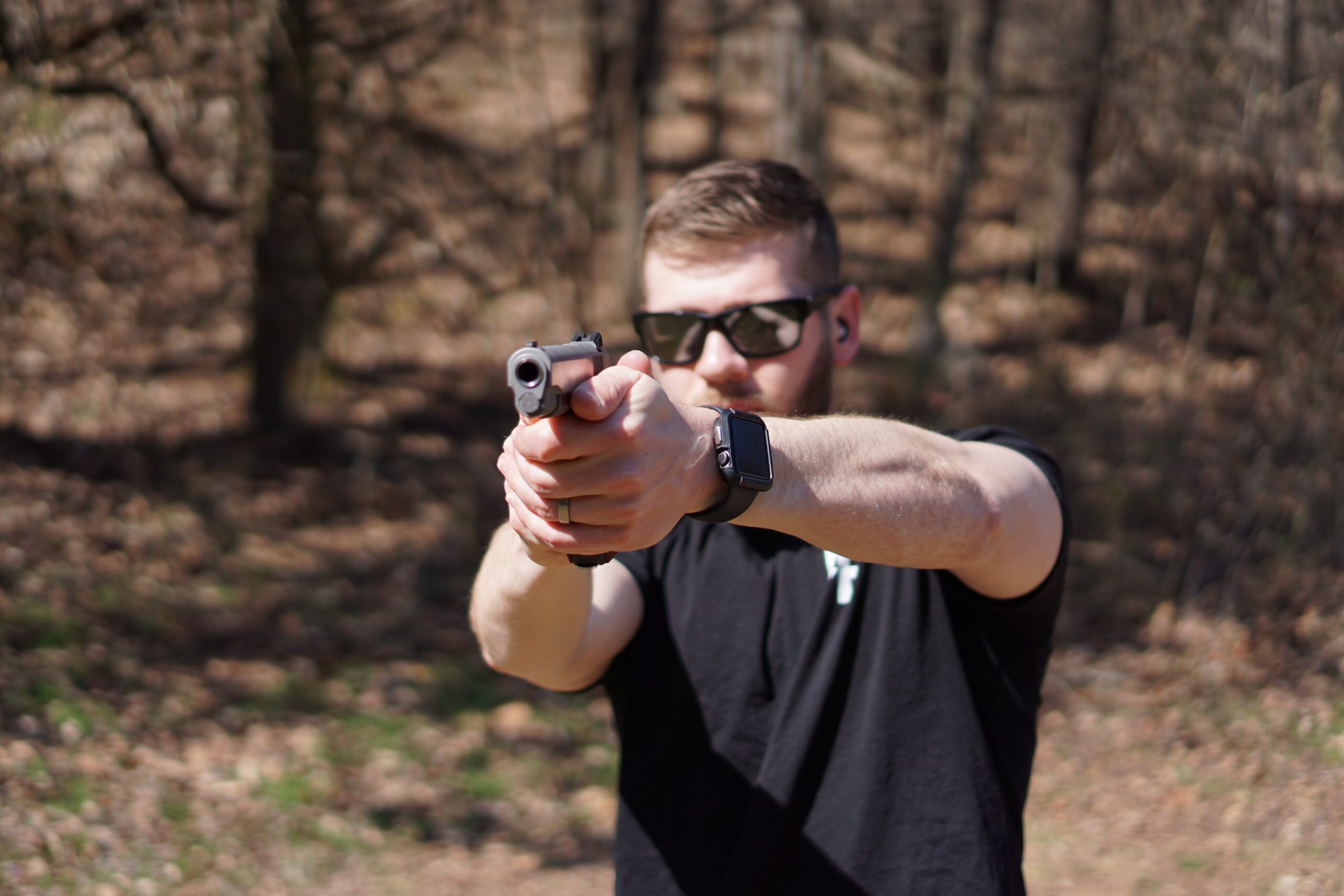 Muzzle Velocity Testing: Dan Wesson 1911
As I try to do with almost any handgun review, I was able to test the muzzle velocity firing a self-defense load from the Dan Wesson 1911. For this testing, I used 5 rounds of 45 auto 230 gr. Speer Gold Dot JHP while tracking velocity with a Labradar device.
Average Muzzle Velocity: 811 fps. 
Highest: 827 fps.
Lowest: 798 fps.
Extreme Spread: 29
Standard Deviation: 10.7
Speer advertises a muzzle velocity of 820 fps. out of a 4″ barrel. The results I saw from my testing seemed to be close enough to par.
Concealment Potential
While most individuals likely aren't looking to purchase a Dan Wesson 1911 for a concealed carry choice, it's nice to know that it's within reason. As mentioned earlier, the bobbed mainspring housing reduces some of the grip angle and in turn mean less printing through a shirt. The weight (36.5 oz. empty) means that most would find this option a tad on the heavy side for concealment – especially considering capacity. For those with a tolerance for a slightly large carry gun, the Commander Classic will do the job.
Final Thoughts
If you're looking for a 1911 that functions as well as it looks, the Dan Wesson Commander Classic might be the right choice. This Dan Wesson 1911 offers a smooth and reliable shooting experience paired with some phenomenal looks. The price tag is steep, but the craftsmanship is surely accounted for in that number.
Those wanting a piece of history in a modernized form will absolutely enjoy owning this Dan Wesson 1911.