It is rare to see a popular firearm be released without some form of "update" over time. Ruger released a hit with their largely known LCP pistol back in 2008. An extremely compact pistol that could be carried by almost anyone discreetly was something the American public wanted. A lot. As is commonly the case –  the pistol's widespread recognition came with widespread critiques. The common LCP criticisms were addressed in the LCP II that Ruger released in 2016. Let's take a look at both of these micro pistols in this Ruger LCP vs LCP 2 comparison.
General Overview
First Impressions: Ruger LCP vs LCP 2
Both of these pistols are considered as small as you'll reasonably find for the .380 ACP ammunition they fire. The Ruger LCP and LCP II disappear in your hand. They are truly the definition of "pocket pistol."
Ruger manufactures these pistols in the United States. Both the Ruger LCP and LCP 2 have a standard capacity of 6+1. Both are sturdy and, in my opinion, are built well – especially considering the small size of the components.
I recently took both out to the range. I fired both the LCP and LCP II using varying types of ammunition. I'll start here by saying that what I did at the range was not comfortable. Rapid fire, repeated shooting is not what these pistols were designed for in the first place. As a "get off me" gun, these won't extremely enjoyable to shoot at the range after a long day. At least that's not my definition of enjoyable shooting. Tiny pistols (like these) are typically snappy, awkward to grip, and relatively difficult to shoot accurately.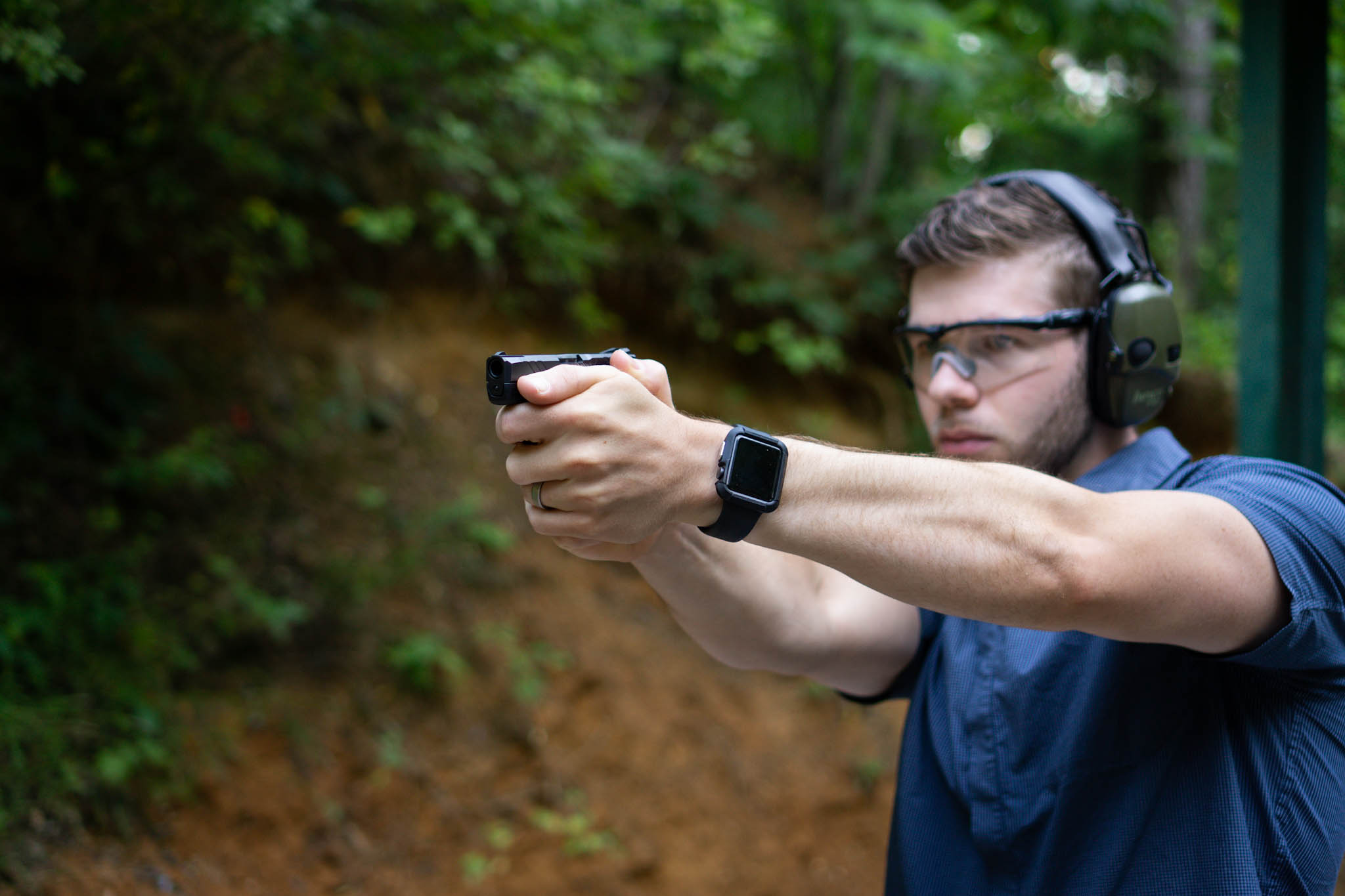 Ruger LCP
The original Ruger LCP is a very unique handgun with a unique purpose. You'll be hard pressed to find another pistol that is built like the Ruger LCP with the same reliability and overall frame size. My first experience with the Ruger LCP was what I expected it to be. For the frame size, the Ruger LCP is a work pony…couldn't use horse there. And the LCP is working more than targets – namely your dominant palm.
I fully expected the LCP to be snappy based on size but I wasn't really expecting the push recoil felt in my palm. It's not really an issue unless you shoot the gun for hundreds of rounds and then it starts to become a nuisance.
The LCP handled all of the ammunition that I fed it without issue – including Hornady Critical Defense FTX rounds. With an obvious intended purpose of very close range defense, I felt the LCP performed well enough to fit the bill.
Outside of the recoil issue, I believe the pistol is adequate but not ideal. I'll touch on some of the other issues I had with the original LCP further down as we explore all the LCP vs LCP 2 differences.
Ruger LCP II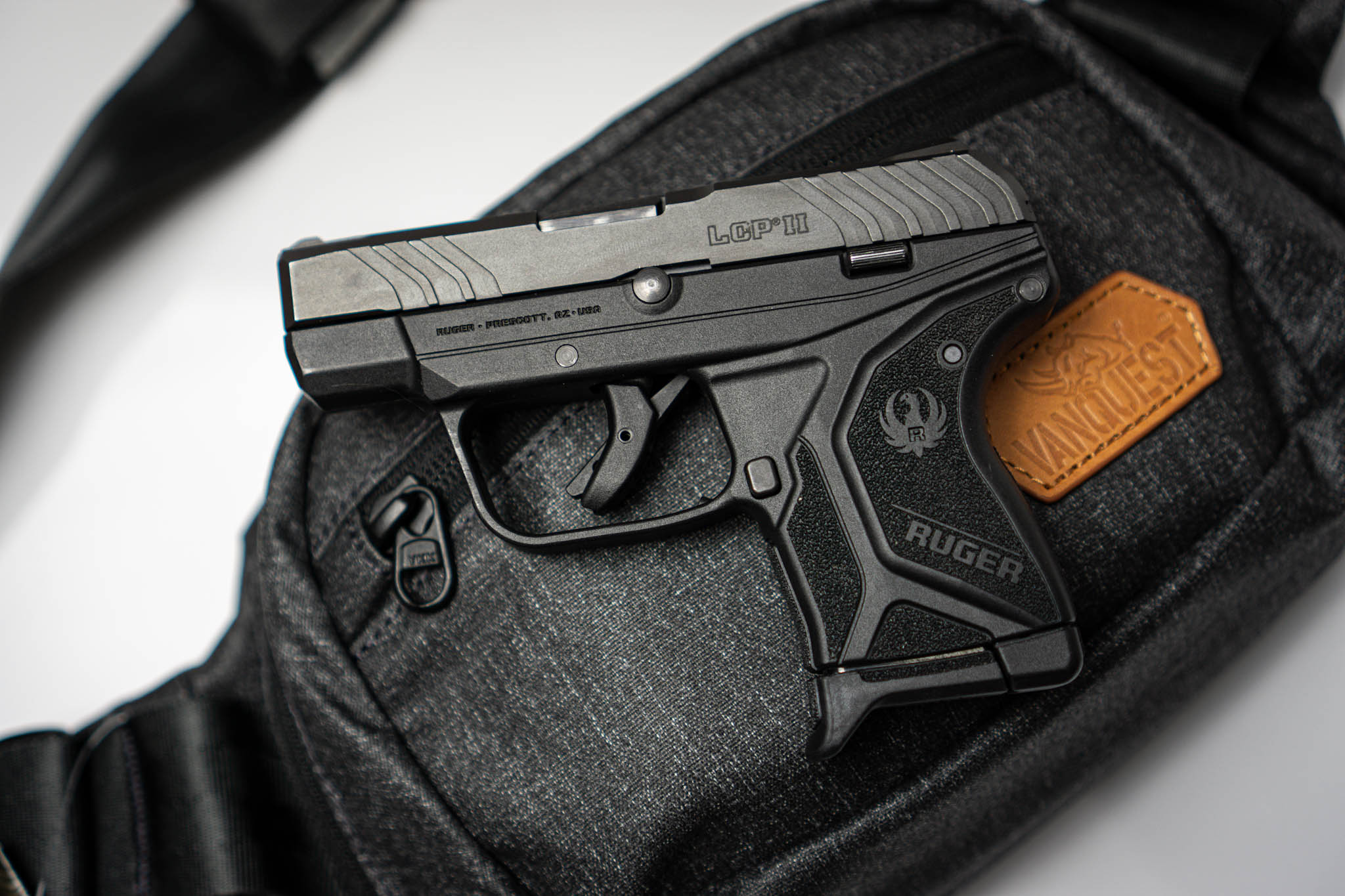 Ruger released the LCP II in 2016. The pistol carried over a similar shooting experience with a few updated features. Ruger was able to stay true to the original design and purpose of the LCOP with the LCP II while addressing some complaints directed at the older model.
Shooting the LCP II was not too far off from my experience shooting the original LCP outside of the greatly improved trigger. Felt recoil and muzzle flip seemed to be almost identical – if not a little bit worse in the new frame design. I'm not sure that the "snappy" experience is really an issue since we are talking about such a small handgun. Everyone expects a pistol this size to act a little wild.
As I mentioned in our more in-depth LCP II review, the pistol fired all ammunition I fed it with no issues. Overall, it seemed to be built just as well if not better than the original LCP. Ruger did give this pistol a facelift with a more modern look. I don't think that it really changed all that much about the pistol outside of aesthetics.
As you can tell from a few of the photos I took, the LCP magazines will fit in the LCP II and vise versa. It should be noted that using an LCP magazine in an LCP II will render the internal slide lock feature of the LCP II useless.
| Specifications | Ruger LCP | Ruger LCP II |
| --- | --- | --- |
| Price: | $259 | $299 |
| Weight Empty: | 9.5 ounces | 10.6 ounces |
| Total Length: | 5.16" | 5.17" |
| Height: | 3.60" | 3.71" |
| Width: | 0.82" | 0.75" |
| Barrel Length: | 2.75" | 2.75" |
| Capacity: | 6+1 | 6+1 |
Ruger LCP vs LCP 2 Side by Side Comparison

Frame Size & Capacity Considerations: LCP vs LCP 2
Both of these pistols are built with the goal of being extremely concealable. A quick glance and time spent handling one will prove that Ruger was successful in this attempt. There is "compact" and then you have the Ruger LCP and LCP II – micro sized pistols. The LCP II is a touch wider and a touch taller but it's not likely you'll notice that difference, in my opinion.
In terms of overall size and feel in the hands, there is not too much of a difference between the LCP and LCP II. Both pistols provide just enough to grip – at least for someone with average sized hands. Don't expect to be "comfortable" shooting either of these pistols though. Shooting firearms this small presents unique challenges and experiences which are not typically ideal.
The LCP and LCP II have a standard capacity of 6 +1. Considering size and caliber, that number seems to be reasonable. The LCP pistols  are (in my opinion) a pistol that you carry because nothing else will fit the environment or application. Capacity for such a purpose does not seem to be very high priority.
LCP vs. LCP 2 Sights Comparison

Trigger & Sight Experience
This is where the Ruger LCP vs LCP 2 truly separate from each other.
The LCP has a trigger that resets in a unique two-stage way that can confuse and throw off someone unfamiliar with the pistol. During reset, the LCP trigger will have an audible click before a second click where it is actually reset.
On top of the "ghost" reset, the LCP trigger is quite heavy. My testing of the LCP trigger showed an average pull weight of 7.2 pounds. While this may not be a deal breaker considering intended application, it definitely seemed to impact "shootability" and accuracy at the range. The unique trigger on the original LCP (like most things) is something that can be mastered with practice.
Ruger made improvements on the trigger in the LCP II. Right from the first trigger squeeze, I noticed a smoother and lighter pull. My tested average pull weight was 5.91 pounds on the pistol that I reviewed. I also noticed a single and predictable reset from the LCP II  that was greatly appreciated.
The LCP and LCP II come from the factory with fixed front and rear sights that are adequate but not spectacular. A notable difference is in the front sight post. On the original LCP, you have a standard post and on the LCP II there is a "ramp" like post. The ramp post on the LCP II was not my favorite feature due to being used to shooting with a standard front sight. This is likely the only true advantage I saw with the LCP over the LCP II.
I will point out that the sights shown in the above LCP II picture are not stock from the factory. A layer of luminescent paint has been applied to the front sight post.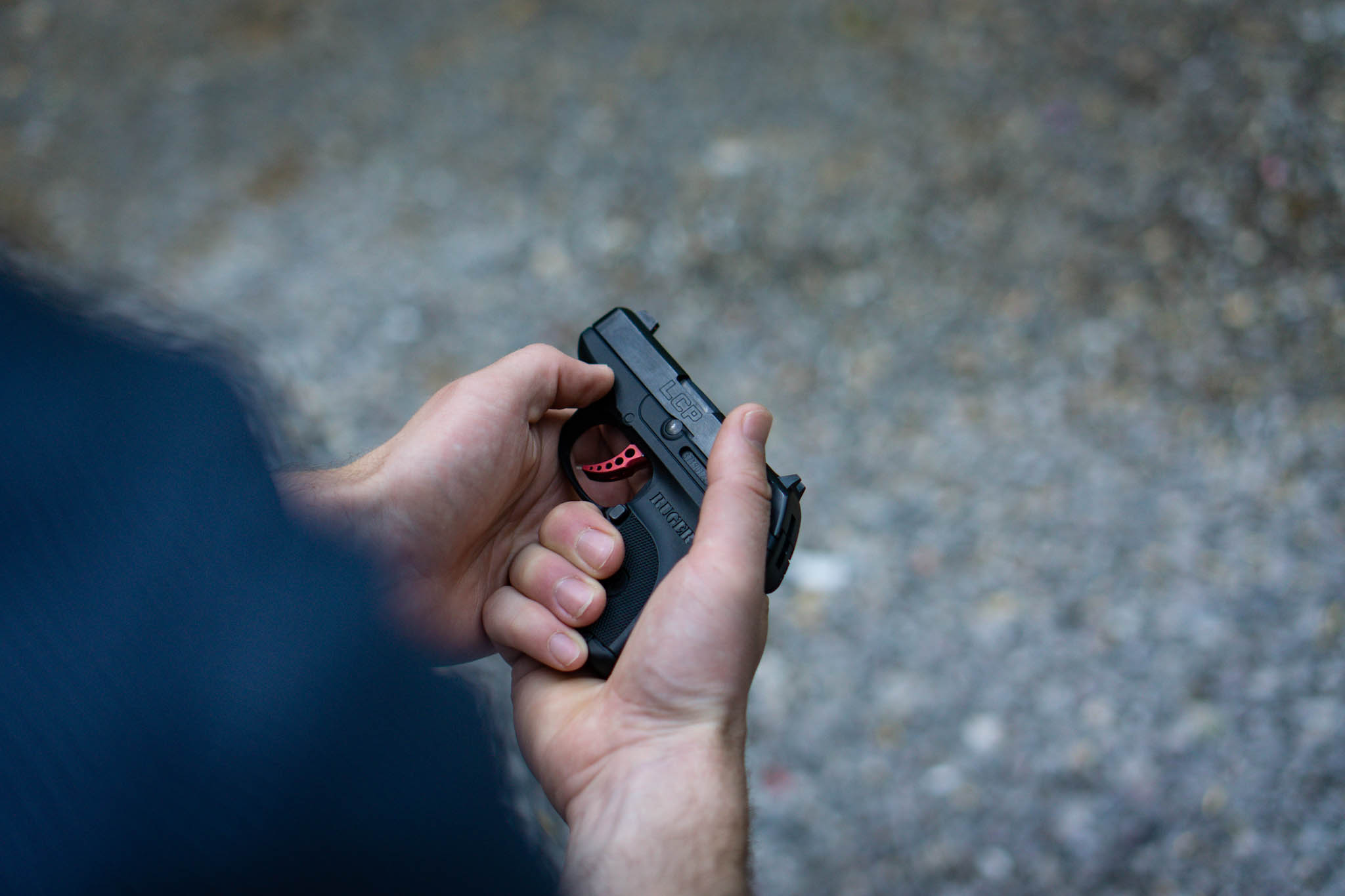 Functionality & User Experience
Shooting the original LCP is a lackluster experience. Would I trust it to defend myself with? Sure, but it needs refinement. From the unusual trigger operation to painfully small features like the slide release – the LCP has some minor issues.
Being at the range with both pistols, I was able to quickly pick up on the improvements made on the LCP II by Ruger and appreciate them instantly. The trigger (as mentioned prior) was a nice upgrade. The LCP II's larger, functional slide release was a welcomed improvement.
Operation of the magazine release was simple and effective on both pistols with no complaints from me.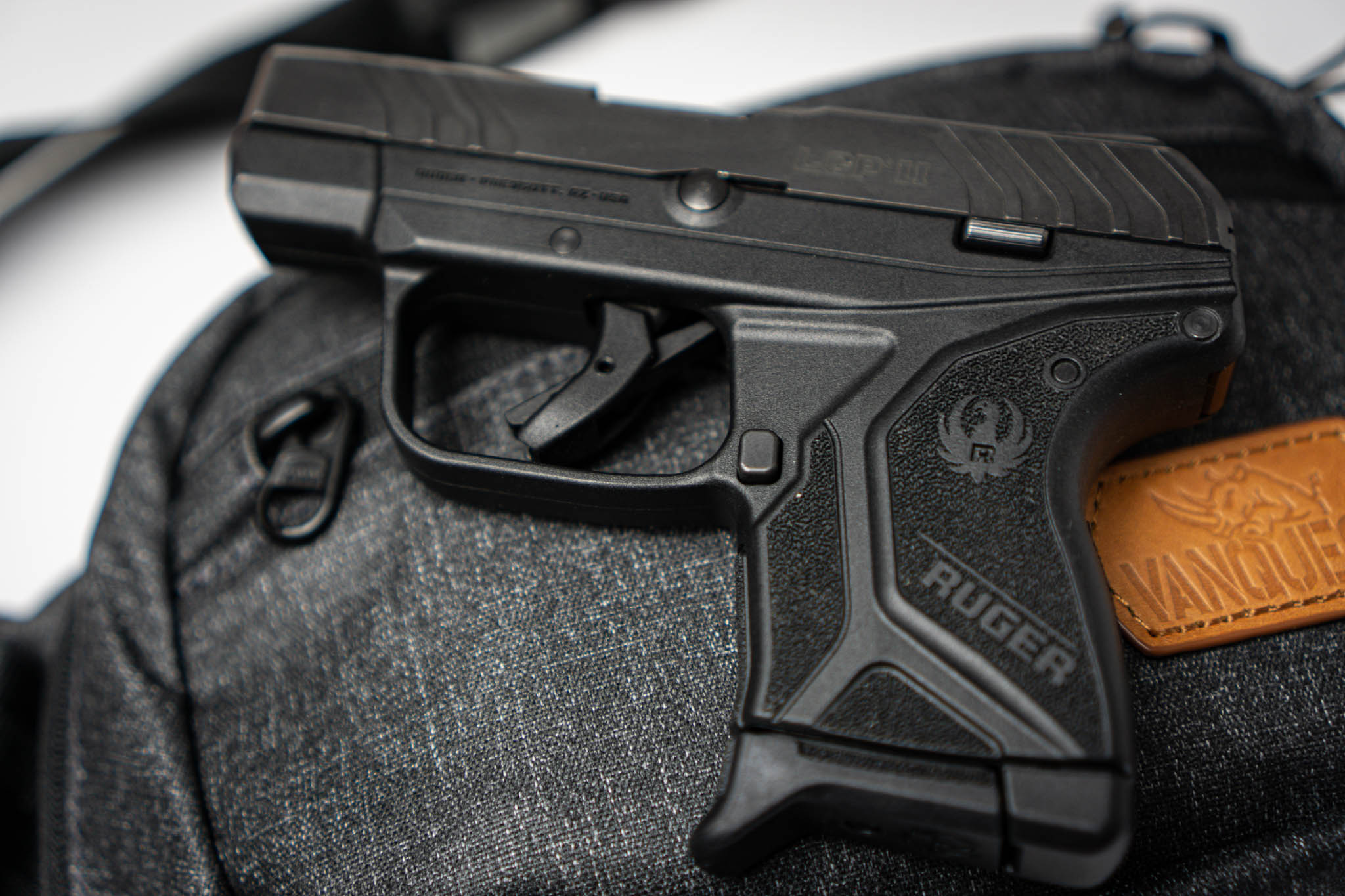 Reloading is something that I'm assuming most people are not too concerned with when it comes to a "get off me" gun such as the LCP and LCP II. With that being said, I will state the obvious – reloads performed with ultra compact magazines and ultra compact frames are not typically buttery smooth. I'm sure with extended practice it could be dialed in, but it's a far reach to compare it to the average handgun magazine change.
Like I mentioned earlier, both of these pistols will be "snappy" – nothing unexpected there with the frame size. I felt a firm and quick push back with upward recoil when firing both.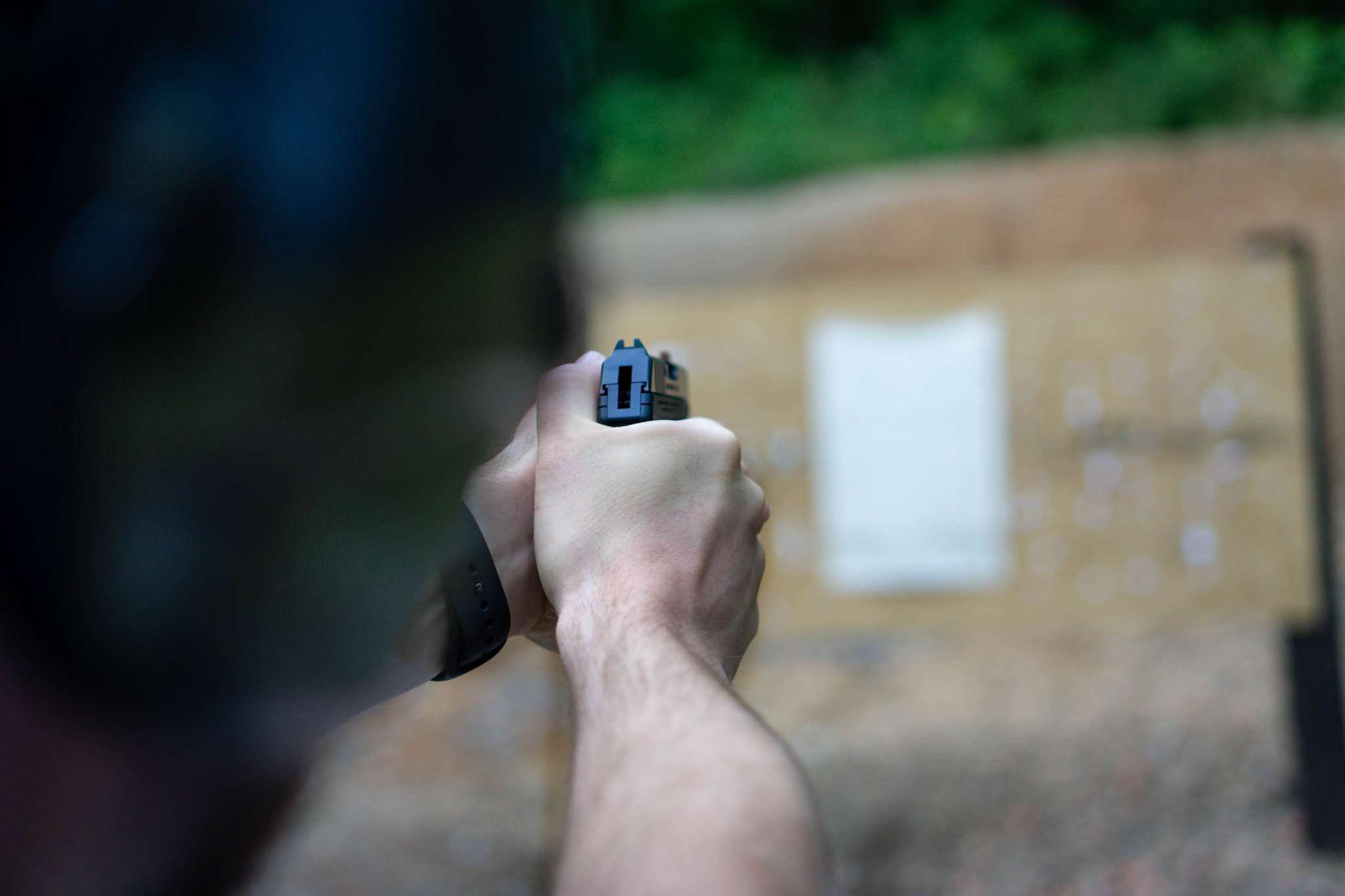 Impact On Muzzle Velocity
For my testing of the LCP and LCP II, I used a LabRadar Chronograph to conduct muzzle velocity tests. I fired 5 rounds of Hornady Critical Defense 90 grain rounds through each and took an average of the muzzle velocity. For reference, Hornady advertises a muzzle velocity of 1,000 feet per second with the 90 grain FTX bullet out of a 4″ barrel.
Ruger LCP: 891 feet per second.
Ruger LCP II: 893 feet per second.
Based on the 2.75″ barrel found in each of these pistols, I don't believe the velocity is much of a surprise.
Final Thoughts – Ruger LCP vs. LCP 2
While I'm not entirely drawn towards either of these pistols, I completely see why they are so popular and the true purpose behind them. Understanding the demand for such a pistol is something that Ruger excelled at with the LCP. Whether it's a restrictive environment or something to carry on that next mountain bike trail, the LCP and LCP II would be worth considering.
The Ruger LCP and LCP II are both micro pistols that I believe are reliable and trustworthy defense options. Based on the improvements seen in the LCP II, I would lean towards recommending the LCP II over the original. The trigger in the LCP II alone is worth the extra money spent, in my opinion.
\