Glock is always busy. They company released Gen-5 models around the turn of the decade into 2020 along with a few new variants. It's apparent that Glock has no intention of slowing down and is constantly listening to customer feedback for upgrades. I know what you're thinking though. "Glock just slaps a new number on the same plastic frame and boom, there's a new Glock." That isn't true at all with some of the recent additions to the line – including the concealed carry focused Glock 48 that we have for this review.
Overview: Glock 48
Glock introduced the 9mm Luger Glock 48 in January 2019 as part of a joint release with the Glock 43X. As is the case with most Glocks, the 48 is an Austrian built handgun. Without getting into too much detail regarding the differences between the 43X and 48, the 48 is essentially the same firearm outside of the longer slide and barrel length.
One of the common complaints among those who try compact firearms is the short barrel length and sight radius. Glock essentially blended a Glock 19 with a 43X to get the G48. Not entirely, but the barrel and slide are almost identical in length. A G48 would be the extremely fit and leaned out cousin of the Glock 19.
Glock has obviously been listening to their customer base and wanted to provide an option that was even more concealable than a G19. The 48 is not only concealable, it is also lightweight – something that not all gun companies have been able to provide.
Capacity
A lot of folks in the concealed carry community are increasingly looking for streamlined options. With a standard capacity of 10+1, the G48 provides a respectable amount of firepower for the frame size. This push towards slim firearms that still provide ample grip is something I'm a huge proponent of myself. Glock stepped up here.
First Impressions: G48 Range Experience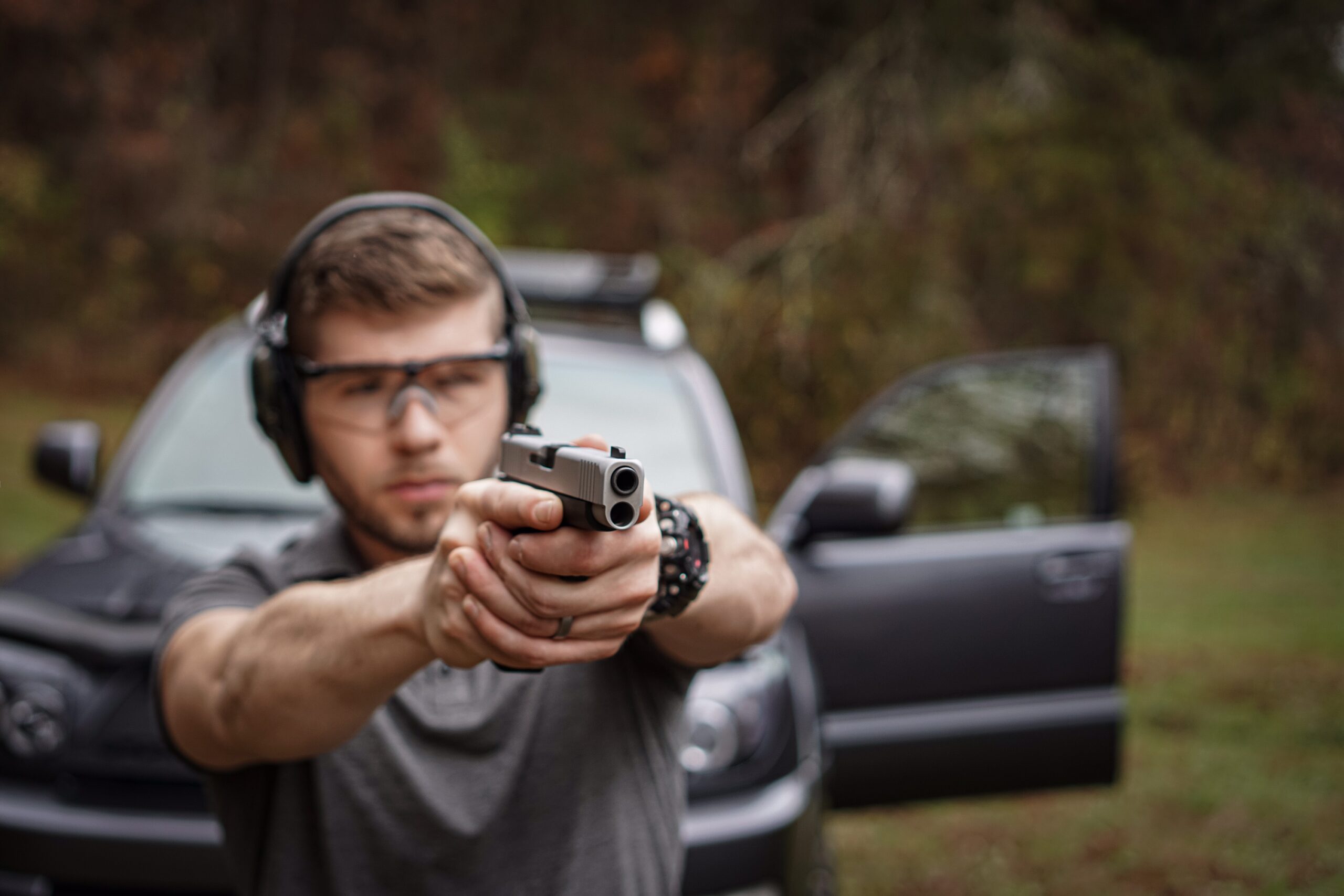 When I first got my hands on the Glock 48 for this review, my first thought was, "well this looks a little strange."
The slide length on a firearm as thin as the G48 does provide some unique aesthetics. Fitment in the hand however, was just what I was used to with a G43X and I felt right at home with it. Glock did a fantastic job of building a grip that is extremely comfortable and natural feeling – at least for me.
*I completely realize that most people either love or hate Glock. Your first impressions will be impacted by some level of bias likely. As someone who owns a few Glocks and appreciates most of their guns, my first impression is going to be impacted by that. 
My experience with the G48 at the range was fairly similar to my experience with the G43X – no surprise there. The G48 did seem to handle recoil with a little more refinement and I appreciated the increased sight radius. A longer (and therefore heavier) slide and barrel made the G48 resemble a G19 shooting-wise. Sure, it was a bit snappier than a G19 but overall I was pleased with the way it handled recoil and performed. My hands did not feel as if I had been firing a compact 9mm – even after several hundred rounds.
We fired a variety of ammunition types for this review to ensure that the G48 could handle anything I fed it. Of course, in proper Glock fashion, the G48 had no issues with any of the 9mm ammunition I used. A few self defense loads were tested during my time at the range – including Federal Premium 147 Gr. HST rounds.
While at the range, the G48 quickly proved to be a confidence provoking concealed carry option.
Specifications: G48
| Price | $474 MSRP |
| --- | --- |
| Caliber | 9mm Luger |
| Capacity | 10 +1 |
| Weight (Empty) | 20.74 oz. |
| Barrel Length | 4.17" |
| Overall Width | 1.10" |
| Overall Height | 5.04" |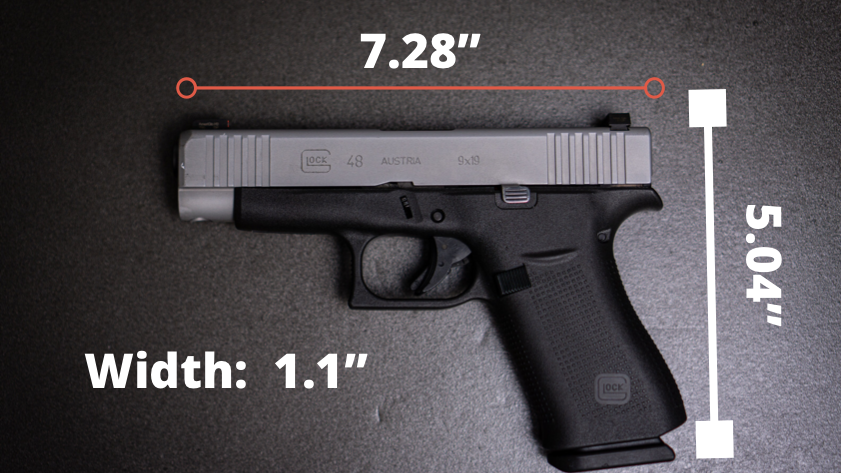 Glock 48 Sights
If there are two things that Glock is not known for, it's their stock triggers and sights. They typically do the job but won't truly stand out. Fortunately for me, the Glock 48 that I tested was fitted with a set of Ameriglo Night Sights and I was spared from shooting with stock sights.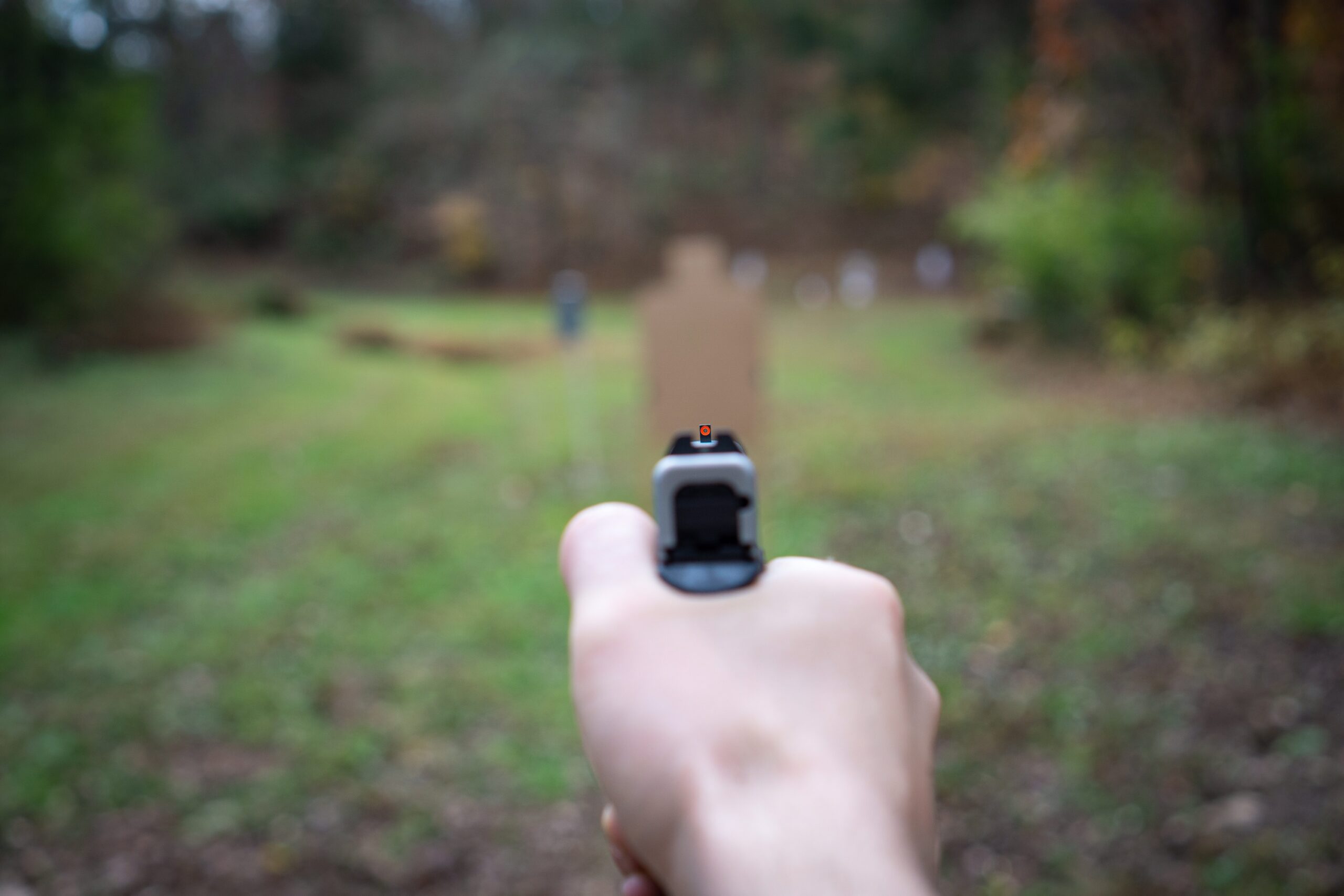 These sights provided a blacked out rear with a tritium front post – which proved to be fairly easy to acquire and shoot with. I personally prefer a fiber optic front sight, but this aftermarket option here is much better than stock in my opinion.
A longer barrel (for a concealed carry option) on the G48 provides a nice sight radius length. As someone accustomed to shooting a Glock 43X, this longer sight radius was appreciated – especially while shooting beyond 10 yards.
Glock 48 Trigger
I usually can't find very many good things to say about a stock Glock trigger, and well, the G48 provides no exception. While it functions fine and has a fairly smooth travel, the trigger safety blade really irritates me. This is something that bothers me in my personally owned G43X and is leading me to contemplate an aftermarket option. After 50 or so rounds fired, the safety blade really starts to feel uncomfortable for me.
Trigger Weight
At the end of the day, in a CCW pistol, the G48 trigger will perform just fine for most. My testing of the Glock 48 trigger with a Lyman scale showed an average pull weight of right around 5.5 lbs.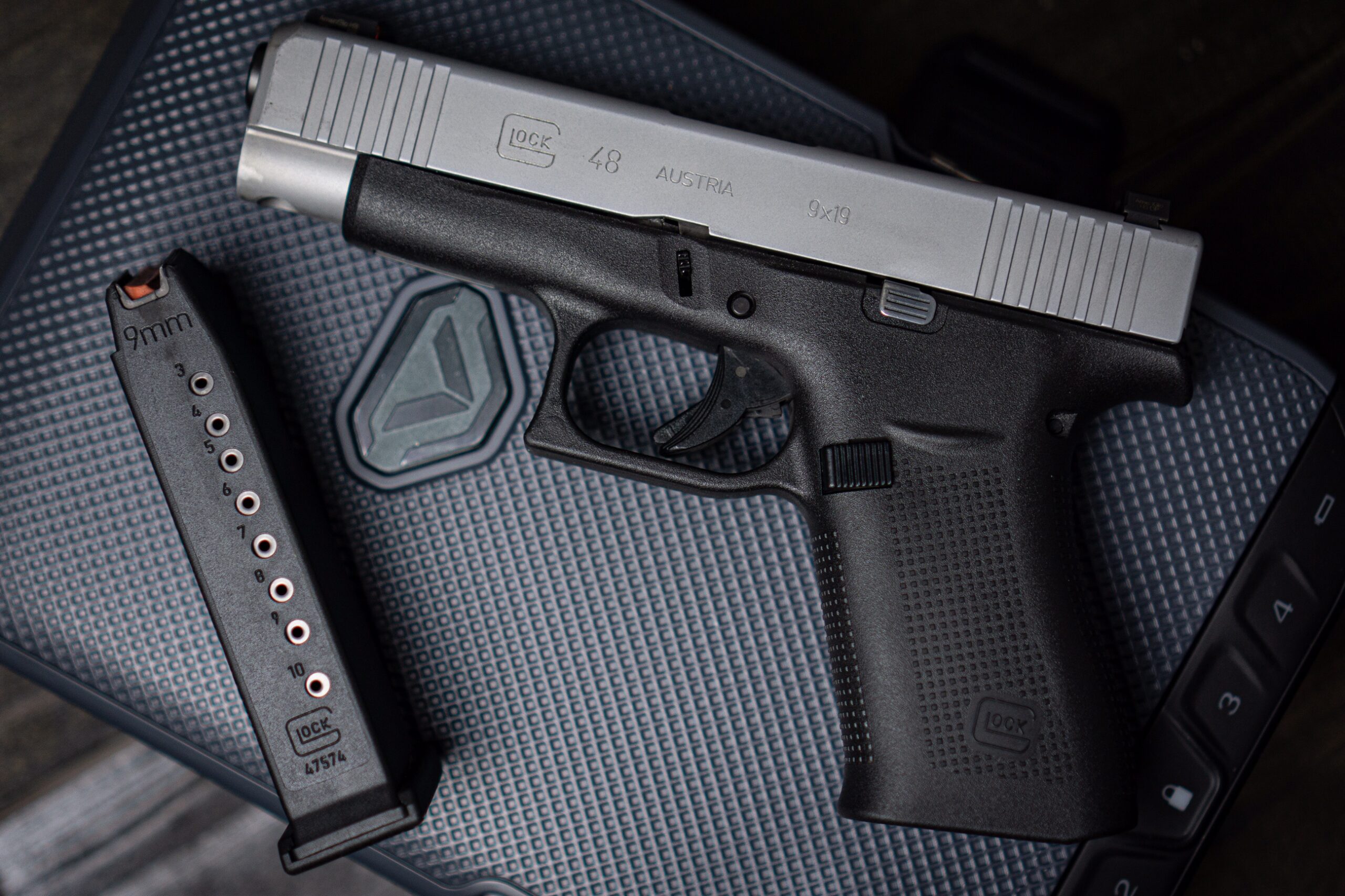 Functionality & Features
Glock offers a streamlined and simple platform – likely the main source of its' appeal. Ease of use and a very "function over form" design makes the G48 a breeze to shoot.
All of the operational features were easy to access for me. The magazine release is prominent and requires the right amount of pressure to release – something I feel that is lacking on a good number of newer handguns. A familiar and unspectacular slide lock is present, but it does the trick.
Glock did not include a standard accessory mounting rail on the Glock 48, but a few light options are available. The fact that the slide and barrel are actually longer than the frame leads to a unique aesthetic – as well as accessory mounting surface. The lights available rely on trigger guard mounting primarily. One of the lights (among the limited selection currently) is the Streamlight TLR-6.
"Concealability"
Considering that the G48 was built with concealed carry in mind, I felt it was appropriate to briefly touch on the topic of concealment.
Although the slide and barrel are on the lengthy side of things compared to most single stack 9mm options, concealment is simple. With a length increase of less than an inch compared to the G43X, the G48 is compact in all the right areas. The low-profile grip and slim frame allow for appendix carry with ease.
Impact On Muzzle Velocity
As a part of my my Glock 48 testing, I conducted a brief muzzle velocity test using one of the most common self defense rounds – the Federal Premium 147 Gr. HST. Five rounds were fired as a part of this test with a Labradar device measuring muzzle velocity.
Average Muzzle Velocity: 1,000 fps.
Highest: 1,018 fps.
Lowest: 991 fps.
Extreme Spread: 27
Standard Deviation: 10.7
With the G48 barrel being as long as it is, I was curious to see the results. Federal advertises a muzzle velocity of exactly 1,000 fps. out of a 4″ barrel. No real surprise here with the G48 readings.
Final Thoughts: G48
In a market that is increasingly saturated with concealed carry firearms, the G48 stands out to me. A handgun that offers ease of concealment, decent capacity, and a long sight radius is unique. These features combine lead me to feel that the G48 would make a good "do it all" gun – especially if you invest in the Shield Arms 15 round magazines.
If Glocks are worth the price tag to you, the G48 is going to be a trustworthy option. From the nightstand to the waistband, the G48 is a tool you can rely on.