\While not your average CCW pistol, the .380 ACP Glock 42 is a very slim subcompact carry option. While some argue .380 ACP isn't an ideal carry caliber that's not to say it can't be effective. A lot of folks will turn away from this option just because of the caliber being "wrong" and that's fine. It's not for everyone but it certainly has a role. There are unique environments and situations where an extremely compact "pocket" pistol like the G42 shines. Hopefully this Glock 42 review helps you in your decision making on whether or not to pick one up.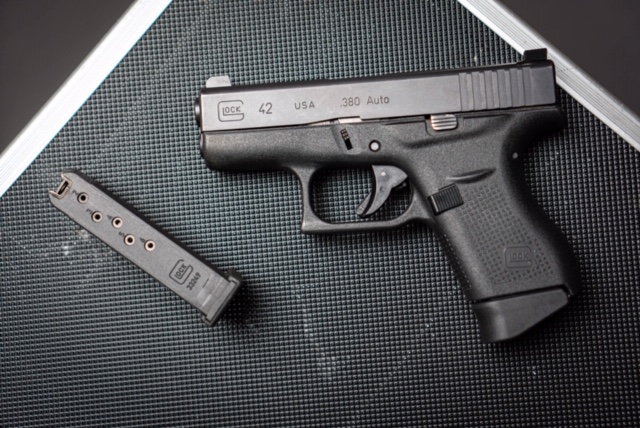 Overview & First Impressions: Glock 42 Review
Built in the U.S. and released in 2014, the G42 is Glock's smallest pistol to date. This striker-fired, subcompact pistol is truly the "baby" of all Glocks. With an empty weight of under 14 ounces and ultra compact frame size, the G42 is truly a unique carry option. The small frame size does come at a cost though – the pistol's standard capacity is only 6+1. For those environments or occasions when absolute concealment is imperative, the G42 steps up the plate.
I spent a recent afternoon at the range with the Glock 42 and fed it several hundred rounds of various ammunition types. I included self defense ammunition like the Hornady Critical Defense and Speer Gold Dot 90 GR rounds. As expected, the Toyota Camry of guns (Glock) handled everything I loaded with no issues.
Overall, I was pleased with the performance of the G42 – especially in comparison to similar options on the market. Shooting the G42 was relatively a "smooth" experience with no major flip of the muzzle. Single handed firing of the G42 was simple especially for someone used to carrying a 9mm. The frame is compact but not overly compact and I believe that really plays a part in the recoil management. Even with relatively tame .380 ACP ammo, some "pocket" pistols (Looking at you Ruger LCP) on the market aren't nearly as easy to shoot.
Specifications: Glock 42
Price: $399
Caliber: .380 ACP
Weight Empty: 13.76 oz
Total Length: 5.94″
Height: 4.13″
Width: .94″
Barrel Length: 3.25″
Capacity: 6+1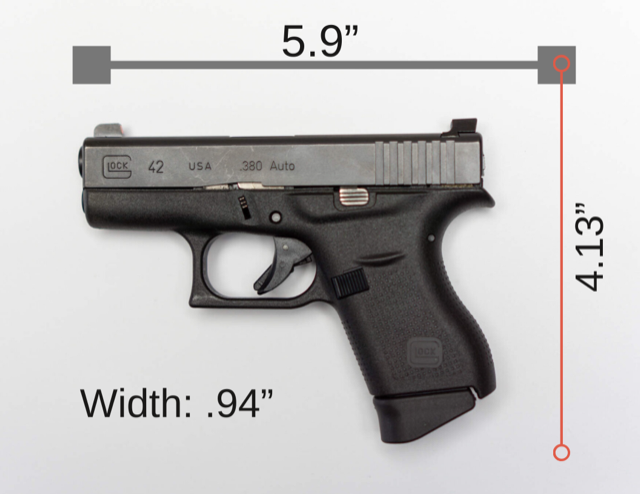 Frame Size And Capacity Considerations
Usually people are concerned about pistols being too large for concealment when looking at CCW options. This is definitely not the case here with the G42. The smallest Glock made is something that I'm sure almost anyone out there could carry concealed with zero issues.
Most people considering this pistol are likely worried about it being too small for them to shoot effectively.
Body:
The G42 is obviously extremely small with a frame size smaller than even your typical "compact" pistol. With that being said, shooting the G42 wasn't all that difficult. The mild .380 ACP cartridge is what I believe helped in this aspect. Controlling this pistol and shooting accurately at a typical self defense range of 7 yards, was manageable.
Compared to other 380 ACP sub-compact pistols I've fired, this one really was easy on the hands. Follow up shots also seemed easier than I expected with the G42. Even after a few hundred rounds through it, may hands weren't screaming for mercy. In other words, the G42 was still fairly comfortable to shoot.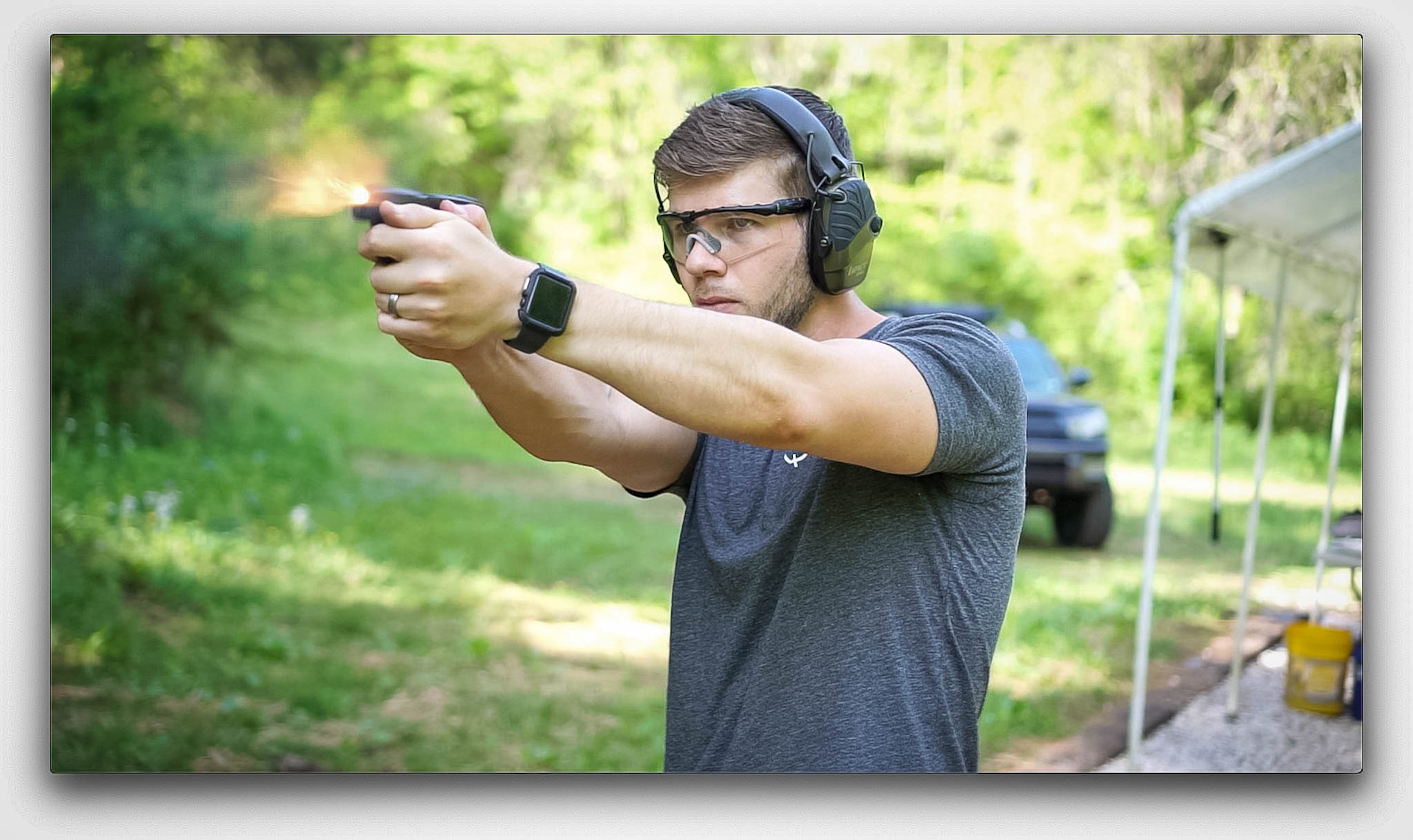 Even though it's fairly short at only 4.13 inches with the larger magazine, I was able to get enough of a grip that I felt confident.
At 14 oz, the G42 is absolutely a lightweight pistol. This may be a factor for some and if so, you will be pleased.
These days, most of us won't be too impressed with the capacity of 6+1. Frankly, it isn't really all that impressive. Especially when you consider newer pistols like the Sig P365 or Glock 43X that offer 10+1 in 9mm.
If you want the slightly more concealable Glock 42, you can pick up some help for that capacity shortfall. Aftermarket magazine extensions such as the HYVE Technologies variant are available for those who want the extra capacity of an additional 2 rounds.
Trigger And Sights
Getting this pistol out to the range and shooting several hundred rounds allowed me to feel out the trigger. For a stock Glock trigger, it was decent. I would't say it was good…but decent. The pistol that I tested had a fairly predictable break and crisp reset. I conducted 10 pull tests and the average of those was right under 5 lbs. for the pistol I tested.
Other critiques of the G42 have voiced dissatisfaction with the G42 trigger. What I can say is that compared to options like the Ruger LCP and LCP 2, this trigger is great. I noticed a short take up and clean break that is just not present in other "pocket pistols."
When it comes to sights we're accustomed to getting several options and that's the case with the G42 too. The pistol I tested was equipped with Ameriglow Bold sights. Target contrast and follow up shots were simple – especially being paired with the mild caliber.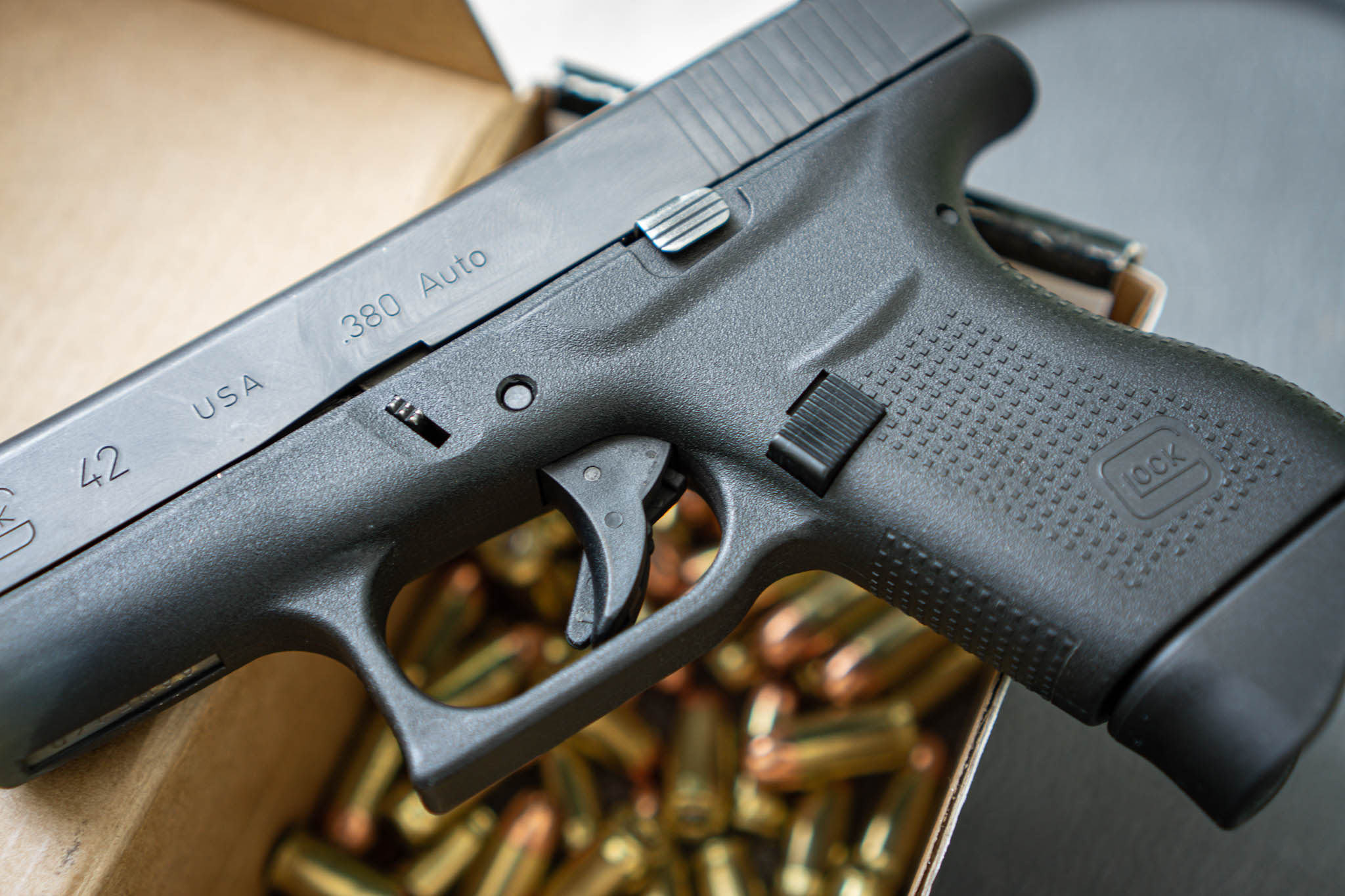 Functionality: User Experience
I'll start off by saying that I'm already fairly comfortable with the ergonomics and layout of Glock features.
For being such a compact pistol, the magazine release and slide release both felt accessible and easy to operate. I often struggle with operating features on ultra-compact pistols so I was happy to not have that issue with the G42. I'll go ahead and point out here that the G42 does have a reversible magazine release for those left-handed shooters.
The G42 felt sturdy in the hand and, as I mentioned earlier, surprisingly comfortable to shoot. I felt like I could spend a whole day of training with the G42 without any serious discomfort.
Muzzle Velocity With Self Defense Ammunition
As a part of my time with the G42, I used a LabRadar Doppler Radar to test the muzzle velocity of a common self defense ammunition. The self defense ammo I used for this was the 90 GR Hornady FTX round. I averaged the muzzle velocity of 5 shots and that gave me a muzzle velocity of 916 FPS.
The advertised muzzle velocity is 1,000 FPS out of a 4″ barrel. These findings were to be expected since the G42 has a 3.25″ barrel length.
Final Thoughts
While not my first choice or recommendation for a CCW pistol based on the Caliber, the G42 is a solid little pistol in my opinion. It's hard to say exactly why I would choose this over a 9mm compact pistol, but I'm sure that some shooters out there will find that it fits their needs better. Finding the right CCW pistol involves several individual centered factors. For some, the G42 just might fit the bill.