Rapid Fire - Shot Show 2016 Coverage
The annual SHOT (Shooting, Hunting, Outdoors Trade show) typically has a ton of new products, big names in the shooting world and other general stuff of interest for folks like us. So, with a few members of our team in Vegas for the 2016 SHOT Show, we thought we'd try to share the experience with some quick hits of various things seen around the show as well as some tips from respected trainers and combat veterans we stumbled upon while walking the show floor.
Sig Sauer Legion Series

When SIG Sauer announced their Legion series this past fall of 2015 it was immediately clear it wasn't just about launching a few new guns. The Legion series is far more; the Legion series is a way of well-armed life. It's made up of everything from guns to knives to holster and more, and each and every product is carefully designed and well-made to be reliable and durable. The guns in the Legion series thus far are the P226, P226 SAO, P229, and P220. Calibers include 9mm, .357 Magnum, and 40 S&W while the addition of the P220 Legion adds .45 ACP to the lineup. These guns performed as promised: accurate, reliable, and comfortable. We can't wait to see what SIG comes up with next or this new series.
Hornady ELD-X Ammunition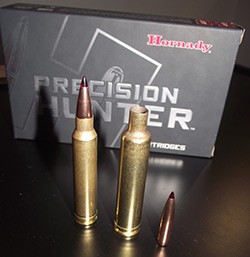 Hornady pulled no punches building up the excitement in the days leading up to their announcing the ELD-X. Their new round isn't just another round in an existing line of ammo, it's an entirely new approach to bullets.

The engineers at Hornady noticed something that's a persistent problem with bullets: as the travel they generate incredible heat, and that heat leads to the bullet softening, deforming, and quite literally melting down. They worked tirelessly to combat those issues, even using Doppler to assist in their efforts. The end result was the Hornady ELD-X, a round featuring a bullet said to have the highest ballistic coefficient (BC) on the market. Keep in mind that Hornady knows this round's actual BC thanks to Doppler while many companies use only computer-generated, educated guesses to estimate the BC of their particular bullets. This looks fantastic and as soon as the production rollout takes place – and it's going on as we type – we'll be slinging more than a few ELD-X rounds down-range.
Benelli's Newest Shotgun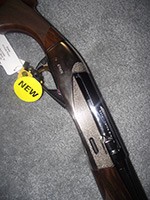 It should come as no surprise that Benelli has come out with another impressive shotgun. The company has only been around since 1967 but they've built a stellar reputation in no time thanks to their dedication to quality and performance. This newest shotgun is the latest addition to their Ethos line – that's right, the line that has won Shotgun of the Year twice, one for each of the first two guns of what is now going to be a trifecta. The new Ethos is a 28-gauge shotgun but what makes it special is the fact that it's chambered for 3" shotshells. That's so unique that only one company, Fiocchi, is making the ammunition the gun needs. It's lightweight at just around 6 pounds and has a 26" barrel. We're looking forward to doing some pheasant hunting with the new Ethos and wouldn't be surprised if it ended up winning an award this year just as its predecessors have.
Danny Dietz Tribute Rifle

It's been 10 years since Operation Red Wings; 10 years since SEALs Matt Axelson, Mike Murphy, and Danny Dietz were killed on a shale-strewn cliff in the Hindu Kish and now-retired SEAL Marcus Luttrell became the Lone Survivor. The families of those men have become a tight-knit group and understandably so, so when Cindy Dietz approached Jeff Axelson about making a tribute rifle to remember her son, Danny, he didn't hesitate before saying yes. The Danny Dietz Tribute Rifle is being made to closely replicate the rifle Danny carried into his final battle. Features include it being chambered in 5.56 NATO and has a 37mm flare launcher. The prototype was unveiled at SHOT Show 2016 to a packed crowd and more than a few tears were shed when those present spoke of the gun's meaning. Danny Dietz has been gone for more than a decade but he epitomized the "never quit" mentality of the SEALs. Remember, you are never out of the fight, and that just might be the best self-defense tip out there.
SinterFire NXG Loads
SinterFire has been around for some time but it's only been in recent years they've gained significant popularity. That's due in part to the high quality of their components and ammunition – all of which undergoes rigorous testing – and partly because they're good at thinking outside the ammo can, so to speak. Now they have something new in the works and we're proud to be leading the pack in announcing it to you. Coming soon from SinterFire's Next Generation (NXG) Lead-Free Bullets: a solid copper .223 Remington bullet that delivers reduced ricochet but is priced affordably like a Full Metal Jacket bullet. NXG bullets will provide shooters with "a viable low-cost, high-performance alternative to traditional full metal jacket projectiles." It's not a frangible round, but it does perform more safely than many standard training rounds because it'd made specifically for reduced ricochet. Conventional copper bullets bounce; SinterFire NXG Lead-Free Bullets do not. It's also a green projectile because it's recyclable and keeps the air cleaner during trigger time. We're excited to see what comes next from SinterFire NXG (new and interesting components and rounds are always awesome).
Alexander Arms .338 Lapua Magnum

Alexander Arms has more than a few awesome rifles but if we have to pick just one to showcase, it has to be the Ulfberht. The Ulfberht is chambered in .338 lapua magnum but it isn't just like all the other big, bad long-range rifles out there. This one is unique thanks to the efforts of designer Bill Alexander. One of its many features is its felt recoil which can be compared to that of a .308 Win. That's accomplished in part by the bolt assembly which reaches to the back of the gun's receiver, utilizing what is referred to as constant recoil to produce a softer-shooting .338 lapua magnum. It's a fantastic firearm with more impressive features than we can possibly list.
Inland Manufacturing: Meet the Advisor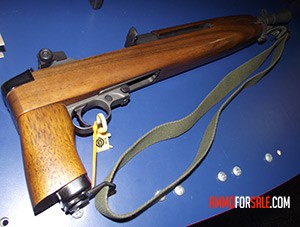 It doesn't matter if you're a history buff, Vietnam veteran, or just a fan of firearms in general: this is a cool gun. During Vietnam it was common for soldiers to make their M1 Carbines smaller by cutting down the barrel. It may not have been pretty, but it was effective. A shorter carbine made it far easier to navigate the tunnel system (Don't believe us? Go watch the film "Tunnel Rats"). The shorter barrel also allowed U.S. soldiers to engage in close quarter battle, and conceal the firearm, at least somewhat.

Back then folding stocks were in short supply but the soldiers swapped their fixed stocks out for those when they could. Today it's a lot easier to get your hands on a folding stock and there's a wide array of firearms out there, but one company is making a gun as a tribute of sorts to those guys in Vietnam. That company is Inland Manufacturing and the gun is the Advisor. The Advisor is a 12" M1 Carbine Pistol chambered in .30 cal with a parkerized finish. It's a neat gun regardless of your reasons for wanting one.
The .510 Beck

Beck recently announced they were coming out with a new cartridge, and not just any cartridge: an awesome cartridge. The new cartridge is based on the .308 Win which has been around since 1952 and has quite a following among everyone from snipers to target shooters to hunters. This next evolution of that cartridge is really quite something. It's called the .510 Beck and it's loaded with projectiles ranging from 327 grain to 700 grain. The .510 Beck is going to hammer into targets with tremendous force, creating a phenomenal wound cavity, and it's going to do it with all the subtlety of a pile-driver. Beck is making an upper receiver for the .510 Beck and also will be offering an entire rifle for sale. The new cartridge and gun are coming soon, and you can be sure we'll be trying it out!
FN Prototype AR Pistol

FN Herstal has been around since 1889 when they were first founded to fulfill the request of the Belgian government for 150,000 Mauser Model 89 rifles. Since that first big order they've kept busy and are now the biggest European military small arms manufacturer. On January 19th, 2016, FNH USA rebranded themselves as FN. They even changed their logo color from royal blue to slate blue, and adopted a new slogan: "The World's Most Battle-Proven Firearms." We got lucky when we stopped by the FN booth at SHOT and got a look at their brand new prototype FN-15 AR pistols. These are so new we don't even have specs, but we can tell you they're chambered in 5.56 NATO and .300 BLK, have 12" and 10" barrels respectively, and a fixed stock. Sure prototypes are prone to future change before production, but these look pretty sweet!
SilencerCo: Research & Development on Display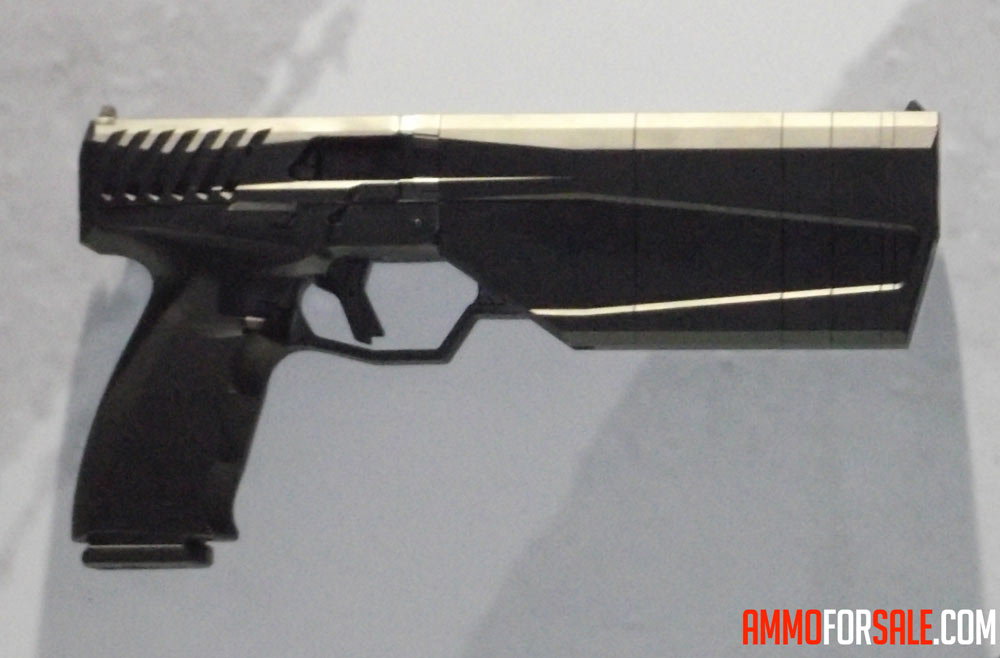 There aren't very many companies out there that will give you a closer look at the stages of their research and development process, but SilencerCo is more than willing to. In fact, they made it their wall display at SHOT Show 2016. The components of the Maxim9 were numbered, starting with 1, showing the progression of the gun's development. The final result of the integrally suppressed pistol was displayed prominently in the middle and circled in bold black. SilencerCo founder and President Jonathon Shults was on hand to discuss the company and was, as always, down-to-earth and friendly. We can't wait to see the Maxim9 hit the shelves, NFA style, of course.
Self-Defense Tips from Big Names:
Marcus Luttrell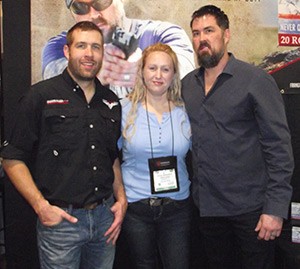 Former SEAL Marcus Luttrell needs no introduction, but we'll give him one anyway. He is known by many as the Lone Survivor but he is far more than just the man who was strong and courageous enough to survive Operation Red Wings. Marcus is a man of conviction, a man who believes in the value of teamwork, and a man who understands the need for community. When we asked Marcus what his number one self-defense tip was, he had a simple reply: self-defense. After a moment, he expanded: it's all about training. You can only defend yourself if you're properly trained, meaning you cannot even begin to think about self-defense if you're not training for it. He then offered two more words that summed up his advice neatly: complacency kills. Train like you may one day be forced to fight, because that fight could very well be for your life, or the lives of your loved ones.
Kyle Lamb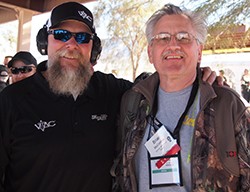 Kyle Lamb may be known today as the face of Viking Tactics but he also has more than two decades of experience behind him in the United States Army. 15 of those years were in U.S. Army Special Operations which should give you an idea just what Lamb is capable of, and it certainly isn't an homage to his surname. He's done tours in Iraq and Bosnia and now applies those many skills and experiences to teaching others.

When we ran into him at SIG Sauer's range day at SHOT Show we had to pose the question: What is your number one self-defense tip? He didn't have to think twice: "carry a gun." He went on to say that too many people "talk about it, but don't do it" and although he understands the difficulties in being armed at all times it's still something we should all strive to do (within the law, of course). Have a gun? Carry it. It won't do you much good if it isn't there when you need it most.
James Yeager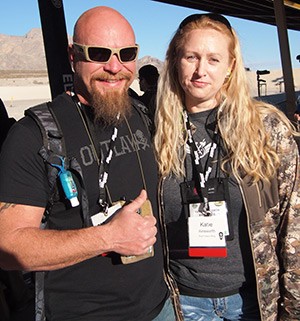 James Yeager has the background and skills to back up his being a serious badass, and when we ran into him at SIG Sauer's private range event the Monday kicking off SHOT week we asked one question: what do you consider the single most important aspect of self-defense? Yeager responded immediately with: "Mindset." He went on to say that successful self-defense skills must be built on a foundation of a sharpened mindset. Being aware of your surroundings – not just vaguely, but acutely – is not just important, it's absolutely vital. What do you consider the single most important aspect of your personal self-defense regimen?
Ron Bellan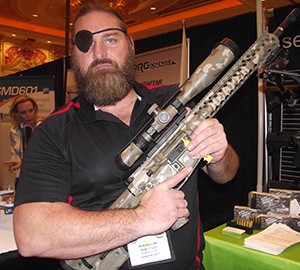 Former SEAL Ron Bellan is many things: an experienced marksman, a trained fighter, and an avid hunter. Now that he is out of the US Navy he spends his days on survival tactics and hunting on his show Reaper Outdoors – and, for the record, he not only cooks his own game but does it well. Yes, Ron's an excellent cook, but it's his years of experience as a SEAL that make him the right choice for self-defense advice. When we ran into Ron at SHOT Show we asked what his number one self-defense tip was and he immediately came back with: awareness. Ron said he is a big fan of the value of prevention. You don't put yourself in a box – a situation without an exit strategy. You don't walk around oblivious of the people and obstacles around you. You DO have a plan. And when a former SEAL tells you to have a plan, you'd better have one.
Craig Sawyer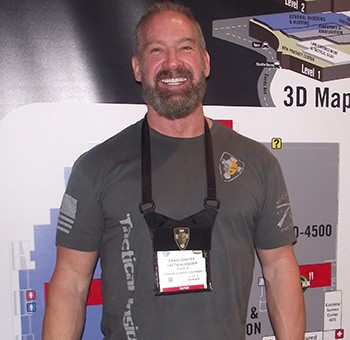 Former SEAL Craig "Sawman" Sawyer has experience in a variety of fields, but all those areas of expertise have one thing in common: they require an enormous amount of tactical knowledge and training. And, of course, you have to be able to implement said training. So when we caught up with Craig at SHOT Show it was only natural to ask him what his top self-defense tip is. His answer? Situational awareness. Specifically, Craig stated the value of the "learned discipline of the scan." The scan is vital because it involves always noticing who and what is around you and identifying potential threats without delay. Far too many people fail to do that, especially here in the United States. Pay attention, and learn the scan. It just might save your life.
Mike Thornton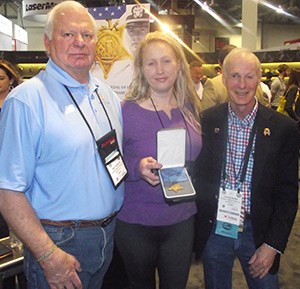 Perhaps the most awe-inspiring moment of SHOT Show 2016 was the opportunity to meet a pair of real-life heroes: Medal of Honor recipients Tommy Norris and Mike Thornton. The two US Navy SEAL veterans are about to come out with a book – "By Honor Bound" – which details their time in combat which included amazing acts of heroism and stunning courage. At SHOT Show we were able to talk to them for some time about their book, their story, and their most important self-defense tips. Thornton saw it simply, saying "safety is paramount." He explained that when you can avoid a fight, you should avoid it. And if you own a firearm, you'd better know how to use it. Having a gun is pointless when you don't know how to run it effectively. It was an honor meeting these heroes and we cannot wait to read the book, which is due to be released May 17, 2016.
Rocky Camo - Venator Series

It may not be a gun or ammunition but it's pretty sweet: Rocky's brand new and very first camouflage pattern. That's right, the 80-plus year old company has come out with their own camo pattern. They're calling it Venator, which means "hunter" in Latin. Venator was designed to be usable in every region although it was made after a Rocky rep was hunting in Utah and realized there wasn't really any region-friendly pattern out there. The end result of years of R and D – and lots of interviews with hunters and guides – is a cool combination of colors and shapes. Venator is quite literally unlike any other camo and it's worth a second look whether you're a hunter or just like to wear camo. Because camo, that's why.
5.11 Raven Range Tights (Yes, this is a real thing... apparently)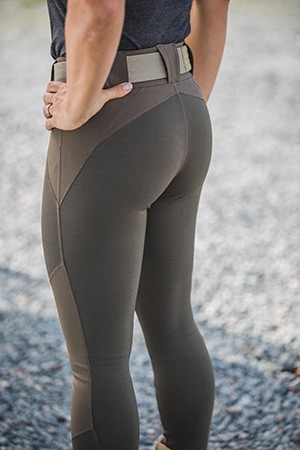 When we stopped by the 5.11 booth at SHOT Show we discovered a brand new addition to the company's line of women's clothing and gear: leggings. They're called 5.11 Raven Range Tights and also come as Capris. (The men on our staff said they have no idea why a capri length is necessary).

5.11 claims these aren't just any leggings though, they're actually "designed for tactical use". They feature reinforced stitching, abrasion-resist fabric at the knees and hips, and perhaps best of all are the wide, sturdy belt loops. According to 5.11 the belt loops and waistband are tough enough to hold up a gun belt and everything that goes with it, which would be pretty great if you ask most female shooters.
SEAL 1

There are a lot of cleaning products and lubricants available on the firearms market – and we do mean a lot. So it isn't often that one grabs your attention, and keeps it. SEAL 1 is being manufactured by a family that's been in the industry for three decades and is backed and produced by quite a few military veterans. Their managing director Dwight Settle is a former SEAL and when we met up with the team at SHOT Show we spoke to Brandon Lee who is currently with the Army Reserves (and has been for well over a decade). One of the things that makes SEAL 1 unique is that there aren't any vegetable esters included in its makeup which is good because those tend to cause a gummy, sticky residue. One of the awesome things about their booth was a fish tank full of water and a handgun. A handgun that's apparently been in that tank off and on for four years. SEAL 1 can be used wet or dry and the company recommends regular cleaning of your guns (we know more than a few of you are guilty of failing to clean your guns). This may be a relatively new company but the guys behind it are not new to guns or the gun industry. Looks like one to watch.
Sig Elite Performance Rounds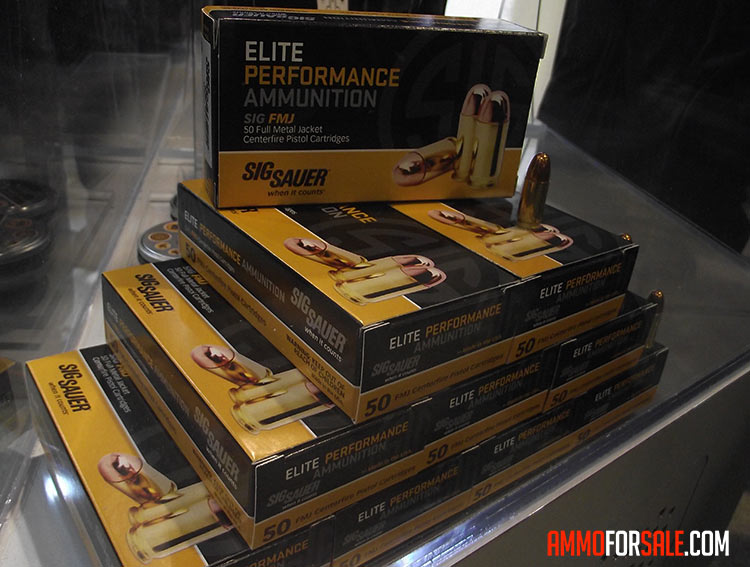 The SIG Elite Performance Ammunition line was recently announced and is proving to be a great line of reliable rounds capable of delivering terminal performance. It includes everything from .380 ACP to .357 SIG to .45 Colt on the handgun side and .300 BLK on the rifle side (not to mention a brand new .300 BLK hunting round that'll be in production very soon). It's always interesting when a major manufacturer comes out with their own ammunition, and in this case the manufacturer themselves are making the ammo (which is not always the case). And if you don't believe us that this is some capable ammo, just look what the 10mm V-Crown did to this poor pumpkin!