What is the best ammo for your
1911?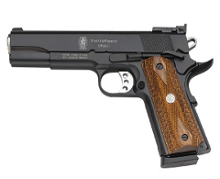 Developed by legendary gunsmith John M Browning, the 1911 handgun is undeniably one of the top firearms of the 20th century. Despite the fact that it recently passed the centennial mark, the 1911's popularity shows no signs of slowing down.
The original 1911 held seven rounds of 45 ACP ammo in its detachable single stack magazine. Since that time, eight round ammunition magazines for 45 ACP have become commonplace, and 1911s have been chambered in a number of other ammo types, including 38 super, 9 mm, 40 Smith & Wesson, and 22 long rifle. Also, a number of manufacturers have produced 1911 handguns with frames modified for double stack magazines. These magazines hold anywhere from 13 to 20 rounds of ammo, depending on the caliber used.
The 1911, and slightly modified versions known as the 1911 A1, were used by the US military from 1911 to 1985, when it was replaced by the Beretta 92 FS, or M9. Most 1911 type handguns in US military inventory were manufactured by Colt, but when the need for pistols was urgent during World War II, other companies manufactured the 1911, including the Singer sewing machine company, Union Switch and Signal, and National Postal Meter.
Renowned as being one of the best and most accurate pistol designs ever manufactured, the 1911 is extremely popular among competition shooters. While other pistols sometimes when national championships in the single stack competitions, top shooters almost always choose the 1911. It has also been used by military special operations units as recently as 2005, and remains one of the top handgun choices for civilians and law enforcement officers.
While some 1911 type pistols have a reputation as being picky with ammo, the best and most reliable ammo for a 1911 is often new factory full metal jacket, or FMJ, ammunition.
Recommended Ammo From AmmoForSale.com
Best
Defensive

Ammo For 1911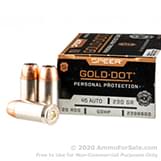 20 Rounds of 230gr JHP .45 ACP Ammo by Speer
Best
Range

Ammo For 1911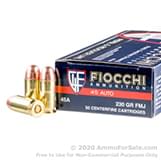 1000 Rounds of 230gr FMJ .45 ACP Ammo by Fiocchi