What is the best ammo for your
Glock 19?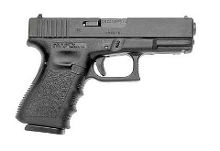 The gold standard in reliability, the Glock 19, is a compact handgun chambered in the potent 9mm cartridge. This Third Generation Glock 19 comes with the fixed steel sights that many police officers and armed citizens insist on.
The Third Generation Glock series is trusted by law enforcement agencies around the globe. Accurate out of the box, Glock pistols are known for their ease of shooting and nearly unbelievable durability in even the harshest of conditions. For a compact pistol, the weight is relatively light, yet the Glock engineers have figured out how to make this pistol relatively light recoiling.
Like all Glock pistols, this Glock 19 has a hi-tech surface refinement for barrel and slide. Apart from optimum corrosion protection and anti-reflective finish, a degree of hardness of 64 HRC - close to that of a diamond - is achieved.
This Glock 19 ships with the standard capacity 15-round magazines, giving you plenty of felon repellent should that awful circumstance ever arise and you have to protect your family.
Brand

Glock

Condition

new

Caliber

9mm Luger

Manufacturer SKU

PI1950403

Capacity

15+1

Sights Included

Fixed

Action Recoil

Operated

Finish

Matte Black

Color

Black

Width

1.18"

Height

5.00"

Length

6.85"

Weight (empty)

20.99 oz

Barrel Length

4.02"

Sight Radius

6.02"

Safety Type

Trigger

Frame Type

Polymer

Detachable Magazine

Yes

Trigger Operation

Striker Fired

Trigger Pull

5.5 lbs

Case Included

Yes

Magazine Capacity

15 Rounds

Firearm Size

Full-Size
Recommended Ammo From AmmoForSale.com
Best
Defensive

Ammo For Glock 19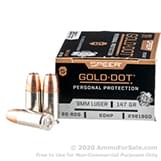 20 Rounds of 147gr JHP 9mm Ammo by Speer
Best
Range

Ammo For Glock 19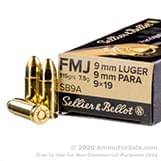 1000 Rounds of 115gr FMJ 9mm Ammo by Sellier & Bellot