What is the best ammo for your
Beretta 92FS?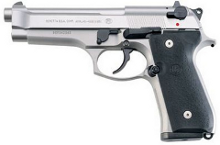 If you're looking for a battle tested and proven 9mm full size handgun, then look no further than the handgun the United States Marine Corps calls upon. You won't find a better proving ground than the sands of Iraq where Beretta M9's have functioned as Marine Corps officer's standard side arm. Since 1987, Beretta U.S.A. has made 1.4 million model 92 pistols with 540,000 of these being delivered to the U.S. Armed forces and allies worldwide. 92's undergo hundreds of dimensional inspections and dozens of performance tests.
Beretta's 92FS is the civilian version of the M9 and like the M9 it operates on a short recoil, delayed blowback system which yields faster cycle times, exceptional accuracy, and great reliability. The open top slide design virtually eliminates jamming and allows the shooter to chamber individual rounds in the event that magazines were ever lost. Perfect for left-handed shooters, the 92 features an ambidextrous thumb safety which also functions as a de-cocking lever.
This firearm was manufactured in Italy.
Beretta is one of the oldest firearm manufacturers in the world with a reputation for excellence. Their origination dates back to 1526 when Mastro Bartolomeo Beretta received payment from the Arsenal of Venice for 185 arquebus barrels. Since their early beginnings, they have built an international reputation for uncompromising quality design, and performance. Their core value of "Quality Without Compromise" is the bedrock of Beretta's business and has been a key component of their success which has lasted for over 500 years.
Brand

Beretta

Condition

new

Caliber

9mm Luger

Manufacturer SKU

JS92F505

Capacity

15+1

Sights Included

Fixed

Action Delayed

Blowback

Finish

Stainless Steel

Color

Stainless

Width

1.5"

Height

5.4"

Length

8.5"

Weight (empty)

33.3 oz

Barrel Length

4.9"

Sight Radius

6.1"

Safety Type

Thumb

Frame Type

Aluminum

Detachable Magazine

Yes

Magazines Included

2

Trigger Operation

Double-Action / Single-Action (DA/SA)

Magazine Capacity

15 Rounds

Case Included

Yes

Firearm Size

Full-Size

Series

Beretta 92FS

Firearm Style

M9
Recommended Ammo From AmmoForSale.com
Best
Defensive

Ammo For Beretta 92FS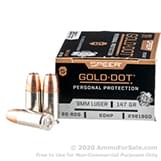 20 Rounds of 147gr JHP 9mm Ammo by Speer
Best
Range

Ammo For Beretta 92FS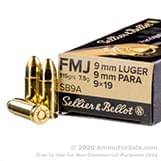 1000 Rounds of 115gr FMJ 9mm Ammo by Sellier & Bellot